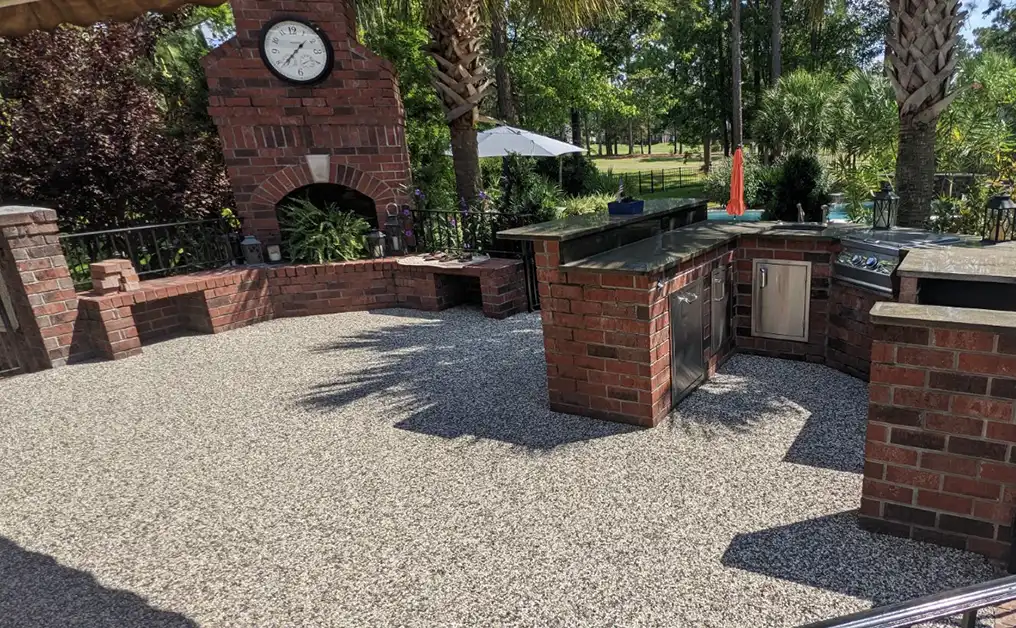 River stones are formed by pieces of broken rock that have been smoothed by sediment, wind, water and time. It is a process that doesn't take .decades or centuries, but eons. Coupling a custom blend of small colorful stones taken from a river in Arkansas with a proprietary patent-pending epoxy, a careful hand-troweled installation, generational product knowledge and highly-skilled craftsmen, you can bring nature indoors and create a floor which is just as much art as it is construction. Strong, durable and beautiful, it's what they do at Coastal Stone Flooring.
Serena And Luke Wilson founded Coastal Stone Flooring in the Lowcountry in 2021, but this family-owned business is a story which started more than three decades earlier. In 1989 Ohio, Serena Wilson's father Russell Masetta wanted to create a business which would not only support his family but one which would also improve his customer's quality of life and could be passed on to future generations. The result was a business called Nature Stone, which touted an innovative new way to do flooring. A legacy was realized and the knowledge was passed on. Noting the proprietary epoxy which is foundational to her father's flooring system Serena said, "Anybody can go to Home Depot and buy epoxy, but we still work with the chemist we worked with 30 years ago."
The Wilsons moved to the Charleston area after discovering the beauty and lifestyle of the Lowcountry while on vacation. Just like settlers from ages past, they brought their craft with them. They also brought a strong sense of family and community, their Christian faith and the desire to make a difference as local entrepreneurs. Serena noted, "I grew up with this product — know it inside and out. Watching my father pay the bills and provide for a family built my foundational belief system for local family-owned businesses."
Still guided by Masetta's knowledge, experience and focus on the customer, Serena and Luke stress relationships — being more than just a flooring company, and are guided by their five pillars: customers, community, quality, integrity and family. They believe that customers and employees alike should be treated like family.
Starting out with a focus on garage floors, Coastal Stone Flooring offers new and innovative flooring for sunrooms, patios, laundry rooms, pool decks and more. Want to add a logo to your flooring? They can do that. Commercial applications for hotels and restaurants are also provided. They believe Coastal Stone floor is a better value, is more durable and is more attractive than competing products.
Coastal Stone Flooring offers free custom quotes and fast installation. They are even green-friendly, practicing environmental responsibility according to sustainability concepts developed by the United States Green Building Council's Leadership in Energy and Environmental Design (LEED) Program. As great neighbors, the Coastal Stone family stands ready to serve your family.
For more information, please visit CoastalStoneFloors.com, or call 843-306-3063.
By Jack Lovingood