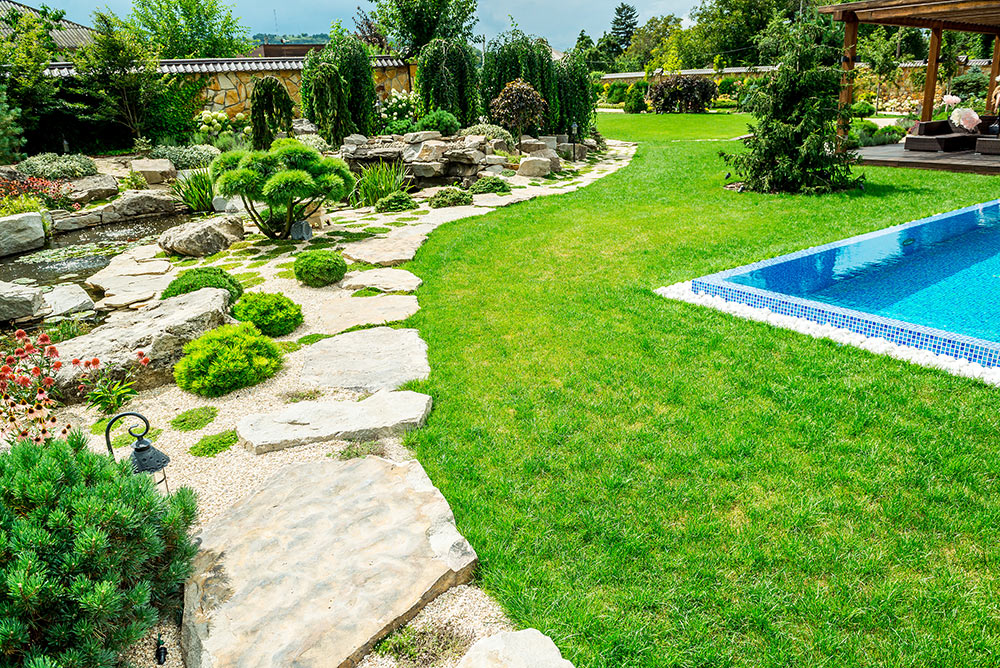 A yard is an oasis. It's an escape from the hustle and bustle of the outside world, a place that should be relaxing and calming. It should also be a  reflection of the type of respite the owner hopes to achieve, a reflection of what "happy place" means.
There are myriad ways to increase functionality and enjoyment of a yard space. Adding features like seating and tables will create a more social and intimate experience for family and guests. Making the yard more functional by adding walkways and paths can complement an already cozy space. Installing a pool or spa can transform a yard from just "okay" to "oh yay." There are numerous different products and styles to create a unique outdoor living space of dreams.
Not all the reasons for upgraded outdoor living are about the feels, though it's one of the most important reasons. Another benefit of an enhanced yard is the increase in property value. Pools, hardscapes and outdoor kitchens can significantly boost the appraisal of a home.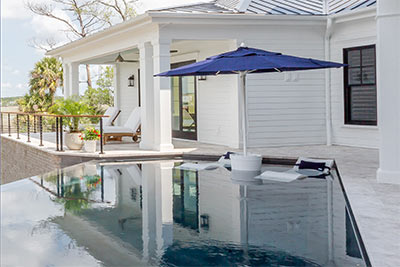 Once convinced that building out the yard is a good idea, the owner faces the task of weeding through endless options. One of the first aspects to consider is usability. Will the space be used during the day and night? How will changing seasons affect the design? Will shady spots or tree canopies help for shade or encroach on a pool or hardscape? Will mood lighting or heat sources be needed? These are all logical things to ponder for functionality.
Comfort and ease of movement around the space is another essential ingredient in creating a delightful yard. Having too much clutter around the yard can make it feel stymied and seem overwhelming. Strategically placing rocks, bricks, spas, pools, fire pits, outdoor kitchens, grass or turf is key; and the options are infinite. That's why Mount Pleasant Magazine collected the best advice east of the Cooper to lend a helping green thumb.
Spas and Pools:
One of the biggest ways to make a splash in your yard is by adding a pool or spa — or tidying up an existing one. Aqua Blue Pools and Spas can help turn a yard into a swimmer's paradise. With a huge selection of designs and sizes, there is no shortage of imagination when it comes to where a pool can be placed and its appearance. Specializing in all types of pools and spas, Aqua Blue Pools and Spas has options for any space including infinity, elevated, plunge, inground, geometric and freeform pools.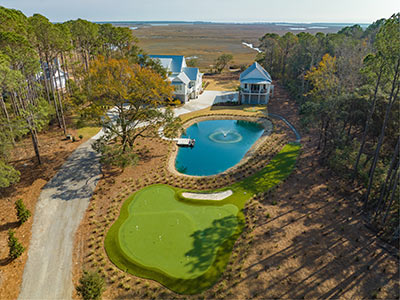 Paul Straight, Aqua Blue Pools designer, said "First, a homeowner will share their property's current as-built survey with us. We will study the survey to ensure that it meets municipality code compliance. The next step is scheduling an onsite meeting where the pool designer will collaborate with the homeowner to determine the optimal layout of the project's overall footprint."
Designer Britt McKenzie added, "Our team will also help determine the best points of access to get pool-building equipment into the backyard. Additionally, our team will assist in determining potential locations for where the pool operating equipment will be set in accordance with building code."
It can be an overwhelming process. That's why Aqua Blue will help and ask questions to navigate the design and overall vision — to assist clients in determining the ideal pool that fits their wants and needs to enjoy for years to come.
Lawns:
Without proper yard maintenance, unwanted weeds and pests can take over a once-pristine area. Maintenance can include mowing, edging, pruning and weeding. When it comes to convenience, hiring an expert landscaping company can ease the burden. The folks at GrandScapes pride themselves on the experience, passion and vision they bring — whatever the obstacle. Serving the Charleston and Mount Pleasant areas since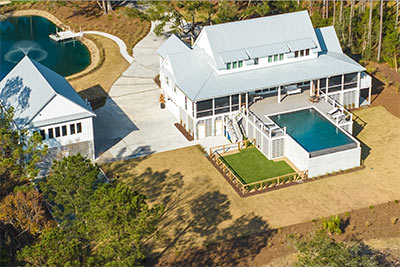 2009, they've quickly shown that they are the go-to specialists for all things landscaping. From fully designing an inspirational escape to tidying up an overgrown and unkempt garden bed, GrandScapes is dedicated to making sure no one is left out in the weeds. Even a basic cut and trim around the edges can make all the difference. GrandScapes utilizes the entire space to ensure that every desired landscape aspect is incorporated. If something needs to be removed or dug out, they can address that as well.
Another important function is the enjoyment and entertainment a yard can provide. GrandScapes offers help creating beautiful green spaces for gathering, playing and working on putting. They can help design areas for artificial turf, keeping maintenance and yardwork down, and freeing up time for more important things — like playing with family or getting that short golf game up to par.
Hardscapes:
There is much more to beautiful yards and landscapes than bushes and foliage. Creating a natural, flowing look sometimes involves the use of something hard and solid to break up the delicate plants and to provide a healthy foundation to stand on. Set in Stone of Charleston can help supply your yard with the materials to give it a distinctive, practical look.
Whether designing a patio for eating and entertainment, or adding a little flair to an existing space, some fresh hardscape can do wonders to the look and feel of a yard. There's more to hardscape than just rough and jagged edges. The right materials can convert a yard that was once plain and drab into something inviting and complete. If you feel like you're stuck between a rock and hard place, chances are you just need a slight design change to make your hardscape look fitting. That's why it's important to seek out experts to help design areas for all types of hardscapes.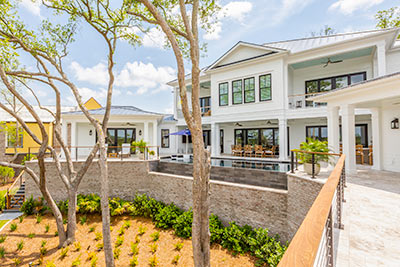 Set in Stone specializes in patios, decks, outdoor fireplaces, fire pits, garden walls and water features. They can even provide a 3D rendering of what the space will look like once finished, making it easier to visualize the finished product. A good patio will feel like a second living room — a place to relax and chill when the weather hits that sweet spot in spring and fall. Having the right material and design is the first step in getting that peaceful easy feeling.
Outdoor Kitchens:
Spice up your backyard with something that will keep friends and family coming back for more: the perfect outdoor kitchen.
Picking the right grill could be another whole article in itself, but there are a few key things to consider when buying. Some questions to ask are: What am I going to be cooking? How much am I going to use it? Do I want to use the flavorful style of a charcoal grill or the convenience and ease of gas? Do I need both? How much space do I have for a grill? Will I also need a sink? Once answering these questions of functionality, the design can come in for all the feels. Finding the perfect setup for outdoor cooking will have guests and family wanting to dine "out" every night.
The sky really is the limit when considering how to landscape and design a yard. We are extremely lucky to reside in such a picturesque area, with a climate that is conducive to some of the most beautiful options available — most from Mother Nature herself. Making the most of a yard is usually just a matter of finding the right people to help steer the project in the right direction. Fortunately, there are knowledgeable local businesses ready and excited to get that yard looking magnificent.
By Chesley Lanford