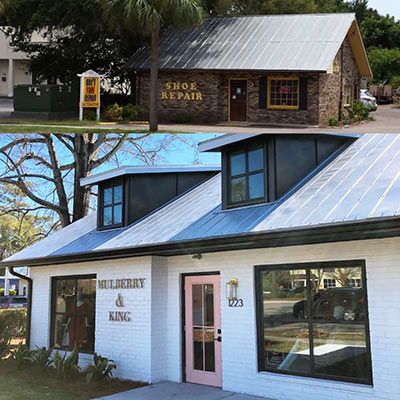 When you picture beautiful homes in our Lowcountry community, your mind might instantly picture expansive, freshly painted homes in neat rows. There is certainly something to be said for these picturesque dwellings, but to me, there's something uniquely beautiful when a home is reimagined for a new purpose, given a second life.
As I scanned the landscape of our community, there were a few buildings that perfectly fit the bill, once-residential buildings with a fresh breath of air. Some commercial buildings that provide crucially needed services in our town were once single-family homes. Now, they've expanded their walls to accommodate a new generation.
The two-story cottage-style home at 216 Scott St. is a great example. Built in 1950, the home was converted to a commercial property and has since housed psychiatrist's and doctors' offices often focused on mental health, recovery and addiction.
Another, perhaps more famous connection to the cottage, was that it once housed the Magwood family. The Magwoods are Mount Pleasant shrimping legends who built the docks at Shem Creek. They lived in the nearby home while unknowingly developing one of the most patronized areas in all of Mount Pleasant.
Given the legendary character and Southern charm of the property, Shannon Gallo knew when she discovered this home available, that it would become the launching pad of Oyster Candle Company. A former realtor with Joanna Gaines' Magnolia Realty, Gallo instinctively had a vision for the home. She said "I instantly knew the house could be the cutest gift shop, providing community events right in the front yard."
216 Scott St. isn't the only building like this. A short drive down Coleman Blvd. is a house with a noticeable pink door. This fashion-infused dwelling that now shelters Mulberry and King once housed a shoe repair shop. Mac's Shoe Repair and Alterations opened in 1990 at 1223 Ben Sawyer Boulevard where a local family owned the building for two generations. In 2019, the building was transformed by Joshua Schaap of Charleston Commercial into what it is now. Mulberry and King owners Megan Masters and Meredith Murphy quickly snatched it up to bring visions of their storefront to life.
In speaking with Bill Macchio, our publisher at Mount Pleasant Magazine, I learned that the concrete blockhouse our publication is housed inside was built to tell a story. For years, the former home was a chiropractor's office, but that didn't stop Macchio from letting the building's owner Ray Thompson know his thoughts on the place. Macchio recounted repeatedly asking if the place was for rent, only to be met with an "it's occupied." Then fate stepped in.
Macchio was heading out of his neighborhood one day when he noticed a "for rent" sign on the building. After running into Thompson, they struck a deal. 1013 Chuck Dawley would be the home to Mount Pleasant Magazine. A man never lacking an original idea, Macchio said "the place breeds creativity." Our community has been on the receiving end of that creativity ever since. It proves an old house is never just a thing of the past. They are actually still building the future.
By Katie Finch