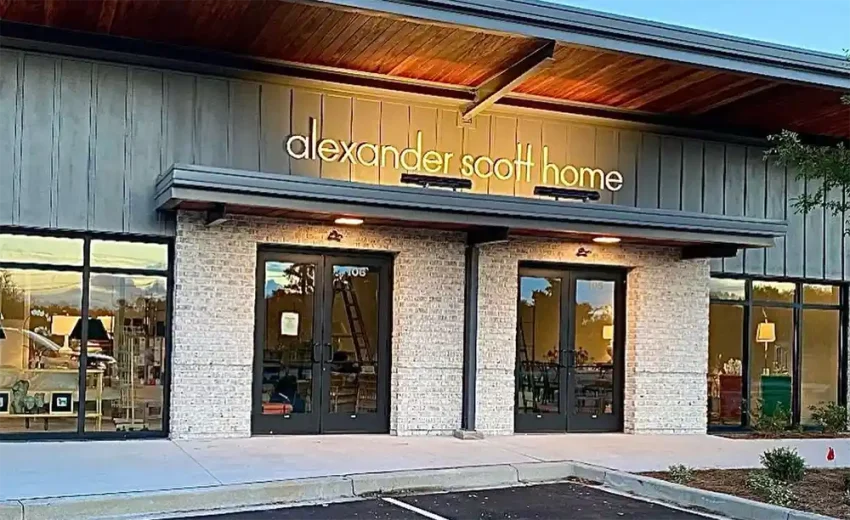 September 7, 2023 – Native to Charlotte, NC, David Newcombe and Russel Griffith, co-owners of Alexander Scott Home, are thrilled to announce the grand opening of their new store located in Bowman Place at 1336 Old Georgetown Road, Mount Pleasant, South Carolina 29464. Bowman Place is a rapidly growing, centrally located high end center and is home to Nordstrom Rack, J. Crew Factory, Kudzu Bakery and others. The exciting expansion marks a significant milestone in their journey to grow and expand their brick-and-mortar presence and share their personal style with a broader audience.
Established in 2011, in Charlotte, NC, Alexander Scott Home is a curator of home furnishings, lighting and luxury gifts. Alexander Scott Home is quintessential southern design with a focus on freshness and modernity, offering industry best talent in an alluring environment. Enjoy the tailored selections of local Charlotte artists Libby Smart, Wendy Bilas and Amy Sullivan or explore the new and vintage offerings of Charlotte jeweler Amanda Thompson.
Upon entering, the store allows you to be free of expectations and experience a respite from exterior pressures. Peruse, admire, dream. Transform with the beauty of the surroundings, the smell of the curated, signature scent candle and enjoy the amazing music, allowing all to heighten all your senses and transform you to a happier place.
Alexander Scott Home also offers full design, with an emphasis on personalized, custom service – no huge teams, one on one service from inception to completion. Projects can be as simple as personalizing paint colors or freshening existing spaces to working with your architect from the ground up. Alexander Scott believes all spaces hold the potential to be extraordinary and within the store offers all facets of the extraordinary from service to design.
David Newcombe and Russel Griffith, both passionate about design, have leveraged their extensive experience in retail. Griffith has a 26 year leadership background at Ralph Lauren and Newcombe has previous leadership roles at Smith & Hawken and The Bombay Company.