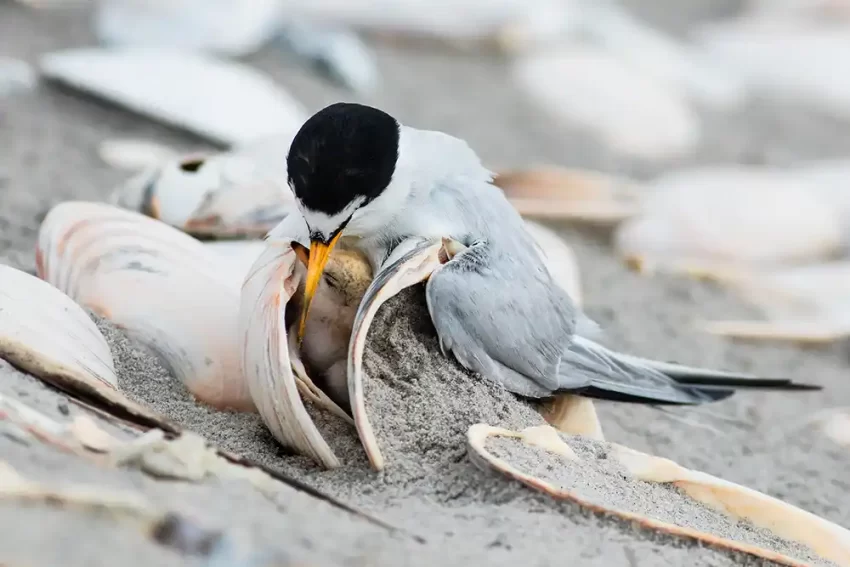 This Memorial Day weekend, Audubon South Carolina urges visitors and residents to consider the well-being of South Carolina's remarkable coastal birds as they head to the beach. Summer is nesting season in South Carolina, which means many popular beach spots are already teeming with vulnerable eggs, lively hatchlings, and protective parents. Among the many bird species beachgoers might spot along the coast, the Least Tern uses a rather unique defense mechanism to ward off perceived predators, which includes humans and dogs: poop.
"When an adult bird sees a threat, whether it is a person, dog, or a natural predator, Least Terns will release a well-aimed splatter of feces in an attempt to deter the perceived danger," said Allyssa Zebrowski, Audubon South Carolina's Coastal Stewardship Coordinator. "While this may seem amusing to some, it is important to understand that such disturbances can have negative consequences for the birds and disrupt their nesting and feeding activities."
From April to August, you can find Least Terns, or Sternula antillarum, nesting between the dunes and the waterline of South Carolina's sandy beaches. These small, migratory birds are welcome visitors to our coastal ecosystem, as they play an essential role in controlling populations of small fish, crustaceans and insects.
Unfortunately, like most coastal bird species, the state-threatened Least Tern faces significant threats to survival throughout its lifecycle, many before the birds even hatch, including disturbance from people and animals, habitat loss, and predation.
"Study after study demonstrates that coastal bird species are in steep decline, and data indicates that the rate of decline is accelerating," said Nolan Schillerstrom, Audubon South Carolina's Coastal Program Manager. "Addressing the problem requires a multi-faceted approach. But one way we can all contribute right now, with minimal effort and truly significant impact, is being mindful of posted rules and being mindful about how you interact with nature and your surroundings while on the beach."
To ensure the protection and conservation of Least Terns and other threatened coastal bird species, Audubon encourages beachgoers to follow these guidelines when you visit the beach this summer:
Pay attention to signs and stay away from posted nesting sites. Breeding grounds are often marked with signs or simple fencing to limit disturbance to breeding birds and their eggs and chicks, which are highly vulnerable to predators and sun.
Keep your distance. Avoid getting too close to coastal birds, as it can cause distress, disrupt their natural behaviors, and threaten their survival. Cut a wide berth if you happen upon a flock on the beach walk, and use binoculars or your camera's zoom lens to enjoy a closer look at these amazing animals. As a rule of thumb, stay about 100 feet away from them.
Control your pets. Ensure your furry companions are leashed, under control and a safe distance from nesting sites at all times to protect nesting birds and their young from stress and disturbance.
Pick up your trash. Litter, including plastics and food scraps, can attract predators and cause other damage to bird and wildlife habitat and the coastal environment.
Educate others. Share these guidelines with fellow beachgoers, friends, and family members to raise awareness about the importance of respecting and protecting coastal bird species.
By practicing these simple yet essential steps, we can enjoy the beauty of South Carolina's coastal environment while coexisting harmoniously with its diverse bird population.
For more information on coastal bird conservation and guidelines, or if you'd like to get involved with helping to reverse coastal bird population declines, visit: sc.audubon.org/conservation/how-be-shorebird-steward.
By Audubon South Carolina