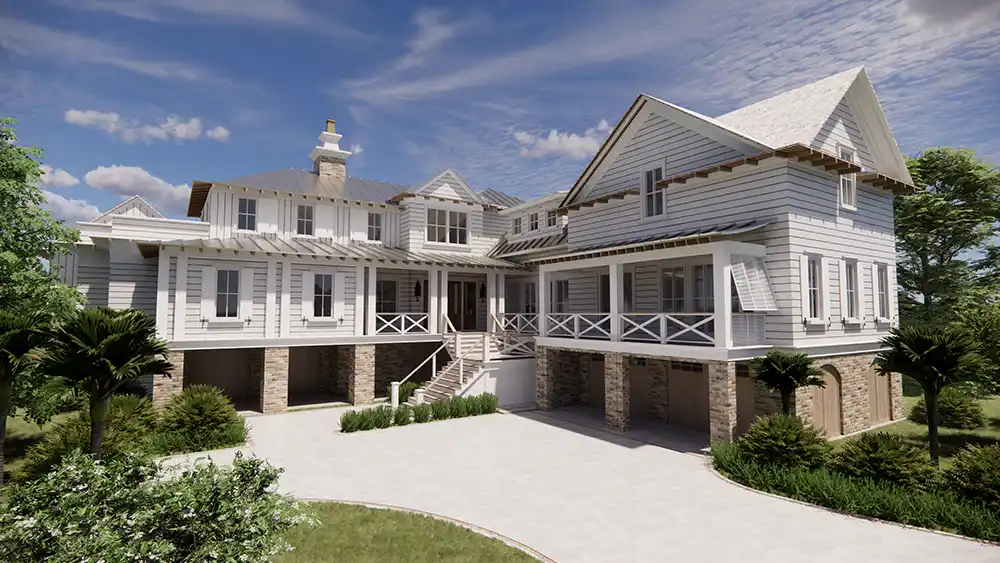 King & Society does more than build and sell homes, they sell dreams. 34 Waterway Island Drive on Isle of Palms is a distinguished, .speculative home that is nothing short of spectacular, thanks to dreamweavers Trae Redmond, director of construction, realtor Misti Cox and local architect Carl McCants.
A spec home is a new construction that a homebuilder constructs on the speculation that it will sell easily for a profit. Builders design these move-in-ready homes to be as appealing to homebuyers as possible. That takes a lot of nerve, especially in today's housing market.
"We are setting the standard for spec building on Isle of Palms," Redmond said, who referred to the project as "pushing the envelope." "… I don't think there's anything in Charleston quite like it."
A year from now, with an anticipated completion date of November 2024, the largest spec home of this magnitude and value that Isle of Palms has ever seen will be move-in ready. And there will be plenty of space to move about this sprawling coastal estate. Sitting on a half-acre lot, this $12.2 million, 6,800 square-foot, six-bed, eight-bath home will comfortably fit your family, friends, their cars and their boats.
Located on Morgan Creek, directly across the waterway from The Outpost and Islander 71, this dream home comes with its own 120-foot deep-water dock. That's nearly half the length of a football field. Can you say, dock party?
"The backyard of the property is the epicenter of Isle of Palms," Redmond added, who said walking from the front yard to the backyard is "like a whole other world."
Landside, the ground floor features a garage that will park four cars, equipped with an elevator that starts on the ground floor and continues up to each floor above. Between all of the decks, porches, and balconies, an infinity edge pool with a swim up wet bar and an outdoor kitchen and bar, the opportunities to host and entertain are endless.
Once you step inside, be prepared to pinch yourself because you're not daydreaming. This coastal contemporary home is what dreams are made of. Whether you're an extrovert or an introvert, this home offers the best of both words for socializing and solitude.
On the first floor, the great room will be the center of the home with the fireplace being the focal point of the room. The kitchen will be open to the great room and will feature two oversized islands. Not to mention a wine room and a coffee bar. The master bedroom has its own wing and is located to the rear of the house facing the water. Let the sun's reflection be your alarm clock!
More so, the master bathroom has his and her vanities with one having a sit down vanity area. There will be a freestanding bathtub and an oversized roll-in style shower, with rainheads. As well as an infrared sauna. On the same floor, towards the front of the house, is a guest bedroom, with its own full bathroom and a media room. Gentlemen, this is code for a mancave!
But wait, there's more! At the top of the second floor landing area will be a landing with window seats, and a coffee bar area in the hallway. One guest bedroom will be in the front, also with its own full bathroom, and further down the hallway will be a storage closet and laundry room for upstairs guest use. On this floor you will find a "mini master" bedroom that will also overlook the water out back and two more bedrooms, each with their full bathrooms.
"It takes a visionary," Cox added. "… It's the overall uniqueness of the property. There's just nothing else like it. It's going to set the bar for sure."
This distinguished home has only been on the market for 160 days and it's already received more than 4,000 views and nearly 150 saves on Zillow alone. For further real estate inquiries, contact Cox at [email protected] or 843-754-7826.
By Zach Giroux
34 Waterway Island Drive Photos