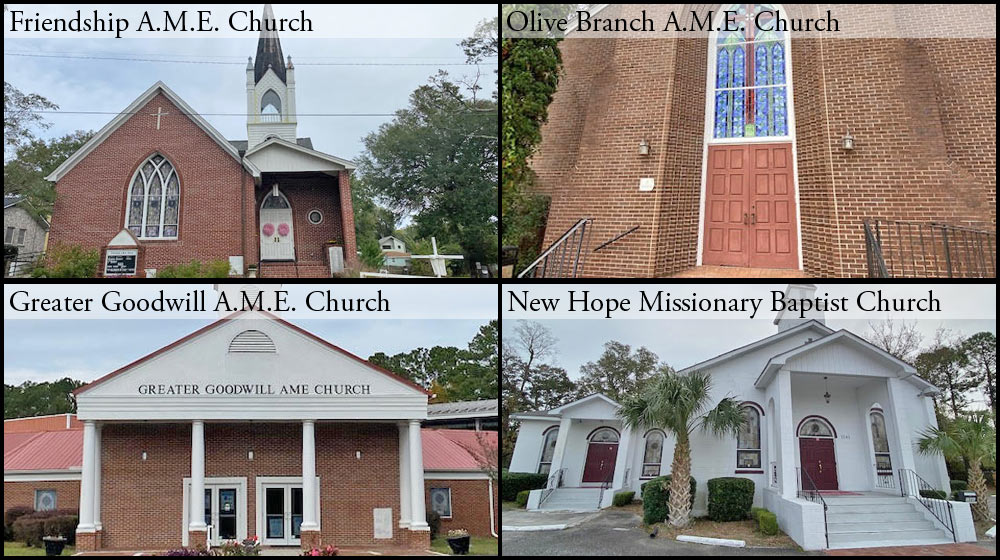 A major piece of Mount Pleasant's history is found in the African American story. It's among us today in the area's sweetgrass baskets, gathering places like Six Mile Tavern and historic "settlement communities." Gullah culture flavors the town at every corner. A historically spiritual group, at the center of it all, there is religion.
It's hard to pin down which was the first African American church in Mount Pleasant. In the Old Village, a historical marker on Royall Avenue indicates Friendship A.M.E., established the decade after the Civil War, is among the earliest. But, since the majority of African Americans lived in rural areas at that time, it is likely that the very first Black congregation was founded outside the Old Village in a less formal manner. Even before emancipation, praise houses, where enslaved people gathered to pray, dotted those areas. Later, the praise house was a staple in the African American settlement communities. The answer for which was the actual first Black church is quite elusive. Many have been around for centuries, and we'll likely never truly know which was first. However, here are some early ones we do know about and still celebrate today.
Early African American church Friendship, as the historical marker indicates, was founded during Reconstruction. The congregation's first church was built in 1877 and located on Hibben Street. After moving to its current site in 1890, the congregation grew so quickly that a larger building was constructed by 1895. A storm almost destroyed it in 1911, forcing a near-total rebuild, but the church still stands today.
Olive Branch A.M.E.'s congregation dates back a bit earlier to 1870. Its founders purchased the land on Highway 17 from the Hamlin family. The first church was a simple pole building, a wooden structure completed 15 years later. The pastor also ministered at Greater Goodwill A.M.E., near Highway 41. For many years, services were held at Olive Branch the first and third Sundays of each month and at Greater Goodwill the second and fourth.
It's also possible that New Hope Missionary Baptist Church is the oldest. The church's pastor, Reverend Levi Wright, explained that the church celebrated its 181st anniversary last spring. Its first church was on Old Georgetown Road. Because the structure was so small, there was no baptismal pool, and baptisms were held at low tide on a nearby creek. The congregation later purchased its current site, a one-acre plot on Highway 17 at Hungry Neck Boulevard, at a cost of $10. A baptismal pool was built outside the new church but became obsolete in 1950 with the construction of the present sanctuary.
Other African American churches east of the Cooper have also been around for generations: St. John A.M.E., Holy Trinity A.M.E. and Long Point Baptist Church. Often obscured by today's suburban development, these steadfast congregations have kept the faith, enduring the ravages of time. It matters less which one was first, but instead, that they have all survived to help preserve a culture.
By Mary Coy