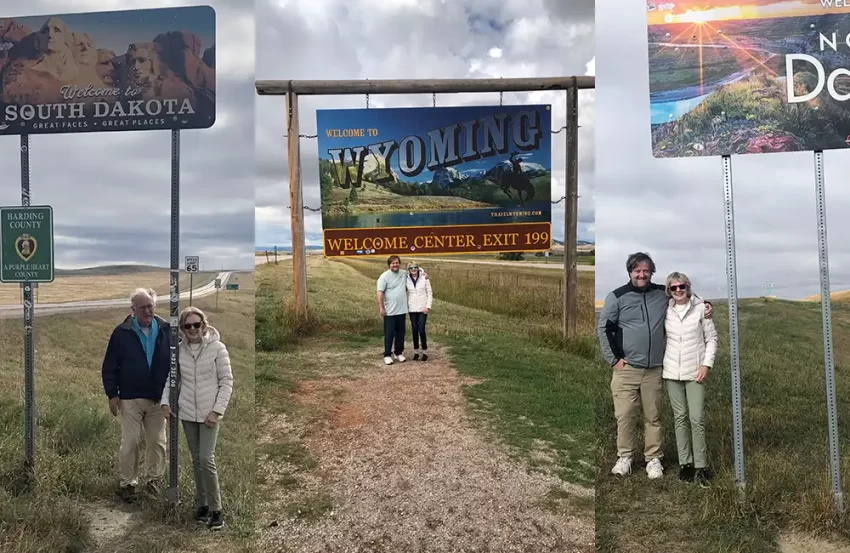 Experiencing a Remarkable Travel Milestone with Mom
When my mom asked me to accompany her and her partner Steve on a trip last fall to notch her 50th and final U.S. state, I was grateful and excited that she offered to share this major life milestone with me.
After all, it was my mom and dad who instilled in me a love of travel at an early age. Some of my fondest early memories stem from a cross-country road trip our family took to California when I was 7 and my brother Alastair was 10, when we spent the entire summer in Palo Alto while our parents, both history professors at the College of Charleston, researched at Stanford University. On the drive out West we witnessed landmarks like the Gateway Arch in St. Louis and visited breathtaking bucket list marvels like the Grand Canyon. Bryce Canyon, Zion and Petrified Forest are just a few of the other national parks we experienced. A seed was planted that would germinate and grow into full-blown wanderlust, watered and nurtured by subsequent family vacations to Ireland and New England.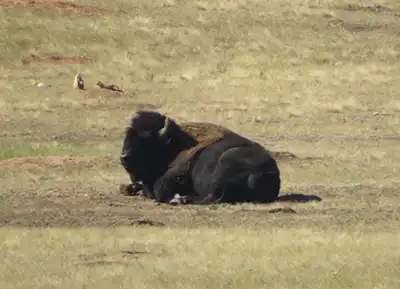 In 2004, my mom initiated an annual holiday tradition that involved taking an international excursion to a different location each year. Typically, the day after Christmas we would fly out to a new destination and stay through New Year's Day. The first year it was London, the next Edinburgh, Scotland, followed by Ireland (on two nonconsecutive occasions), Czech Republic, Spain, Costa Rica, France and Belize. Friends and other family members would occasionally meet up with us when feasible.
There were additional trips that occurred during warmer months, such as when I joined my mom and Steve on two pilgrimage walks organized by her church, Grace Episcopal: one along a 70-mile stretch of the Camino de Santiago trail in western Spain, and another called The Pilgrims' Way in England, during which our group navigated part of a pilgrimage route that leads to Canterbury and its historic Canterbury Cathedral (the one that guy Chaucer wrote about in his tales). Each journey provided invaluable opportunities for mother/son bonding that I will always cherish.
The point is, our family is a bunch of globe trekkers, and my mom played a key role in the stamps I've been fortunate enough to collect on my passport. Without her, it wouldn't have been possible. She always viewed these trips as an advance on my inheritance, and I wouldn't want it any other way because we've created so many priceless memories. So when she invited me to tag along in her quest for state number 50, it offered the chance to create yet another lasting memory.
The Final Piece of the State Puzzle
And just what was that last state my mom needed to accomplish this significant feat you may ask? Somewhere exotic like Hawaii? Been there, done that. Up in the majestic, pristine wilderness of Alaska, where the moose and grizzlies roam? Already checked off. Nope, the state my mom was missing was none other than North Dakota. Not exactly a tourist mecca, mind you (no offense if you're from North Dakota but there isn't much to do there—we checked). When Americans rank their top domestic vacation hotspots, North Dakota isn't typically first, second or even 25th on their wish list. But North Dakota does border some interesting places.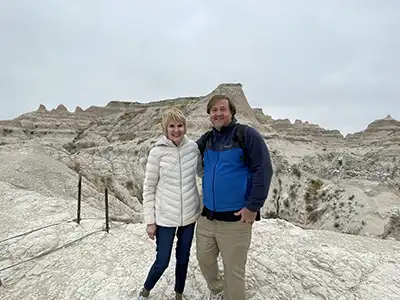 So, rather than flying into Fargo, briefly touching North Dakota soil and jetting right back to Charleston, my mom—the planner—decided to make a week-long trip that took advantage of North Dakota's proximity to other scenic spaces and attractions. She created an itinerary worthy of a travel agency, packing our days full of destinations including Wind Cave National Park, Badlands National Park, Mount Rushmore, Devil's Tower National Monument and Custer State Park. In addition to scratching off mom's last state holdout, it would encompass five states I had never been to before: the Dakotas, Montana, Wyoming and Nebraska.
She established our home base at a rustic cabin nestled in the foothills of Mount Rushmore on the outskirts of Keystone, South Dakota. It's a tiny tourist town sporting a kitschy Old West façade redolent of Myrtle Beach tackiness, but it served as the ideal location for our purposes as we explored areas in and around the Black Hills.
The scenery and vistas were stunning, the wildlife sightings epic and abundant. Nothing quite compares to beholding the towering monolith of Devil's Tower rising from the prairie landscape in the distance as you approach from the road or the stark, rugged beauty of Badlands National Park. Throughout the journey we glimpsed the mighty bison, bustling prairie dog towns, pronghorn (the fastest land mammal in North America), bighorn sheep, a coyote and plenty of black-billed magpies that felt perfectly comfortable loitering around humans.
But back to the main goal of setting foot in North Dakota. Our biggest travel day involved a three-hour drive to Bowman, North Dakota, the first town of note you encounter after crossing the border from South Dakota (and when I say "of note," I mean they have gas stations and a couple restaurants). First, we stopped to snap a couple pictures in front of the North Dakota welcome sign to provide visual evidence that mom had indeed secured her final piece of the state puzzle.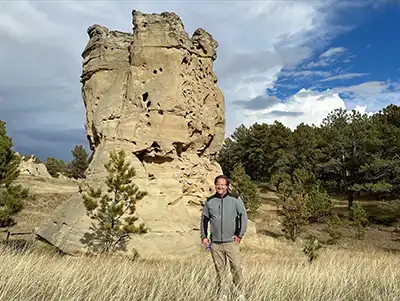 Then we headed into Bowman and paid a visit to the Pioneer Trails Regional Museum, which provided a nice overview of the local and regional natural history. Afterwards we ate lunch at a greasy spoon diner and, having done all that we could in North Dakota, went due west from Bowman to Montana, then turned south and proceeded to the remote Medicine Rocks State Park, our final destination for the afternoon. Although it's not really on the way to anything, I would highly recommend Medicine Rocks to anyone who happens to be in the vicinity or needs to cross into North Dakota via Bowman to collect their 50th state. Listed on the National Register of Historic Places, its natural sandstone rock formations dotted with Swiss cheese-like holes have been shaped and weathered by the elements over time to create a surreal, almost mystical landscape. Maybe it feels mystical because it's considered sacred to Native Americans, a hallowed meeting spot where hunting and scouting parties gathered. It was definitely worth the extra driving time we tacked on to detour there and loop back to Keystone and seemed a fitting way to mark such a significant event: venturing a bit off the beaten path to discover an underrated gem. Sometimes a little wandering makes for the best travel stories.
Now thanks to this trip I don't have that far to go myself until I log all 50 states. I need Iowa, Michigan, Idaho, Rhode Island and Hawaii. And possibly Arkansas. For some reason, I can't seem to confirm whether I've been there or not. But hey, at least Arkansas has the Ozarks.
By Colin McCandless