The USS Yorktown, an aircraft carrier that distinguished itself in two wars before retiring to Patriots Point in Mount Pleasant,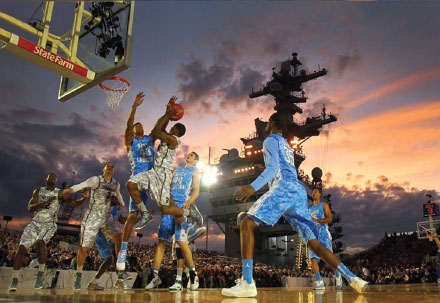 added another page to its storied history in November.
The Yorktown is home to the Congressional Medal of Honor Museum, a testament to the American fighting men who have earned membership in one of the world's most exclusive organizations. Decommissioned in 1970 and a key player in World War II, the Vietnam War and the recovery of the Apollo 8 astronauts, the Yorktown won't be returning to military action, but it did host a battle of another kind. The deck was transformed into a regulation basketball court, and four of the nation's top college teams competed in a pair of nationally televised contests known as the Carrier Classic.
The initial Carrier Classic, launched in 2011 by the Morale Entertainment Foundation, was played aboard the USS Vinson in San Diego. North Carolina defeated Michigan State, 67 to 55, before a crowd of approximately 8,000 that included President Barack Obama.
A smaller crowd was expected for the second Carrier Classic, around 4,000 according to public relations specialist John Wooding, but that didn't mean the job of transforming an aging aircraft carrier into a basketball venue was any easier than in 2011.
"We had to bring in the stands, lights, an NCAAapproved floor, the basket standards and the baskets," Wooding explained. "There was a myriad of details and a checklist a mile long."
Three organizations benefited from this year's Carrier Classic: The Navy-Marine Corps Relief Society, the Wounded Warrior Project and the Congressional Medal of Honor Society. The first Carrier Classic raised more than $500,000.
This year's Classic was expanded to a double-header, with Ohio State University taking the court in both games. The OSU women went up against national powerhouse Notre Dame, while the men battled Marquette in the nationally-televised nightcap.
The women's game featured a matchup of coaches who have combined for more than 1,400 career wins. Prior to the 2012-2013 campaign, Muffet McGraw had put together an impressive 679-256 mark in 30 years at Notre Dame, while Jim Foster, in his 11th season at Ohio State, had posted a 765-294 mark in three decades of college coaching.
The men's game was an early-season matchup of two of last year's top college teams. Ohio State, under the tutelage of Thad Motta, finished at 31-8, advancing to the Final Four before falling to Kansas, 64-62, in the national semifinals. Marquette, coached by Buzz Williams, wrapped up the year at 27-8, making it to the Sweet 16 before being eliminated by Florida.
"The Carrier Classic is held around Veterans Day. It's a celebration of those who have served our country," Wooding said. "Our mission is to entertain and celebrate the men and women of our armed forces and to inspire appreciation and support for what they do. We want people to care about them and think about them."
Check out www.MountPleasantMagazine.com/web-extras for updated information on the Carrier Classic.