Editor's Note: We asked Terrance, a turkey who has lived East of the Cooper for many years and has yet to be captured and turned into a Thanksgiving feast, to explain how he has managed to survive when others have not. If you or someone you know has ideas about rescuing a turkey this year, feel free to pass along this article.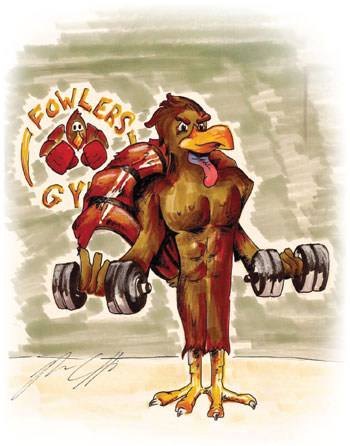 Life as a turkey is sometimes odd. I don't mean to sound like I'm griping, but say the word "turkey" and everyone immediately thinks "food." We aren't like peacocks or penguins, admired for our innate beauty or perky personality. We aren't even like ducks, eaten as food some of the time but also admired and fawned over in backyard ponds for their cute, fluffy tails and captivating beaks. Heck no – you say the word "turkey" and the words "mayonnaise, lettuce, tomato and whole grain bread" are sure to follow.
As Thanksgiving approaches, of course, it gets even worse. We're associated with a holiday celebrated by everyone but freaks who have committed acts of treason. Saints alive, if I tried to tell you about all the Novembers when I had to run for my life – had to forgo a trip to the coffee shop for my first hot latte after another torrid South Carolina summer and charge desperately through the streets in search of a hiding place, my talons striking the pavement so hard I thought they'd break. It's madness.
After so many autumns of profound terror, I, Terrance the Turkey, came up with a few tips for myself and others who would rather not be victimized by a misbegotten holiday tradition. Please note that this advice will not guarantee safety and survival, but it probably is better than no advice at all.
My first suggestion, and most likely the easiest, is to work out regularly. After all, no one wants to decorate their holiday dining room table with a scrawny, svelte turkey. People prefer fat, juicy turkeys to slaughter and feast upon, so if you spend your days jogging and lifting weights, it's practically a given that you won't be ceremoniously beheaded sometime in mid-November. A second perk to this tactic is that you'll be in excellent shape, so, if you do encounter some crazy person with a fetish for skinny birds, you'll be able to outrun the SOB.
If you're the lazy type who hates to exercise, another solution could be moving to a more vegetarian-friendly part of the country. Think about places such as San Francisco and Seattle, where people hunt less and wax philosophical about the equal rights of animals more. I've met oodles of kindhearted vegans and vegetarians who have practically gone hoarse at protest events, shouting about the iniquity of killing a living creature – and I salute them. After all, they make the world a safer place for me and my fine-feathered friends and family members.
My other suggestions are a bit more extreme. If you have no way to move, and you aren't physically able or willing to exercise, you might want to consider temporarily infecting yourself with a parasite or bacteria of some sort. I know – it sounds disgusting and dangerous. But if you really consider the difference between a two-day bout with diarrhea and having your head cut off and your chest stuffed with celery, it's an absolute no-brainer. Plus, I've done it before and I survived. You feel sick as hell for a few days, but the good news is, a hunter won't shove his shotgun in your face if you're moaning and groaning on the ground, your magnificently feathered body quivering in a sorrowful lump. He'll be too scared of bringing back your horrific disease to his in-laws.
You could also consider trimming your feathers and beard. I know it sounds even less pleasant than being sick to your stomach – after all, without your feathers and beard, you aren't even a turkey. But that is the exact point I'm making. Get rid of your trademark turkey-ness and the hunters won't even know what kind of bird you are. And trust me, human beings don't eat what they can't identify. Plus, they're generally too lazy to look stuff up.
Happy Thanksgiving, friends! And remember: All things considered, a nicely-constructed salad can be just as scrumptiously satisfying as a turkey – sort of.
Original Art by Ryan Collins