When a resident or business owner in Mount Pleasant has a question about the town's ongoing road projects, Ed Barbee has an answer. As the city's transportation construction liaison officer, Barbee spends his days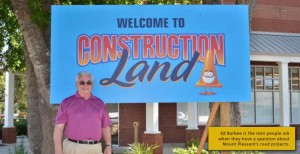 communicating with people, a pastime he truly loves. It's obvious when Barbee invites you into his office, pulls out a chair and makes you feel right at home that he's accustomed to listening.
"Customer service is something that we all need to get back to, and it's something I grew up with," he said. "I'm a people person; I love being around people."
Barbee, a native of Charlotte, North Carolina, has worked with the town of Mount Pleasant since 2000, after eight years with the city of Charleston. He's been a purchasing agent for more than 35 years, helping taxpayer dollars go where they're most needed.
"I take better care of the city's money than my own," he joked. "Basically, a purchasing agent seeks out the best products for the best price. We're like the city's shoppers."
In his current job, Barbee enjoys blending his knowledge about Mount Pleasant's fiscal needs with his knack for communicating with residents.
"I'm not exactly sure how I got this job," he said. "Mayor Swails approached me and said he needed someone. … and I have thick skin. If people are upset about something, I show concern about the situation and help them through it."
"My favorite thing about Mount Pleasant is definitely the people…"
Barbee believes that Mount Pleasant and the rest of East Cooper will benefit from the roadway projects at hand, and his optimism and sense of humor help residents see it the same way.
"I got a call from this guy who said the new guardrails were 'ugly and ridiculous,'" he remembered. "I told the guy I thought the exact same thing! He was caught off guard by my honesty, and we both started laughing. Then I explained to him how the guardrails are necessary. I drive these roads, too; I know how people feel. And I empathize with them."
The three different projects currently underway in Mount Pleasant include widening Johnnie Dodds Boulevard, widening U.S. 17 North from the Isle of Palms Connector to Darrell Creek and making improvements on the Interstate 526 overpass.
"The 526 exit used to dump you out onto 17, which didn't bode well for traffic on the highway," Barbee explained. "With the new plan, folks will be able to drive straight over 17 and exit right behind Towne Centre on Hungryneck Boulevard. It'll be near shopping and the beach – which is where a lot of people want to be."
Besides keeping Mount Pleasant residents and business owners up-to-date, Barbee stays current on just about everything that happens concerning the town's road-improvement projects.
"I stay involved with the team as a whole," he said. "I keep a good rapport with the contractors, with the design team and everyone involved. I also work with media outlets like newspapers and television stations."
"Sounds like you're the face of the whole operation," I remarked.
"We've all worked to put a positive spin on the projects," Barbee replied. "As with any major city change, there have been skeptics. But traffic hasn't been greatly interrupted, due to a lot of the work being done at night. Some businesses have unfortunately struggled, but we try to help them understand that, in the long run, this will be advantageous for everyone involved. Everything should be completed in one year and Mount Pleasant will be in better shape."
Barbee doesn't live in Mount Pleasant but said the city "has been good to him," and he enjoys spending time here even when he isn't working.
"My favorite thing about Mount Pleasant is definitely the people," he said. "The city and its people work so harmoniously together. I'm proud of how the town of Mount Pleasant has taken such an interest in the citizens – providing infrastructure, recreational facilities, places to relax and enjoy the beauty East of the Cooper. I'd have to say that the city administrators are visionaries."