The 2013 cooper River Bridge Run was destined from the beginning to be a success. Every year the event raises tens of thousands of dollars for local and national charities,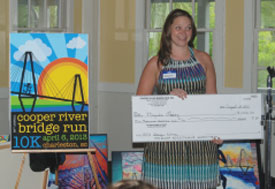 all the while helping to plant smiles on the faces of participants and supporters alike.
Every great event needs a kickoff party: The Bridge Run's was held recently at historic Alhambra Hall in Mount Pleasant to cite the winners of the 36th annual Cooper River Bridge Run and Walk Design Contest. The room was crowded with 400 people, all eagerly anticipating the unveiling of this year's winning designs.
Among them was Mayela Lopez, who decided to take the trip down from her home in Reston, Virginia, to Charleston when she found out she was the big winner.
Lopez works full-time as a graphic designer and is, by her account, not a professional artist. She did acknowledge that much of her job – creating logos and designing brochures, for example – translates into her artwork. The melding of her graphic design background and her art is evident in her winning piece for the Bridge Run.
"I did the whole thing in Adobe Illustrator. Originally I had planned on painting, which I normally do, but when I looked at photos of the bridge online, I saw how graphic it was and decided on that design rather than painting it," said Lopez.
Lopez' design was not the only piece of art recognized at Alhambra Hall. North Charleston resident Kevin Adcock claimed first place in the firstever Kids Run and Wonderfest design competition.
Adcock, a tactical officer at The Citadel, submitted his painting four years earlier. Although it did not win then, Julian Smith, executive director of the Cooper River Bridge Run, liked it so much he bought the painting to hang in his office. Cut forward to this year, when the Wonder Works toy store and the Cooper River Bridge Run partnered "to create the largest children's event in the Lowcountry," according to the CRBR website.
Both Lopez and Adcock have long been interested in art – Adcock's roots planted in a childhood of doodling and Lopez' artwork harking back to her Mexican heritage. Both artists have incorporated their pasts into their winning pieces for the Cooper River Bridge Run. Adcock turned his childhood doodles into a masterful kidthemed painting, while Lopez' clear incorporation of bright, vibrant colors represents Mexican art and culture.
"The winning designs this year really pop off our shirts and posters," Smith said. "They had better be good though; it's not easy getting 40 judges to agree on one piece of art."