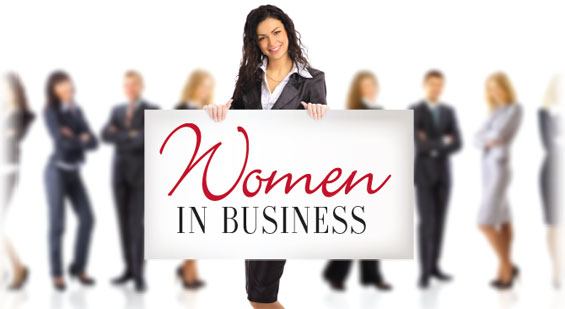 As I once said to my coeditor, Brian Sherman, women should be able to both wear lipstick and kick butt. The truth is, women can do anything, particularly East of the Cooper. Here, we raise our families and run our businesses simultaneously.
For our annual Women in Business issue, we've highlighted a couple of area women's organizations, as well as several women whose ability to thrive in business inspires us. We'd also like to thank the female advertisers who have supported Mount Pleasant Magazine from its inception. For a complete list, visit www.mountpleasantmagazine.com. Ladies, we salute you.
Minding Your Business
The East Cooper Entrepreneurial Women
If you're a woman with a career, you've probably heard of East Cooper Entrepreneurial Women – perhaps even made use of the organization's resources. I recently had the privilege of sitting down with ECEW President Angela Grazaitis, who told me ECEW was formed as a way for women to get together and discuss issues related to the entrepreneurial world.
"What those women were looking for," Grazaitis said, "was somebody they could talk to, somebody that could relate to the problems that women face when they've started their own business."
ECEW has more than 75 members, and several groups that meet weekly have been formed within the group. Among them is Coffee Connections, where women discuss their businesses and brainstorm about possible marketing ideas.
"What's great about ECEW is that as much as you can go home and talk to your husband about your work problems, he doesn't quite understand them or have the same view as a woman. Women face different problems than men in a business setting," Grazaitis explained.
Not only do members help each other out with ideas and tips, but successful women in businesses outside of the group address members of ECEW during their Lunch and Learn meetings. Because ideas sometimes flow better in a more relaxed setting, ECEW also offers happy hour meetings. Members can get together in an informal setting and do what women do best – connect.
It's not all about the socialization, though. ECEW participates in many fundraisers throughout the Lowcountry, such as their Meals on Heels fundraiser. ECEW linked up with Meals on Wheels last year and spent time delivering meals to those in need, raising $5,000 in the process.
It's a dog-eat-dog world out there, and ECEW serves as a place for hardworking women to help one another succeed.
Don't Sweat The Small Stuff
I'm often bogged down by petty problems that feel like they're causing my entire world to crash down around me. I think it's typical to get wrapped up in this mentality, thinking you are the only person in the world who's suffering through hard times. Our adversities and difficulties encompass us, but should they define us? This is the most important thing I learned after having breakfast with Elmire Raven, executive director of My Sister's House in North Charleston.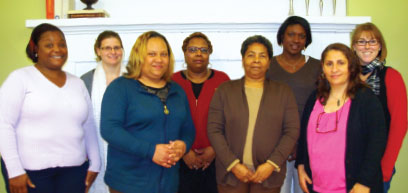 My Sister's House is a shelter founded almost 32 years ago for women and their children who are victims of domestic violence. It provides 24-hour-a-day service to its clients, including shelter, clothing, meals, counseling, therapy, children's programs and a multitude of other resources that help get families back on track. The facility is both impressive and incredibly accommodating to the families, but what really struck me is the hard work that Raven, her 20 female employees and 73 female and male volunteers put into running the nonprofit organization.
As executive director, Raven writes all grants that fund the organization's programs, cultivates relationships with people and groups that can help My Sister's House, organizes and attends fundraisers, manages all finances and supervises the interaction among her employees, volunteers and clients.
Raven is passionate and involved in her work in the most selfless of ways, so much so that we were 45 minutes into our conversation before she informed me that she was a victim of domestic violence.
"Part of my passion comes from being a survivor," Raven said. "As a woman, you should want to be a figure of inspiration to other women."
Raven is not the only member of the staff who uses her personal experiences to fuel the fire she feels for her work. Outreach Coordinator Kristi Cogswell is a survivor of domestic violence, and her views on counseling victims are shaped by her own experience.
"I recall the frustration, the bureaucracy and the confusion that I met when I first left my abuser," Cogswell said. "So when I meet with clients, I keep in mind that I may be the first helpful person they've encountered."
My Sister's House is an inspiring organization, not just because of the countless opportunities and services it provides for domestic violence victims, but because of the women in charge who emanate a positive attitude about a negative situation.
"My position has always been that I have one life to live," Raven said. "If you spend your time dwelling on things that are beyond your control, how can you expect to make a difference in someone's life, let alone your own life? Don't sweat the small stuff."
---

Paula Newsome
Harrison Newsome Jewelers
612 Long Point Road, Unit C
Mount Pleasant, S.C. 29464
(843) 388-2345
www.harrisonnewsomejewelers.com
[email protected]
Working with fine jewelry is a career Paula Newsome has taken seriously for 32 years.
"I initially taught art and designed simple jewelry at the same time," she said. "Then I wanted to learn how to mix stones and metals, so I went to the Gemological Institute of America in California and became certified."
After her education in sparkly stones, Newsome returned to the East Coast – she's from Georgia –and eventually opened Harrison Newsome Jewelers in Mount Pleasant after first working for two other companies. She's been an independent jeweler since 1981.
"We do repairs, cleanings, design, engraving and sales," she said. "We are an old-fashioned, full-service jeweler."
After being in business for 32 years, Newsome particularly loves meeting mothers, daughters and granddaughters.
"I help family members find the right pieces for special occasions," she said. "It's a sincere joy to design an engagement ring for someone. If you're passionate about what you do, you never work – you just create art."
---

Susie Molony
Southern Belles
280 W. Coleman Blvd.
Mount Pleasant, S.C. 29464
(843) 881-1741
www.southernbelleschildren.com
[email protected]
A great many businesses evolve out of a business owner's life passion. Consider Susie Molony, owner of the Mount Pleasant mainstay Southern Belles, who said that her passion for designing children's clothing began as a hobby.
"I never thought of myself as an artist," she said modestly. "But I started out painting on T-shirts and totes, making simple shapes and concepts my own. I started giving them as gifts. Eventually, more parents started asking me to make them."
Molony created more sophisticated appliqued and embroidered designs and contracted a seamstress. She spent the next few years traveling and participating in shows throughout the country, selling her designs and wholesaling to some children's specialty shops. Fall and spring tended to be her peak seasons for travel, but, as a native Charlestonian often does, she felt the desire to return to the Lowcountry and settle her business into the local scene. Growing up in a small-business family no doubt encouraged her path.
"My mother was supportive, as were my two sisters-in-law," she said. "They all have helped me at one time or another, and I can't thank my husband enough for all of his support, especially when I was traveling so much. As a child, I observed my mother helping my father with his farming business. We also had a country store, which I worked in as a child as soon as I could see over the counter and count. I cut my teeth on small business."
When Molony moved her shop to Mount Pleasant, originally into a place called Kid Stuff, she continued to sell her own designs under the Southern Belles label.
After a year, the owner of Kid Stuff retired, and Molony became an independent retailer, at the same location in Northcutt Plaza Specialty Shops for 18 years.
Over the years, Molony has evolved the Southern Belles shop into a one-stop for anything to do with babies and children. After having a daughter of her own, she noticed a need for a place to outfit a child "from head to toe."
"We're full-service now," she said. "The business has grown tremendously over the last several years; when it began, Mount Pleasant wasn't nearly the size it is today."
Molony's passion for her business is largely based on getting to know her clients. She works with "generations of families," she said, and enjoys watching children grow up. "I help families celebrate so many happy occasions," she said. "Births, first birthday parties … there are a lot of firsts."
Though the national economy has been a toughie for small businesses, Molony is optimistic and proactive – and urges other independent businesses to be the same.
"It's so easy for working moms to shop online," she said. "But I encourage local shoppers to support the mom-andpops. It's essential for the core of your community. If you've ever worked in a small business or you've grown up in one, you know the impact of these businesses on the community's well-being."
---

Dr. Rachael Click
Preferred EyeCare Center
1118 Park West Blvd., Suite 5
Mount Pleasant, S.C. 29466
(843) 856-4775
www.PreferredEyeCareCenter.com
As a young girl, Dr. Rachael Click was inspired by her Midwestern values to pursue her dreams.
"Because of my upbringing, I learned to create my own opportunities," she said.
Dr. Click became the first member of her family to attend graduate school and the first to become a physician. Interestingly, her own eyesight is what initially prompted her to pursue becoming an optometrist.
"I had glasses as a kid," she said. "I wanted to know what went on in my own eyes, so to speak. So I followed through and here I am."
Dr. Click moved from the Midwest to the East Cooper area five years ago and four years ago opened her practice with a family-friendly concept in mind. Last year, the practice was the Transitions Eye Care Practice of the Year, a prestigious national award, and Dr. Click is excited about what the future brings.
"Whether you are my patient or a friend, I go the extra mile for you," she said.
---

Charlotte Jenkins
Gullah Cuisine
1717 N. Highway 17
Mount Pleasant, S.C. 29464
(843) 881-9076
[email protected]
www.gullahcuisine.net
Charlotte Jenkins started cooking as a 9-yearold. Encouraged by her older brother while her mother was away, Jenkins "stepped up to the plate," she said, creating simple meals for her family. Then, after years of a nursing assistant career in New York City, she and her husband moved back to the Mount Pleasant area and started a catering company.
"The catering company evolved into the current restaurant," she said. "Catering was going well and clients expressed interest in enjoying our food all the time. A restaurant made sense."
Jenkins enjoys meeting customers "from all walks of life." She is hard at work on a second Gullah Cuisine cookbook after the first edition was published in 2010.
"People love to talk about food," she said with a smile. "To other women who are interested in the restaurant business, I would encourage them to find a niche, research something unique. See what your community would respond to."
---

Stephanie Taylor
Business Manager
Hudson's Import Service
1072 Johnnie Dodds Blvd,
Mount Pleasant, S.C. 29464
(843) 884-2573
Stephanie Taylor discovered her unexpected love for the auto-repair industry when she joined the Hudson's Import Service team.
"Hudson's needed a bookkeeper, and I was still in college at the time," she said. "Today, I have worked with the company for almost 28 years."
Taylor confessed that she doesn't recall telling her family when she was young that she wanted to grow up and work in a garage. She added that she developed a fascination and passion for her career fairly quickly.
"I never thought I would select this as a career, but I find it intriguing," she said. "The technology, software and tools are specific to each line of car. It's challenging and interesting."
Besides the technical aspect of assisting with repair estimates, Taylor's position includes running the front office, bookkeeping, marketing and customer service. Taylor said the people – her clients and her team – make the position worthwhile.
"I've enjoyed watching this company grow; it's a privilege to see how well it's done in Mount Pleasant," she said. "One of the main reasons I enjoy my job here is seeing people. We are fortunate to be in the kind of business that can supply a definite need in this economic environment."
Taylor feels that success is a product of loving your job. Friends, family and clients are inspired by her passion.
"I surprise people with my mechanical knowledge," she admitted with a chuckle. "But I think a lot of times, our female clients are happy to have someone they can relate to."
---

Dr. Kari Ryan
Dentist
815 Lowcountry Blvd.
Mount Pleasant, S.C. 29464
(843) 881-1638
www.mtpleasantdentist.com
Dr. Kari Ryan's perspective is that dentistry is an art form.
"I decided on becoming a dentist because it combines art with medicine. It's visual and three dimensional – we change people's smiles," she said.
Originally from Michigan, Dr. Ryan moved to the Lowcountry to embrace year-round beach weather and attend MUSC's program in dentistry.
"I worked as an associate at a practice on James Island before buying this one in Mount Pleasant," she said. "It was an interesting first year on my own; in the same week, I bought this practice and had a baby. It was a busy time."
Dr. Ryan encourages other women who are interested in medicine to consider dentistry, which, she said, has provided "a flexible schedule and the room to make it what you want."
"Plus, people love having a female dentist," she remarked. "We have a reputation for being gentle."
---

Elizabeth Joyce
Harbor Specialties
893 Houston Northcutt Blvd.
Mount Pleasant, S.C. 29464
(843) 722-3722
www.harborspecialtiescharleston.com
After growing up in a family of entrepreneurs, Elizabeth Joyce found a similar path.
"My parents, who both owned businesses, inspired me to find a profession that would provide personal satisfaction and enable me to get involved in the community," she said. "After a brief stint in politics, I joined the original Harbor Specialties in Georgetown."
Joyce worked with the two owners for several years before purchasing the business. Today, there are three shops, in Beaufort, Pawleys Island and Mount Pleasant.
Joyce admitted that it can be hard to be a business owner and a woman, but she added that her education and training from the Junior League and Hollins University gave her a strong background.
"My education, along with my family's support, has helped me succeed," she said. "Attending a woman's college encouraged me to stand up for my beliefs, be an independent thinker and always give back."