There is a bitter rivalry deeper than the ancient roots of the oldest live oaks at Boone Hall Plantation and longer than the stretch from the Lowcountry to the Upstate. It is embodied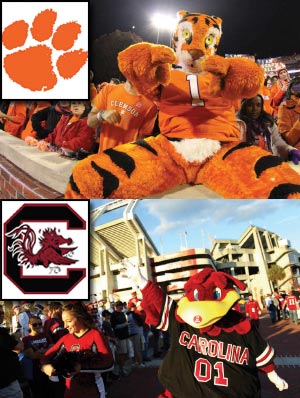 with tradition and emotion and has the power to both split apart and bring together an entire state. Its storied history is littered with triumph and despair for both sides.
RELATED: Heard any Good Clemson/Carolina Jokes Lately?
Signs of the rivalry between supporters of the University of South Carolina and those who owe their allegiance to Clemson University are obvious throughout the Palmetto State, on T-shirts, baseball caps, bumper stickers, flags, doormats and even tattoos.
As the the annual football game between South Carolina Clemson approaches, tranquility abandons the Palmetto State, replaced by feverish fandom and a fanatical display of pride by those who proudly wear USC's garnet and black colors and their adversaries who bask in the purple and orange of Clemson.
At the heart of the Carolina and Clemson rivalry are two mascots: A fearless and boastful gamecock named Cocky and a ferocious Tiger.
Mascots such as Cocky and The Tiger have been bringing their teams luck and energy for years. The word mascot comes from a French term, "'mascotte," which, fittingly, means lucky charm. Mascots came to America in the early 1900s, when teams started using live animals – many of them dangerous – to provide extra entertainment during sporting events. In the 1960s, sports teams began to replace animals with Muppet-like mascots, which proved to be marketing gold mines. Before long, many sports teams adopted mascots to compete with the San Diego Chicken and the Phillie Phanatic.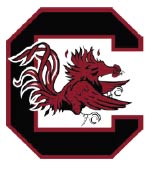 Enter Cocky, a 6-foot-tall boisterous bird who jumps through fire and tugs on Tiger tails for a living. Cocky was kind enough to sit down with Mount Pleasant Magazine for a pre-season interview.
Cocky made his sideline debut in 1980 as a replacement for his "father" and former South Carolina mascot Big Spur. Initially, Cocky wasn't received well by his Carolina friends and was booed off the field. But, over time, his persistence paid off, and these days he can be found fueling the flames of enthusiasm for 80,000+ Gamecock fans at Williams-Brice Stadium.
The current Cocky – we'll call him Fred for the sake of this story because both USC and Clemson prefer to keep the names of their mascots confidential – was born into a lineage of Gamecock alumni. As a kid, he remembers watching every USC football game in the same local Gamecock bar. When Fred was a senior in high school, his godfather, a former member of the South Carolina marching band, passed away. To honor him, Fred vowed to follow in his footsteps at USC.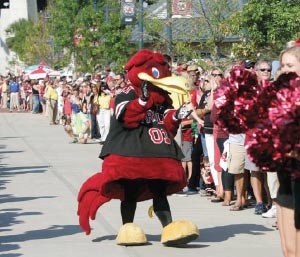 Fred was destined for the Cocky suit. On the first day of freshman orientation, he approached Cocky, who was cheering along the incoming class of USC students. "Hey, I want your job," Fred told the uninterested rooster.
But over time, Fred would prove his worth. Cocky had his eye on the zealous freshman, who would skip classes to attend USC women's volleyball games and equestrian meets.
"If any USC sporting event was quiet and dead, I would make them loud and alive," said Fred of his freshman year.
One day, wearing full body paint, Fred was approached at a USC women's soccer game and asked if he'd like to try out to become the next Cocky. He made the roster and learned the ways of Cocky, including the mantra to never be afraid of anything while he was wearing his fighting rooster suit.
"I've found that it's always better to ask for forgiveness than to ask for permission," he explained.
For Fred, nothing in this world compares to a fall football Saturday in Columbia, South Carolina. Hours before the game, he can be found dancing in his 35-pound Cocky suit, with that relentless Midlands sun beating down on his feathers.
Fred feeds off the Gamecock fight song that blasts from the trumpets and drums of the marching band, which follows him through the sea of Gamecock fans and into Williams-Brice Stadium on game day.
With kickoff just seconds away, Fred stands quietly in his box, which is covered by a black sheet. Cocky's Magic Box Entrance is Fred's favorite Gamecock tradition. The noise among the crowd of 83,000 is reduced to a whisper, Fred's heart begins to race and the curtains drop. A 6-foot-tall fighting rooster emerges, fireworks shoot from his box and Williams-Brice Stadium goes absolutely insane.
"The intensity is amazing. I can't explain how poetic it all is," Fred said. "In those moments, I disappear and it's no longer me. It's Cocky."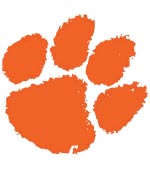 One hundred thirty two miles away at Memorial Stadium, "Death Valley" to Clemson's rabid fans, sits a Tiger who is starting to get very hungry after losing the past five seasons to his arch nemesis Cocky. In the suit is Anthony, a Clemson Tiger from birth.
As a freshman, Anthony yearned to fully engross himself in the Clemson lifestyle, and The Tiger caught his eye. After a two-week "fraternity-like" tryout, he made the Tiger roster and earned a spot inside the Tiger suit.
"Becoming the Tiger was about going after something and having the ambition to succeed and get this role representing my university," Anthony said.
As is true for Cocky, the Clemson/ Carolina rivalry runs deep in The Tiger's veins.
"It's the biggest rivalry in the nation," Anthony gushed. "And growing up, we just didn't lose to Carolina."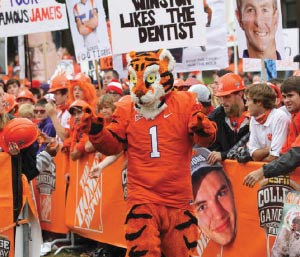 For Anthony, being The Tiger is a lifestyle that reaches its apex on game day in Clemson. The Tiger is always in great demand, maneuvering from pregame parades to pep rallies and energizing the masses of Clemson fans. Then comes one of the most hallowed traditions in sports: Running down the hill. Around Clemson, the tradition is known as "the most exciting 25 seconds in college football," when the players run down an orange hill and onto Frank Howard Field, touching Howard's Rock for luck, as thousands of orange balloons are released into the air.
"Being on that hill while the players run down and onto the field is the biggest rush I've ever felt in my life," Anthony said.
Pushups are another Clemson football tradition near to Anthony's heart. After every Clemson score, The Tiger leaps onto a board held up by ROTC members and does a pushup for each point. The Tiger is said to sweat off an average of 12 pounds per game in water weight.
Each Tiger who graduates autographs the pushup board.
"It's going to be a huge honor to see my name on that board one day," Anthony said.
The Tiger and Cocky will once again face off in Death Valley on Nov. 29. Each mascot will sweat, cheer, dance, taunt, tease and scream as hundreds of thousands of South Carolinians follow their lead in an effort to root their team to victory.
The Tiger wanted to send Cocky a final message that embodies his angst and lust for revenge for five consecutive losses to USC.
"I'm at the point now where we could lose every other game this season, as long as we best the University of South Carolina," growled The Tiger.
Photos courtesy of Clemson University and the University of South Carolina