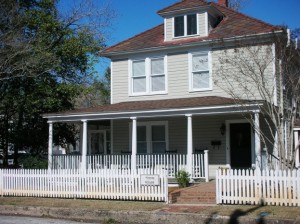 This is part of a series on East Cooper churches providing mission and charity work throughout the world. Read the introduction article here.
The sanctuary at Mount Pleasant Presbyterian Church was built in 1854, and, since then, the church has served the community in various ways. It was a Confederate hospital during the Civil War and a school for the children of former slaves after the hostilities ended.
Today, members of Mount Pleasant Presbyterian Church haven't forgotten their humble beginnings and have sought to expand the word of Christ through international and local missions.
In January 2010, the church opened its doors to Hope House, which is located next to the church on Hibben Street. Hope House provides a Christ-centered, safe, secure, temporary home-away-from-home for individuals who have a family member in an intensive care unit at a Charleston area hospital.
"Hope House has been extremely successful," said Hope House Director Beth Moore. "We average about a 94-percent occupancy rate. It is a hands-on mission that is under our church's umbrella."
Providing a safe place for people to visit their loved ones during a time of tragedy is huge and can only function with the help of donations and volunteers. Since opening its doors, more than 635 people have stayed at the Hope House.
"We have sponsored families with ties to MUSC, Roper St. Francis Hospital, East Cooper, the VA Hospital and the Ronald McDonald House," Moore explained. More than 40 caretakers who coordinate with social workers at area hospitals currently work at Hope House. "Hope House falls into our desire to become a more mission-involved church, and we are in the early stages of opening another facility in the Lowcountry. It is so exciting to think we can make this happen. So far, every door we have knocked on has been opened, so we are happy to get the word out and discover what is next," Moore said.
Mount Pleasant Presbyterian Church has another mission-driven mentoring program called I-Beam that currently serves four public schools in the Mount Pleasant area and is looking to expand.
"Right now, we have more than 160 students with over 200 mentors working in the program," explained Elizabeth McKenzie, community initiative conductor for the East Cooper Ecumenical Network. "The Ecumenical Network is a group of churches in the East Cooper area who are all committed to ending poverty."
The I-Beam program pairs an elementary school student with caring adult. They meet once a week to cultivate a love for reading.
"Our program is really exciting and unique in our success. The feedback we receive from teachers is that students in the I-Beam program have improvement in test scores, classroom involvement and an increase in reading levels," McKenzie said.
Anyone can volunteer, but everyone must be screened through a Charleston County School District background check.
"If you have an hour a week, definitely check the I-Beam program out. You will make a difference in their life and the same will go for you. The students' faces light up when they see their mentors," McKenzie commented.
Mentors in the I-Beam program and volunteers for the Hope House come from all different backgrounds and are always in need. To learn more about either program or how you can help, visit Mount Pleasant Presbyterian Church at www.MPPC.net or call (843) 884-4612.
Story by Stacy E. Domingo.
Photo provided by Mount Pleasant Presbyterian Church.