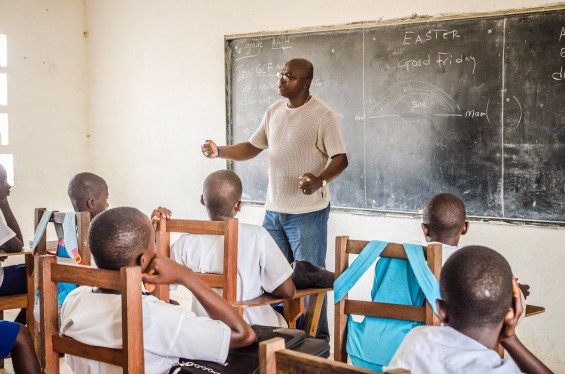 This is part of a series on East Cooper churches providing mission and charity work throughout the world. Read the introduction article here. 
St. Andrew's Church was originally established in 1828 and has since focused many of its 3,300 active members on mission work throughout the Lowcountry and the entire globe.
Anthony Kowbeidu, associate pastor for missions, outreach and evangelism and head pastor in charge at the Goose Creek campus, is a man who keeps his travel bag handy at all times. A native of Liberia, West Africa, he is passionate about spreading the word of God and the benefits to all when we extend a hand to those in need.
"Christian generosity brought me to this country. I was born to two illiterate parents on the floor of a hut in our village," said Kowbeidu. "I survived a civil war and went to college in the United States all through Christian donations."
Kowbeidu remembers his roots while navigating every path, airline flight and dusty hotel room he is destined to encounter.
"We partner with 11 countries from around the world. I just returned from Liberia where there has been 14 years of civil war. We built a Christian school in a refugee camp, and, wouldn't you know? Our school was rated number 1 post-war by the Ministry of Education," he point out.
More than 400 students, all from the refugee camp village, attend the school in grades kindergarten through eighth grade. Next year, a ninth grade will be added. The population was practicing African traditional religion and Islam but now the camp is about 85 percent Christian.
Mission's trips require a lot of money, time and connections.
"Many feel that American missions will go wherever we want and impose on a society, but that is not true. People of a particular area know what they need most, and so we speak with the people or government of that country. That way we know what to provide," Kowbeidu explained. "Further, our relationships are determined by our three levels of partnerships which allow us to establish our priorities."
St. Andrew's Church has distributed toothbrushes, toothpaste, school supplies, textbooks, children's items and so much more. Mission trips can concentrate on one or more areas, including evangelism, medical and outreach programs. St. Andrew's has taken its help and its message to places as diverse as Liberia, Uganda, Rwanda, Honduras and Nicaragua.
"Recently we distributed over 1,000 pairs of reading glasses, and we have done so for the past three years. These countries don't have a local drugstore down the street where individuals can pick up reading glasses," said Kowbeidu. "So glasses are something we can bring to the people."
St. Andrew's works with many local groups as well. Love Charleston is the domestic mission's arm serving the tri-county area. Hannah's Hope, Backpack Buddies, Coastal Crisis Chaplaincy, East Cooper Community Outreach, Families Helping Families, Christmas Commandos, Florence Crittendon, Operation Home and many more organizations benefit from the hard work of the parishioners of St. Andrew's Church.
One way St. Andrew's helps pay for its work is its largest fundraiser: Fishin' for a Mission. The event includes an auction and, of course, a fishing tournament.
"We welcome donations for the live and silent auctions as well as monetary donations. This is our biggest fundraiser each year and the funds allow us to keep spreading the word of Jesus Christ and helping people locally and around the world," Kowbeidu said.
To learn more about St. Andrew's, visit the church in Mount Pleasant's Old village at 440 Whilden St. or at its locations in Goose Creek and Park Circle. For an explanation of the church's three levels of partnerships for international missions, a full list of local charities through Love Charleston, as well as service times and bios on the church's staff, go to www.WeAreSt.Andrews.com.
St. Andrew's has joined the world community to effectively combat the Ebola crisis in West Africa, particularly in Liberia, a major mission partner of St. Andrew's. The school the church built was rated the best Christian school in post-war Liberia. St. Andrew's has raised more than $100,000 to help provide clean drinking water and medical supplies and for the people of Liberia.
"I would like to express our profound thanks our members and friends who are prayerfully and financially supporting our work in Liberia in these difficult times," Kowbeidu commented.
Words by Stacy E. Domingo. 
Photo courtesy of St. Andrew's Church.