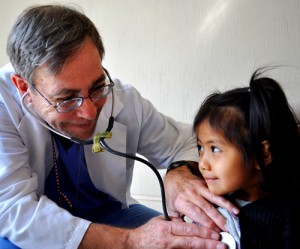 This is part of a series on East Cooper churches providing mission and charity work throughout the world. Read the introduction article here. 
Since 2006, a spiritually driven team of Lowcountry residents has made a biannual trip to Guatemala where they serve the health needs of the poor. The team consists mostly of people from different medical backgrounds, such as doctors, dentists and nurses. Regardless of their profession, they all share the need to serve others.
Cathy Hunnicutt, who is well-known around the East Cooper community as half of the Hunnicutt Real Estate Team with Carolina One, hosts the annual Guatemalan Gala, an event that raises money for Project San Pedro by selling items created in Guatemala.
"I purchased all of the items from Guatemala that appear in the silent auction," explained Hunnicutt, who is also a licensed pediatric nurse. "This past year, we brought the Sisters of Bethany, who are the principals of the school in San Pedro, for their first trip here to the United States. They got to witness the auction in person and it was great."
Hunnicutt recognizes that local businesses and individuals are often asked to donate items for a charity, so she chose to think outside the box by utilizing items not normally found in the Lowcountry.
"It brings attention to the people of the San Pedro community as well as the community here in Mount Pleasant that supports international missions," she commented.
The Catholic Diocese of Charleston also is an important supporter of Project San Pedro. Comprised of the entire state of South Carolina, it was founded in 1820 and is among the oldest Catholic dioceses in the United States.
Deacons preach about Project San Pedro at weekend masses throughout the diocese. The project is especially geared toward educating children; sponsors are asked to contribute $25 per month take care of the educational needs of a specific child.
The medical missions serve small towns on the shores of Lake Atitlan and in the lush, green hills of the surrounding volcanic mountains in Guatemala. To get there, the group of no more than 34 people flies from Atlanta, then takes a three-hour bus ride. After that, they must reach San Pedro by boat.
The Catholic Diocese of Charleston recognizes the mandate to preach the Gospel to all people. International Ministries Deacon Gabriel Cuervo explained "that we are called to serve our neighbors. It doesn't matter if our neighbor is here in our country or elsewhere. We are all under God, whether we live in Haiti, Guatemala or Hilton Head, South Carolina."
Cuervo welcomes everyone to help in the international ministry and Project San Pedro.
"Even though this mission is put together by the Diocese, it is open to all Christians. Everyone is welcome to come and help, whether it is financially, some other resource or a personal talent that may help the people," he explained.
Cuervo pointed out the importance of the medical missions and financial sponsorships.
"I've spoken with the people in Guatemala, and they don't want people from the United States to change their culture," he explained. "Medical missions are what they want and need. The country I come from, Colombia, is considered in America as a Third World country, but never have I seen poverty like I've seen in Guatemala. And yet the people still smile."
Hunnicutt concurs, so much so that on the last mission trip she took along her daughter, Sarah Jane, so that she could experience firsthand the ministry work in San Pedro.
"The only way out of poverty is education," Hunnicutt stated. "Even in public school in Guatemala, the families have to pay for their books and most cannot afford it. I consider the kids I sponsor as my kids. I see them twice a year on the mission trips and it is exciting. They now have some access to Internet and social media and that helps our relationships to continue in the interim. It is very fulfilling and I'm hooked."
Anyone interested in sponsoring a child can go to www.SCCatholic.org. Under International Ministries is a link to Children Who Need Sponsors. There you'll find photos of children who need sponsors. This is an opportunity for those who cannot personally go on a week-long medical mission to participate in this missionary activity.
Also on the website are links for individuals who are interested in medical mission trips and a page that answers many of the common questions regarding international ministries, Project San Pedro and international missions.
Story by:Stacy E. Domingo
Photo Credit to The Catholic Diocese of Charleston