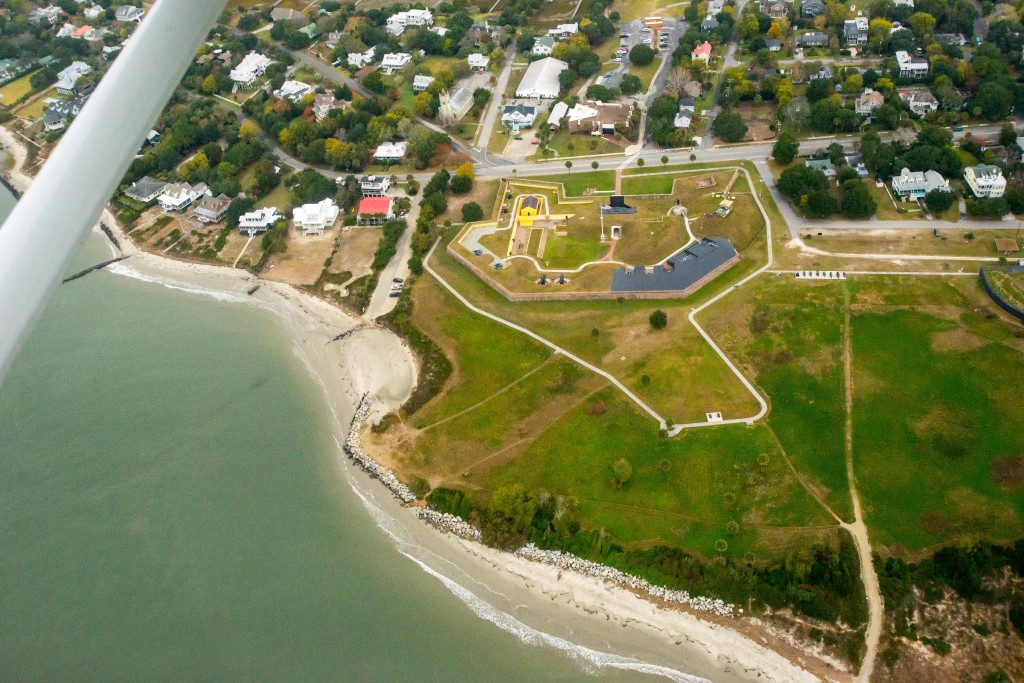 If you weren't actively looking for the Mount Pleasant Regional Airport, you'd be hard-pressed to notice that it even exists. Its somewhat remote location is marked only by a modest green sign with white lettering along the U.S. Highway 17 roadside, just north of Park West.
Mount Pleasant has its own airport? What's that all about? Where did it come from and where can you fly to?
You certainly won't be able to catch a flight on Southwest or United, and you won't find any souvenir shops, bookstores or places to purchase hot, sticky cinnamon rolls. If you're planning to take a trip from this general aviation airport, you'd better have your own plane – or know someone who does.
To get to Mount Pleasant Regional Airport, follow the green-and-white sign's arrow and, if you're headed north, take a left across the highway. You'll soon put the high-speed, three-lane thoroughfare behind you and be driving on a quiet, tree-lined, two-lane blacktop. Travel about a mile and you'll spot a row of large white structures – hangers, actually – and you'll find yourself on Faison Road. And therein hangs a tale.
Longtime Lowcountry residents still consider the airport to be nestled in Faison Field, and official aeronautical maps still list the facility as "Mount Pleasant Regional Airport – Faison Field. So who was this Faison fellow, and why does our town's airport bear his name?
Finding the man behind the name will take you back to the 1920s, when young Harwood "Woody" Faison took a ride in a German-built Fokker at age 5 and fell in love with flying. He went on to graduate from The Citadel, to fly in combat during World War II in the Army Air Corps, winning the Distinguished Flying Cross, and to continue his flying career in the newly formed U.S. Air Force.
Eventually, after leaving the military, he moved to South Carolina to form the Palmetto Air Service, convincing the owners of the Isle of Palms Airport – little more than an untended grassy takeoff and landing strip – to allow him to base there. In time, the airport, located near the Intracoastal Waterway, was swallowed up by new development. Another East of the Cooper general aviation airport, at Remley's Point, roughly where today's Holiday Inn stands, was shuttered in 1973.
By 1974, residents of the growing town of Mount Pleasant were eager to establish their own airport, and, two years later, a home for the facility was found. It was a 300-acre site, purchased from Georgia Pacific and located in an undeveloped area about 10 miles northeast of the heart of town.
By the summer of 1986, just about everything at the new airport was ready to fly. With a 3,700-foot paved runway and parking for both aircraft and automobiles, all that was missing were a terminal with offices, a maintenance hangar and an operator. To fill the gap while the facilities were being finished and to offer a strong presence on the ground, Faison moved his Palmetto Air Service from its temporary home at Charleston International Airport to serve as the de facto operator.
By late summer of the following year, the East Cooper Regional Airport – forever known informally as Faison Field – was opened to the public.
Today, Mount Pleasant Regional Airport, publicly owned by the Charleston Aviation Authority, is equipped to handle propeller-driven planes and small non-commercial jets with a maximum fueled weight of 12,500 pounds.
On average, the airport handles 80 takeoffs and landings a day, 365 days a year, for a total of more than 29,000 annually. These include general aviation, air taxi and military. Seventy-two aircraft are based at Mount Pleasant Regional, 90 percent of them single engine planes, along with one helicopter. Several pilot training schools operate out of the regional facility.
One recent morning, Claudia de Mayo, who maintains homes in Atlanta and on Dewees Island, had just completed the preflight checklist for her Beechcraft Bonanza, a six-seater with a cruising speed of 174 knots. Asked her opinion of Mount Pleasant Regional Airport, she said, "It's a great small airport. They take great care of us. And the people who work here are terrific, too."
"We're real regulars here," she added, "because we fly between our houses. It takes five-and-a-half hours to drive and it takes us an hour-and-a-half to fly. So it makes the airport really convenient for us."
De Mayo said she maintains hangar space both at Mount Pleasant and in Atlanta because "We like to keep the plane out of the sun and the weather as much as possible. That way we don't have to worry if a hailstorm is coming."
One bonus De Mayo didn't mention but that immediately becomes obvious to even a casual visitor to Mount Pleasant Regional Airport is that you can walk right out onto the tarmac and climb aboard your aircraft without taking off your shoes or emptying your carry-on bag.
There aren't any cinnamon buns at Mount Pleasant Regional Airport, but you won't find the TSA there, either.
By Bill Farley
Photos by Ronnie Martinelli