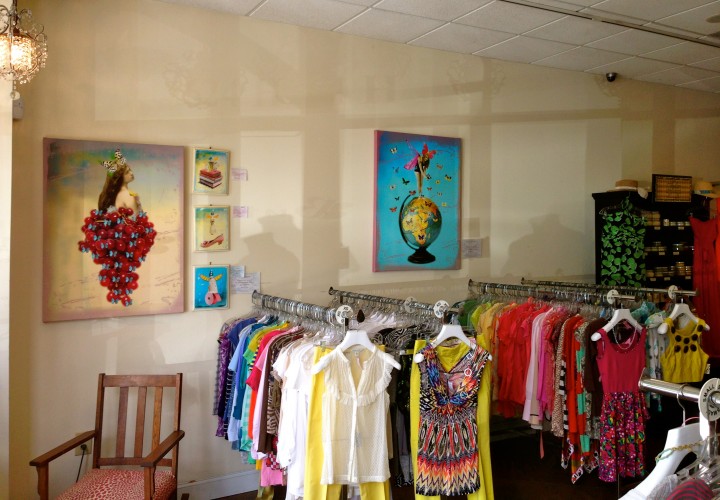 Style icon and designer Coco Chanel once said, "Every day is a fashion show and the world is your runway." Amanda Rosen, the owner of Butterfly Women's Consignment Boutique, cherishes this sentiment. Since opening her boutique in 2008, she has helped hundreds of women transform into the trendsetters they were born to be. With high-end labels such as Louis Vuitton, Versace, Christian Louboutin, J. Crew, Michael Kors and Banana Republic, Butterfly Consignments keeps customers looking exquisite without taking a toll on their budget.
"It's very rewarding taking a woman who walks in not feeling her best and putting her in something beautiful and reasonably priced," said Rosen. "It's great to send her out beaming and feeling confident. That's what fuels the fire."
Growing up in Europe, Rosen was surrounded by a thriving world of fashion. Later, international travel would take her to exotic lands, where the culture culminated in showstopping ensembles.
"I fell in love with the colors, unique textiles and bold patterns," said Rosen, reflecting on her time spent in Southeast Asia, Turkey and Greece.
While a genuine passion for clothing fueled her career, Rosen was also motivated to reduce her own carbon footprint. Opening up a consignment shop would not only let her bring her love of labels to the masses but would allow her to do so in an environmentally sound way.
"It was equally important to me to create a business that didn't deplete the earth's resources," said Rosen. "The Belle Hall Shopping Center is really a great location. It's wonderful that it is made up of small independent storefronts as opposed to big chains."
When not keeping the women of Mount Pleasant looking and feeling their best, Rosen can be found inspiring women on the other side of the world. After a mission trip to Africa, Rosen became motivated to help impoverished young Kenyan women tap into their own potential. She is putting three teens through high school and has set up another young Kenyan woman with the necessary technical training to become a laboratory assistant.
"I credit my success to hard work, long hours and having a feel for color and fashion," said Rosen. "I want to continue to serve the people of Mount Pleasant to the best of my ability. We will keep bringing fabulous international fashion to Mount Pleasant that customers wouldn't normally be able to find in the Charleston area."
With a stunning selection of luxury items from which to choose, Butterfly Consignments is the number one upscale boutique for all of your fashion needs. From chic office wear to dazzling gowns, the array of inventory is both impressive and satisfying. Even one-of-a-kind accessories can be found among designer handbags and stunning mixed-media paintings. Whether you need to find that perfect summer beach hat for a trip to Sullivan's or chandelier earrings for a night downtown, Butterfly Consignments has got you covered.
What are you waiting for? Escape into a world where commanding prints abound, and transform into the radiant fashion-forward individual you always knew you were.
By Kalene McCort
Photo Provided
Butterfly Women's Consignment Boutique is located in the Belle Hall Shopping Center on Long Point Road. To learn more, call 843-884-8577 or visit www.butterflyconsignments.com.