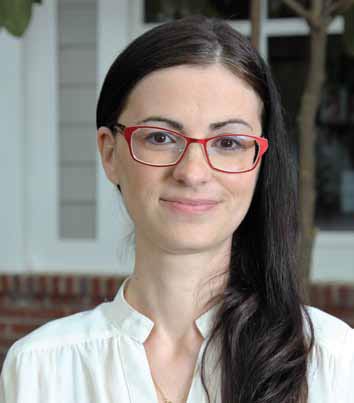 Sweetgrass Eyecare
3070 Highway 17 North,
Mount Pleasant
843-352-9977
www.sweetgrasseyecare.com
Not every young child has the opportunity or interest to watch surgeries be performed, but, for Dr. Emily Curry, owner of Sweetgrass Eyecare, those fond memories inspired her to pursue a career in the medical field.
"My dad was a private practice veterinarian, and my siblings and I grew up in that practice just as much as we grew up in our house," she said. "As a child, I saw my father perform a lot of small animal surgeries, and it was captivating to me."
Dr. Curry has been fascinated with the human eye since high school. After working in the optometric field in college, she knew that becoming an optometrist was her dream. She earned a bachelor of arts in Biochemistry from Otterbein College and went on to graduate first in her class with a doctorate of Optometry from The Ohio State University.
She came to Charleston in 2007 as a clinical director and then worked for other private practices before opening Sweetgrass Eyecare in Mount Pleasant two years ago.
"Private practice is where my heart is, and, after having two of my three children, I knew that the next step was starting my own," Dr. Curry said. "Not only does owning my practice allow me to practice eye care the way I dream of, but I also hope that my children will have the same sort of childhood memories that I have of my dad's clinic."
While being able to set high standards of eye care and acting as a role model for her family are two perks of owning an optometry practice, Dr. Curry finds joy in helping people.
"I absolutely love seeing patients, not only examining the health of their eyes but listening to their vision problems and working with them to find a solution," she explained. She credits her patients as the reason she and her staff strive to stay on the cutting edge of optometry by learning new techniques and employing advanced technology. Sweetgrass Eyecare offers the latest in refractive technology, contact lenses, eyewear and ocular health detection. While she is an expert in all of these services, she especially enjoys refractive surgery and fitting specialty contact lenses.
Most of all, Dr. Curry finds inspiration in her career as an optometrist through her patients.
"I love my patients, and it humbles me that they choose to come to Sweetgrass Eyecare for their vision needs," she smiled. "Vision is such a precious sense, and I love being able to help people see the best they are capable of seeing."
By: Anne Toole