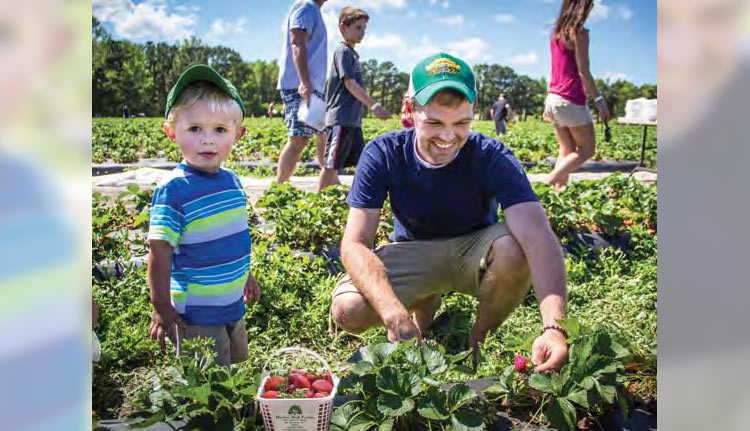 Is any food quite as beloved as the humble strawberry? Bright, juicy and versatile enough to be eaten alone or on top of a shortcake, it's no wonder that strawberries are the harbingers of spring. In Mount Pleasant, we kick off our warm weather fun with an iconic festival that celebrates these magical fruits, hosted at Boone Hall Plantation. A fun-filled event since 1997, the Lowcountry Strawberry Festival is a great reason to get out of the house, breathe in the fresh air and enjoy Earth's bounty.
The festival began 20 years ago with just three acres of strawberries, ripe for picking. Boone Hall owner Willie McRae felt encouraged to keep the momentum going after a visit with his aunt in Michigan, who told him his grandfather grew strawberries as well. Now, with 11 acres of strawberries and a slew of events that bring festival-goers from all over the Southeast, McRae is satisfied with the evolution.
"I thought the locals would think it was hokey to pick berries – but the concept took off like a rocket ship," he said. "I've had a lot of people thank me for the festival. Their parents or grandparents grew up on a farm, and they enjoy giving their own kids a similar experience."
Looking for the 2019 Festival? Go here.
These days, the Lowcountry Strawberry Festival offers much more than picking your own berries. For one thing, a partnership with Amusements of America means rides and attractions for all ages – probably around 25 rides this year, according to Rick Benthall, Boone Hall marketing director.
"A number of festival thrill rides will be presented," he said. "This year's festival will also bring back the very popular K9s in Flight acrobatic dog shows, as well as the All American Petting Zoo."
Another cornerstone of the event, the Miss Berry Princess competition, is something that little girls – and their parents – have enjoyed and looked forward to year after year. The idea for the contest originated in 2007, when McRae learned that Benthall's own daughter was crowned Miss South Carolina. Inspired, he put his new director in charge of the Berry Princess Contest, and it was an immediate hit.
"I have help with it now," Benthall joked, adding that prominent community members are asked to be part of the judging panel.
But even in the midst of all of its great events, the center of the festival continues to be the strawberries. This year, fields will be visible from Highway 17 in North Mount Pleasant and will surely lure many children – and those with a childlike heart – to visit Boone Hall.
"Part of [Willie's] philosophy regarding special events like the Strawberry Festival is to keep the community engaged with Boone Hall," Benthall explained. "They're designed to help visitors have fun on the farm."
Visit the Lowcountry Strawberry Festival at Boone Hall Plantation from April 20 to April 23. Admission is $10 for adults and $5 for children 2 to 12, with children under 2 free with adult purchase. Combo admission and ride tickets are also available. See details and purchase advance combo tickets at www.BooneHallPlantation.com.