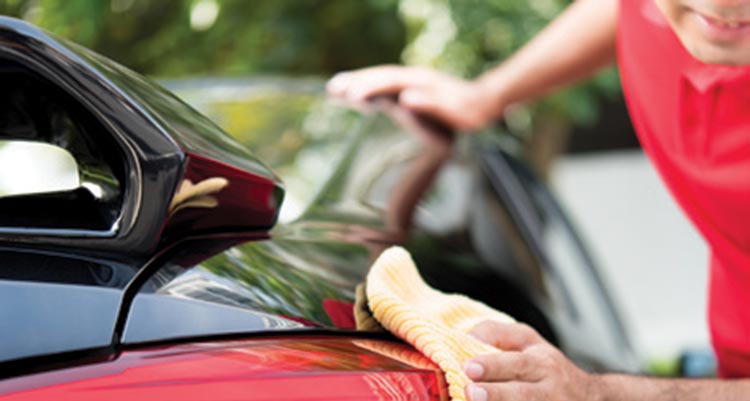 No doubt about it: A clean car makes an impression. Perhaps that's why I always have mine cleaned before I travel home to see my family – I want them to think my life is happy and well-adjusted, after all. And long before I met owner and car-wash-enthusiast Sean Griffin, I'd always chosen Liquid Highway as the place to get my Toyota – before that, my Saturn – squeaky clean.
Griffin started Liquid Highway in 2004, though he'd lived in the Lowcountry since 1999. Originally from Greenville, South Carolina, he'd just sold a successful mobile shredding business to a Fortune 500 company at the time and was looking for new opportunities. When he noticed that Mount Pleasant didn't have a really good full-service car wash, he "thought it was a good niche."
At first, Griffin looked into a more basic car wash model known as touch free, or laser washes, where folks can just drive in and drive out again. But the Mount Pleasant market seemed ready for something with a little more pizazz. After he talked to a consultant in Florida, he found the right answer.
"Steve Okun was one of the first advocates of the flexserve wash model, which was new at the time," Griffin explained. "It was a combination of an express tunnel as well as full service. We were one of the first car washes in the country to offer this combination."
As anyone who has ventured to Liquid Highway can attest, the place does an awesome job at detailing the interior of your car. But it's also a great spot to just drive through the express tunnel and knock the bird poop, pollen and dirt off your ride. According to Griffin, about one third of the business' revenue is from detailing, another third is what they call "express service" (a swift interior cleanup) and the rest is people who just drive through the tunnel for a quick wash and hand towel dry.
"The flex-serve system has revolutionized the industry," he pointed out. "Many car washes don't understand that time is their customers' most valuable commodity. We look at it this way: Anyone can clean their car in their driveway. We have to do it faster and better in order for them to want to come back."
To that end, Griffin takes meticulous care with training his employees in Liquid Highway's magical wash methods. Efficiency is key, he said, and each member of the staff needs to have a sense of urgency that keeps cars, trucks and SUVs moving down the line with ease. In fact, when there's a slew of dirty cars to be washed, Griffin himself is happy to help out.
"People's time is important," he noted. "We spend a lot of time here training new employees on our program and on how to be efficient."
Besides the fast and attentive service, Liquid Highway offers other perks. Patrons waiting for their cars can relax in the Liquid Highway lobby, complete with drinks, snacks, Wi-Fi, a colorful fish tank and car-related sundries available for purchase. And monthly memberships make it easy to have a perpetually clean ride – though Griffin did say that the latter part of the year is particularly bustling.
"October through December is a busy time," he said. "People are seeing relatives and needing the sand out after the summer. Plus, gift cards are a popular item during the holidays."
Liquid Highway is located at 1126 Hungryneck Blvd. To learn more, visit www.liquidhighwaycarwash.com.
By Denise K. James