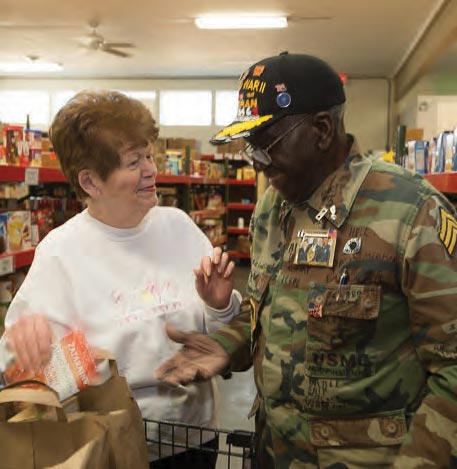 Do all the good you can, by all the means you can, in all the ways you can, in all the places you can, at all the times you can, to all the people you can, as long as ever you can."
Those famous words from John Wesley could just as easily be the mission statement of Mount Pleasant's East Cooper Community Outreach. For the third year in a row, this comprehensive organization is the best nonprofit in East Cooper, according to the readers of Mount Pleasant Magazine.
"People write to us saying, 'you guys are lifesavers,'" said Alana Morrall, ECCO's director of development and marketing. Recently, she experienced a rush of thanks from the families of 322 children who received Christmas gifts, thanks to ECCO's Adopt a Family program.
"In the next year, our plan is mostly continuing forward," said Morrall. More good. More places. More people.
ECCO, which focuses on holistic services for families around East Cooper, does everything from financial assistance for utilities and rent, clothing, dental and medical care and prescription drugs to job preparedness and case management – and more.
Those 322 children had presents to open, 438 families enjoyed Thanksgiving dinners, 451 patients received medical care and health coaching and 221 households were able to pay their bills and disaster expenses. This year alone, ECCO's good deeds stack up enormously.
"Without everybody's support, we wouldn't be able to do what we do," said Morrall of the community partners and 250-plus volunteers whose work equated to almost three quarters of a million dollars last year.
2017 was a year of growth and change at the all-purpose nonprofit. A new executive director, Stephanie McNulty Kelley, stepped up as Jack Little, who led the organization for over a decade, stepped down. The nonprofit increased its physical resources, too, acquiring a new freezer to keep meat and produce for distribution to more families. And it increased working hours, adding an extra day of services at the ECCO nurse practitioner clinic in order to serve more patients.
"Our new executive director is especially focused on how it's all about the clients," said Morrall. "Every decision we make is about their best interest."
One example of the many lives changed this year is a woman name LaSherelle. She completed ECCO's Individual Development Account program, a savings-matching program that helps low-income families grow their assets. After completing the 12-week financial education workshop, opening her own bank account and consistently saving, LaSherelle was able to use her savings and match funds to move out of public housing and buy her own home.
2018 will see many more cases like LaSherelle's, ECCO hopes.
"People find us through word of mouth, and the biggest referral is people we've helped in the past," said Morrall. "Maybe some people type words into a search engine, but clients find us through the community and word of mouth."
Now it will only be easier to find ECCO if you type "best nonprofit in Mount Pleasant" into a search engine – but all the good ECCO does is easy to find. It's under Christmas trees, on dinner tables, in the health of East Cooper residents and the promise of being able to buy a new home.
To learn more about East Cooper Community Outreach, visit www.eccocharleston.org.
MORE ABOUT EAST COOPER COMMUNITY OUTREACH