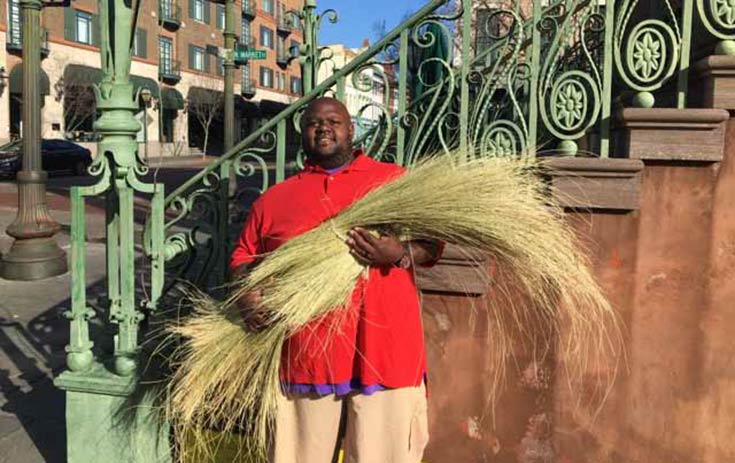 If you've ever visited Charleston City Market, chances are you've spotted the work of Corey Alston. His intricately woven creations, overlapping strips of tan and mahogany, are about as synonymous with the Lowcountry as oysters and marsh beds. However, this time-honored art form didn't come so easy to Alston when he first tried his hand at it, as a teen, years ago. Proving practice certainly makes perfect, he now has earned the coveted spot as the featured weaver of The Sweetgrass Cultural Arts Festival, which will take place at Mount Pleasant's Memorial Waterfront Park June 2.
"In the beginning of my weaving times, when I first started the work, it did not look good," said Alston, who was first introduced to the art form by his high school sweetheart, who later became his wife. "It was hard, and, as for the stitches, they were not as even. Everything seemed to get better the more and more I did it."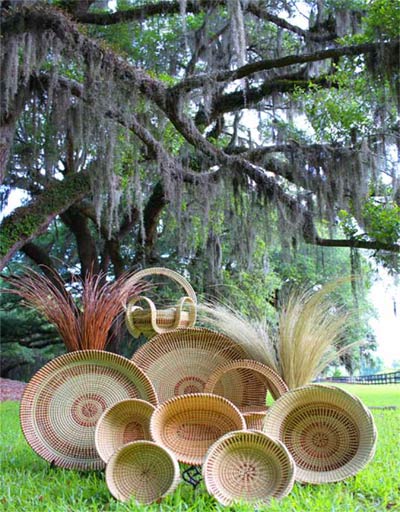 From a 17-year-old experimenting with a straw-like plant native to our region to a prized artisan whose permanent location is below The Confederate Museum at the Meeting Street stairway entrance to Charleston City Market, Alston has crafted a career rooted in tradition and self-expression.
"It is truly a blessing to be one of the younger weavers and have my work being put in such noticeable places," said Alston. "I've realized the best way for a cultural art to thrive is for the next generation to step up. Hopefully, the historic weavers before me feel that I have."
Recently, Alston has taken this tradition to the tech world. Wanting to spread the craft beyond the peninsula and surrounding sea islands, he came up with an innovative way to make custom basket weaving just a click away, with an app unlike any available on the market today.
"This Android/Apple app was created to allow a person anywhere in the world to design their own one-of-a-kind sweetgrass basket," said Alston. "Once satisfied with what they have made, they hit send. I get the design desired, make it and ship it out."
In addition to the Build Your Sweetgrass Basket App, Alston has taken the art form to yet another level by incorporating it into photography. In 2013, he launched Gullah Woven Photos in an attempt to capture his work through prints that could easily be displayed wherever the buyer sees fit.
Detailed closeups of his palm roses and baskets now hang on the walls of personal residences and office buildings, offering a framed memento of culture, craft and community. While the weaving takes center stage in each capture, the Southern backgrounds of moss-draped live oaks, notable downtown Charleston iron railings and even the ever-iconic Pineapple Fountain provide layers and much substance to each image.
"This collaboration allows me to tell a story in every shot," said Alston. "I hand-weave the subject of every named piece, then photograph it and sell the images as prints. This sweetgrass photography blend has been one of my greatest successes."
Growing up in the Snowden Community of Mount Pleasant, Alston is grateful for the skills and guidance he received from residents who were kind enough to bestow their knowledge onto him. His wife, the first to encourage him all those years ago, has a lineage deeply intertwined in the practice. With his spouse's family members having their work featured in The Smithsonian, it's fair to say Alston learned from the masters.
"I do find the sweetgrass family to be a close-knit community of weavers," said Alston. "I often call it a family because there are going be artisans in this industry that will always be respected no matter what the younger generation may do. The older artisans have truly paved the way for the next generation."
One place where you will see the works of weavers of various ages will be at this year's Sweetgrass Cultural Arts Festival. Although plenty of long-established designs will be displayed, you never know just what other unique findings could surface.
Alston encouraged all to come out to this annual celebration that provides insight into our region's Gullah culture and an in-depth look at an art form that continues to evolve. From the awe-inspiring hymns of soulful gospel choirs to live weaving demonstrations, this event is sure to offer something for everyone.
"You will find great food, music, other crafters, my company – Gullah Woven Photos – the history of the Gullah Geechee Culture and so much more," said Alston.
Now in its 13th year, The Sweetgrass Cultural Arts Festival continues to serve as a platform for showcasing creators. From storytellers who keep the tradition of folklore alive to musicians who provide sweet ancestral songs, each participant adds to the day's dynamic.
"It has been my great pleasure to be chosen as the weaver for the 2018 Sweetgrass Culture Arts Festival," said Alston. "I have proudly woven one of my most detailed pieces for the brochure cover. This particular sweetgrass basket, I feel, represents the culture of basket weavers well. 'Teardrop' took me 32 days to complete from start to finish and is the product of collaborating different styles of baskets all into one."
While Alston has artfully crafted a never-ending stream of baskets over the years, he puts the same amount of care and consideration into every piece – making sure each is just as eye-catching as the last.
"The most rewarding aspect of being a part of the Lowcountry's artistic makeup is being able to share my gift with others," said Alston. "I have enjoyed the craft, perfecting my skills and love that I've had the opportunity to teach people about an aspect of our proud Gullah Geechee culture."
By Kalene McCort