A Community of Runners; A Community of Support
Every year on the first Saturday in April, tens of thousands of people flock to the Lowcountry to be part of arguably the most popular event Charleston hosts annually and what USA Today has touted as "one of the largest and most storied 10K races in America" – the Cooper River Bridge Run.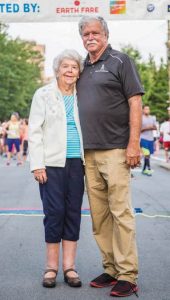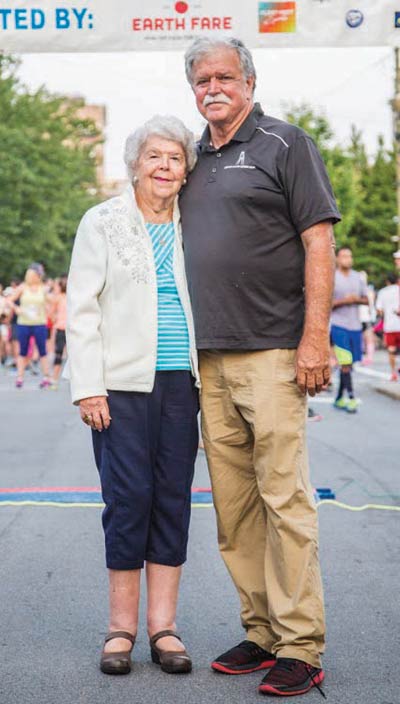 For 25 years, Julian Smith has been at the helm of this unrivaled celebration of health, transforming it into an event of such magnitude that it benefits 15 charities and positively impacts the Charleston area economy to the tune of $30 million annually. If you know him, you can't help but love his charisma and dedication to health, wellness and the community.
Now, residents of the Lowcountry and friends Smith has made around the globe are rallying around him as he battles brain cancer.
Smith was born in Charleston and became interested in health when he started running at the age of 7 and continued running at Baptist College – now Charleston Southern University – and later with co-workers. He started a career in hospital finance with the Medical University of South Carolina before taking the role of wellness director. In 1978, his neighbor knocked on his door and asked if he wanted to run in a new race – the Cooper River Bridge Run. They were among 766 runners to cross the span from Mount Pleasant to Charleston that first time. It was fate.
"I went gangbusters to help any way I could when the opportunity arose," he grinned.
For years, the Bridge Run remained a popular but relatively small race with no big sponsorships or charitable components, but, in 1994, Smith was faced with an opportunity that changed the course of his life and career – and ultimately the course of the race: He became director of the Cooper River Bridge Run. Admittedly a "big-picture guy," Smith worked quickly to bring his vision to life. He put the race on the map with a 10-page spread in Runner's World magazine. He got charitable organizations involved. He pulled in major sponsors. Even Oprah Winfrey famously ran in his first race as director and reportedly gained more press than the race itself.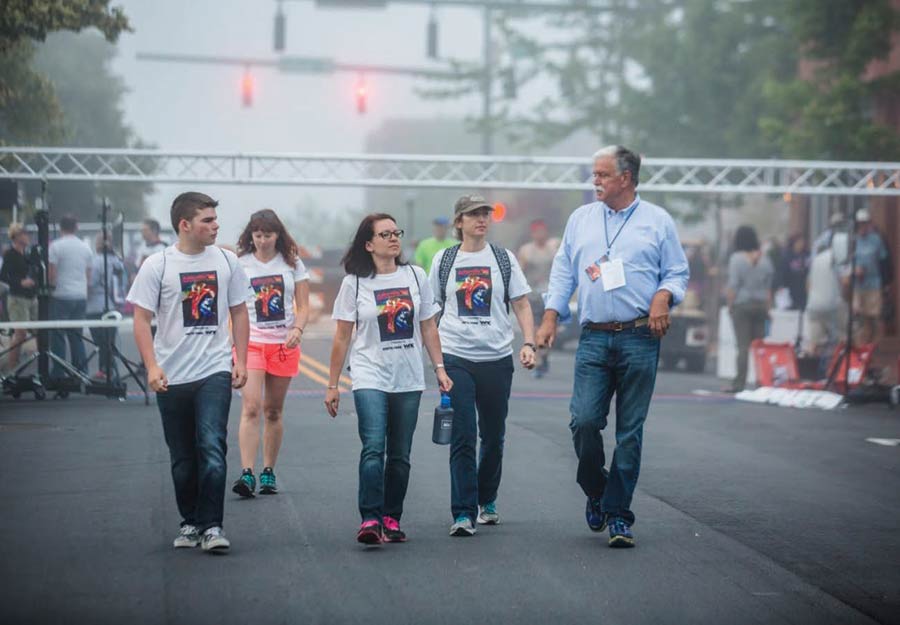 Today, the Bridge Run is capped at 40,000 runners, with major sponsors such as Boeing, Mercedes, Harris Teeter, The Post and Courier, Jim 'N Nick's, CPI, Geico and BELFOR. Fifteen local and national charities are involved, and runners are invited to donate money to or create fundraising groups for them. Approximately $30,000 goes to schools and nonprofits through the Coastal Community Foundation.
Smith's favorite part is race day.
"It's great to watch as events get checked off the list – the kids' run, the beer garden, the health and wellness expo, the press lunch," he said. "But getting up on the scaffolding is the greatest moment. It's so rewarding to see 40,000 people lined up ready to run. It all comes to fruition."
His ability to skillfully manage the multiple moving parts of the race – from events to charities, schools and nonprofits, awards for the Bridge Run Hall of Fame and Joseph P. Riley Awards and overall dedication to improving health and wellness – has gained him popularity throughout the running and racing world, and his expertise has in turn helped numerous other races become known internationally.
"It's rewarding to be respected as a race director. With the Cooper River Bridge Run's numbers and the money we bring in from sponsorships, other directors respect me for my opinions, and I'm glad to see them become successful as well," Smith said.
Over the decades, he has made great memories networking with other race directors by attending their races and having them come to his – big-name races such as Peachtree, Marine Corps, Boulder, Big Sur, Maui, Dubrovnik and Mostar. The list goes on.
He has made such an impact globally that his network of friends, fellow runners, race directors and more have come together to show their support when he needs it the most. Shortly after he was diagnosed with cancer, this group rallied together, and friends around the world sent letters and videos sharing meaningful memories, words of thanks and virtual hands of support.
"Your generosity, your charity to all, your kindness to all, your open-arm friendship is all well-known. … You are No. 1 in our profession and so very generous in sharing your knowledge to all who ask. … I especially remember at the Lake Tahoe Marathon when the wind picked up and everything was blowing away, how you rolled up your sleeves and became one of the troops and went to work moving tables and equipment," wrote Les Wright, race director for the Lake Tahoe Marathon.
"If you need him for something, he is always there to help in any way he can," wrote lifelong friend Jimmy Miller. "Julian is a very giving individual in that he helps various charities with gifts of his time and talent, as well as monetarily (and doesn't ask for recognition)."
The many letters were compiled into a book for him, and the videos were part of a documentary about Smith that premiered in October. To say that he has impacted people around the world is an understatement.
Your goal in life is to truly connect everyone and provide them with a higher purpose, pushing them to achieve their absolute BEST!" wrote Christine Osborne, owner of Wonder Works. "You give ALL of us a HOME, a platform to do our passion and a place to make this world BETTER!"
"Julian, you have not only been THE person to take the Bridge Run to the place among the nation's top runs, but you have blessed so much on the community while doing it. The kids' run blesses families. … the scholarship program gives hundreds of groups across the Lowcountry money and free entries to encourage their participation in exercise. The charity connect has now raised hundreds of thousands of dollars – and many times you would get the Bridge Run to chip in when donations weren't up enough for some of the smaller charities," wrote Scooter Barnette, a physical education professor at the College of Charleston.
With strong support from his friends and a passion for health and his community, Smith refuses to let glioblastoma stop him. Instead, he has picked up the pace and is organizing another race – Julian's Run – to raise money for children with cancer, with plans for the inaugural event to be held in early 2019.
"Your energetic leadership and passion for physical fitness allowed your reach to extend beyond the bridge run," wrote former Charleston Mayor Joe Riley Jr. "You ushered in a new era of consciousness about the importance and joy of physical fitness. Countless lives have been enhanced because of your leadership. People have lived longer, able to see their grandchildren born and graduate from school, share long lives with families and friends and have the joyful satisfaction of physical activity. This was all because of your leadership."
As he continues to fight his battle with cancer, the Charleston community and beyond is running right along beside him, grateful for all he does for the betterment of others.
By Anne Shuler Toole