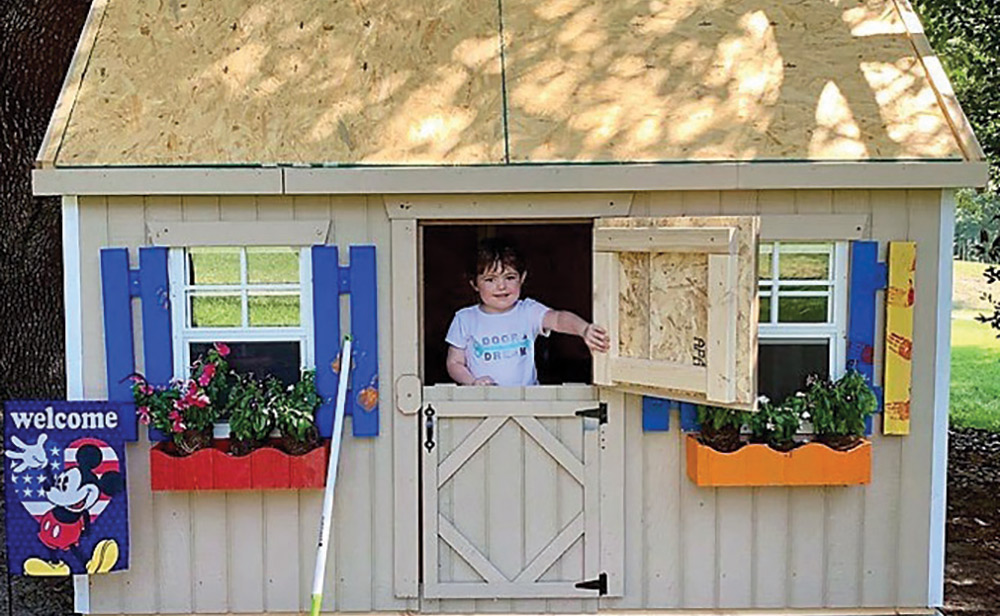 Each year, the parents of approximately 15,600 kids will hear the words "Your child has cancer," according to CureSearch for Children's Cancer. Across all ages, ethnic groups and socioeconomics, this disease remains the No. 1 cause of death by disease in children.
One local company is creating a ray of sunshine in the lives of children with cancer. For the past three years, the KLH Group has brought the joy of participating in building a personalized clubhouse to over 20 children in the Lowcountry who become "the star" for the day. At least two of those children, Elia Ikonomidis and Cayden Burke, are from Mount Pleasant.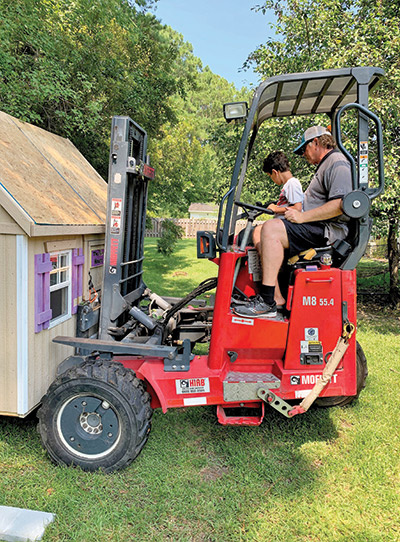 Four-year-old Elia was diagnosed with B-cell acute lymphoblastic leukemia (ALL) when she was 2½ years old. A good friend whose child also has ALL referred the Ikonomidis family to the KLH Group, a Charleston event company, founded by Hope Caldwell, that specializes in pairing social-impact service projects with corporate objectives. For the clubhouse builds, Caldwell matches companies and volunteers with the children's families for a fun-filled day of building a unique, colorful playhouse for each child.
Elia's clubhouse build took place in June at The Cloister at Sea Island. Employees from The Cloister and Lowe's home improvement store provided the materials and the volunteer labor. "It was a truly magical experience," said Ashley Ikonomidis, Elia's mother. "We felt so welcomed and loved by everyone. They let my 6-year-old son measure and help with the drill. They let Elia paint her flower boxes and shutters by herself."
Shortly after Ashley and her husband, Vasili, moved to the Lowcountry, their son Minos was diagnosed with autism. "Having children with special needs can be incredibly isolating," said Ashley. "The KLH Group gave my daughter a safe, exciting place to play. … A place to be a kid when too often she is expected to be braver and stronger than most adults. So much of her childhood has been stolen by cancer. Caldwell and her team embraced us, surrounded us with positivity and love, and let our kids' imaginations run wild. We built a clubhouse, but, more importantly, we built memories and lasting friendships. We couldn't be more grateful."
Jennifer and Brandon Burke of Mount Pleasant found out their son Cayden had ALL just a few days shy of his fourth birthday on Oct. 30, 2015. Today, Cayden is 7 years old, in remission and doing well.
Jennifer learned about the clubhouse builds from Ashley. Cayden and the Burke family helped build his one-of-a-kind playhouse at Marion Square on Aug. 8.
"Cayden and his little brother Rylan were able to work along with the volunteers from Cortland Design and help with the building process," Jennifer said. "Everyone was very patient and let the boys hammer and drill some of their own nails, and they even had a painting station set up so that the kids could create artwork to personalize their clubhouse with. Cayden brought his own blueprint of his dream house along to share with the designers."
Jennifer said the clubhouse came along at a perfect time. "Cayden and his brother had been asking us for a playhouse for a while, but, due to financial and time constraints, we were unable to find a way to purchase or build one. When Ashley nominated us for the Charleston build, it was the perfect opportunity for us to be able to deliver their wish, and we are so grateful that this opportunity presented itself to us. Although Cayden's childhood has been disrupted for years by the effects of critical illness, organizations like KLH have helped to offset the trauma and replace it with positive experiences."
For more information about the clubhouse builds, applying for a clubhouse or volunteering, visit klhgroup.co or call 843-718-0636.
By Tonya McGue