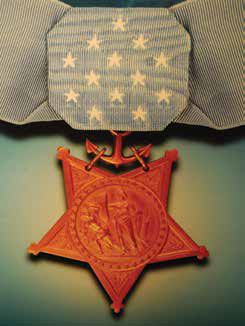 Apparently unhappy that the Mount Pleasant Planning Commission refused to approve architectural plans for the building that was to house its proposed museum at Patriots Point, the Medal of Honor Museum Foundation moved on and decided to seek another location.
The end of the foundation's lease with the state of South Carolina and the Patriots Point Development Authority does not necessarily mean that the Medal of Honor Museum won't eventually be moved from the USS Yorktown to a permanent land-based building in Mount Pleasant, however, according to both Mayor Will Haynie and PPDA Executive Director Mac Burdette.
Neither of them is ready to talk yet about concrete plans to construct a building that will honor America's greatest heroes.
"It's premature to get excited about," said Burdette. "My board chairman has had one meeting with the chairman of the Medal of Honor Society."
Haynie pointed out that the state, which contributed $5 million to the project – money that has since been returned – has shown interest. He added that the town, which dedicated $1.5 million for road improvements at Patriots Point, might agree to use those funds toward a museum. He said he hoped a private/public partnership could be developed.
"We don't want one poorly-thought-out effort to follow the one that just disintegrated," Haynie said. "We would have to have the blessing of the Medal of Honor Society. We would be honored to have them here."
Burdette explained who the players were, are and will be in any effort to bring an MOH Museum to Mount Pleasant:
The Medal of Honor Society is made up of the recipients of the award. Its offices are located aboard the Yorktown, as is the current museum, which is funded by Patriots Point.
The Medal of Honor Foundation is located in Washington, D.C. Its job is to raise money to support the Society and its outreach efforts.
The Medal of Honor Museum Foundation is the group that wanted to build the museum at Patriots Point, then decided to look elsewhere. Joe Daniels is its current executive director.
"There's no proposal yet," Burdette said. "It might be at Patriots Point, and maybe it will be the headquarters for the Society. It may include an education center and some level of a museum and archival center. These kind of things start with a notion. They may grow wheels and get rolling."
Burdette said his board of directors is open to the possibility of another museum at Patriots Point – a state agency – but he's not sure they will approve a deal as sweet as the one granted to the Medal of Honor Museum Foundation.
"I can't speak for my board, but I don't believe they are excited about making the same deal again. I think they would want more evidence that any kind of facility would demonstrate upfront a business plan about how they would make it work. And we'd have to sell the idea to the state."
"If I had to pick one effort in my nine years here that I am most disappointed in, it would be the Medal of Honor Museum," he added. "We put six years into trying to make that work. We went beyond what they asked us to do. We donated a $300-million property for 100 years, and, when they asked for more land, we did that, too."
By Brian Sherman