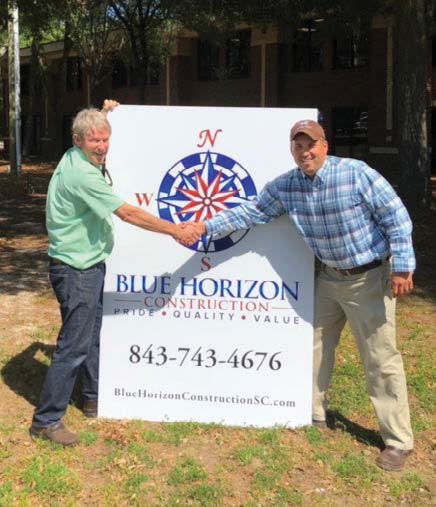 From
The Citadel President's Quarters One home
to retail space and health care facilities, Blue Horizon Construction is a first-class residential and commercial contractor firm based in Mount Pleasant. Their mission is to provide quality work at a value and on schedule.
Co-owners Rusty Holt and Chris Cochran are hands-on contractors and project managers, each with 25-plus years of experience in the construction industry.
Holt has experience in commercial, residential and historic renovation construction. He grew up in the construction industry building custom homes with his family's company. After graduating from college, Holt started his own company building custom homes. In 2003, he became a production home builder, constructing more than 70 homes a year. In 2008, Holt was recruited by Lend Lease, one of the largest commercial builders in the U.S. Over the next nine years, he traveled the country building multifamily communities and hotels. When he's not working, he and his wife raise Arabian horses on their property in Georgetown.
Cochran has worked in design, development, construction and renovation with experience leading projects for health care facilities and medical office buildings. He also has extensive knowledge of building residential properties, including multifamily developments. Cochran has been a resident of Mount Pleasant since 1985. In his spare time, he is a cyclist who rides up to 100 miles each week.
Blue Horizon projects have included hospitality, medical offices, general retail, multifamily and single-family residential. Their client list includes: King Charles Inn, Kid to Kid children's store, Lowcountry Orthopedics, All Eyes Optical and Elliott House Inn. Additional residential projects include houses in McClellanville, Santee and Mount Pleasant.
Cochran recently was asked what Blue Horizon's specialty in the construction industry is. He explained that they don't have a niche within the industry: "It's simple. We build things," he said. "We don't care what it is; we like to build it all."
Blue Horizon places value on quality, integrity, trust and staying on schedule. "One reason we are successful is our dependable base of subcontractors. They show up when they say they will and do quality work at a competitive price," Holt said. "To be as competitive as possible, we also keep our overhead and profits low. We are determined to complete each project on time and to the customer's expectations. Our budgets and schedules are real and dependable."
Cochran concluded, "We want our customers to be as proud of our work as we are. Additionally, when people call us, we call them back."
For more information, visit www.bluehorizonconstructionsc.com or call 843-284-7181.
By Tonya McGue