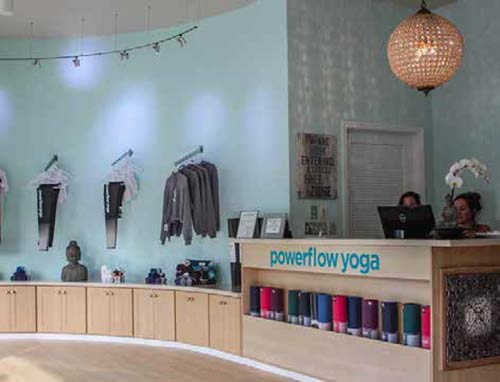 She stands balanced on one leg, torso and arms extended forward, the other leg outstretched behind her. Anchored to the earth, her thigh burns and her shoulders quiver. Beads of sweat stream from her forehead, dropping silently at the top of her mat. Her heart pounds though she's barely moving. Blood courses through her vessels like a raging river, yet she's standing still. Her breath is measured as she draws another deep, 98-degree inhale; steady in, steady out. As her heart races and her muscles burn, her gaze remains fixed, her balance poised and powerful, her breathing even, her mind serene.
With singular focus, she follows the sound of the voice leading her movements, immune to all else. For 75 hot, humid and sweaty minutes, she forgets there is a life beyond the four corners of her magic carpet, her trusty yoga mat. Though physically bound to her mat by gravity, her soul soars with the freedom of flight.
This hot vinyasa yoga class is among the hardest thing she's done, but it's also among the most rewarding and exhilarating.
And after those 75 minutes — clothes drenched, muscles spent, body recharged, mind and heart realigned, she's ready to walk out and take on whatever the day holds in store for her. She feels calm. She feels strong. She feels invincible. She feels ALIVE.
Welcome to Powerflow Yoga. Real yoga. Not yoga-aerobics, not yoga-calisthenics. Real yoga. Real heat. Really powerful. YES; sweat, stretch, strength, balance, breath, cardio, discipline, equanimity, mindfulness, serenity, peace. All under one steamy roof. It's the best-kept secret since sliced bread. It begins by changing your body and ends with transforming your life.
Come flow with us. We have a spot reserved for you. Your magic carpet is calling.
We offer several classes, including Hot Power Hour, Hot Power Vinyasa, Warm Candlelit Flow, Warm Powerflow Basics, Warm Slow Flow, Yin Yoga, Youth Yoga, Family Yoga, Meditation Yoga, Core Focus Flow and Vin To Yin.
Our teachers are dedicated to creating an environment that fosters positive energy and intention for your yoga practice. Each has a unique perspective on yoga that allows you not only to deepen your practice but also learn different variations of yoga.
At Powerflow Yoga, we believe that yoga is practice, not perfection. Our classes are intended for all skill levels. We are here to support you throughout your yoga journey. Classes are available seven days a week at both of our Mount Pleasant hot yoga studios. Whether you plan to join our team for one hot yoga class, or you are committed to progressing in your practice, we can't wait to help you find your center. Both of our studios offer changing rooms, showers and clean, aesthetic restrooms stocked with sundry supplies (hair dryers, shampoo, conditioner, body wash) for both women and men.
Visit the Park West Studio at 1110-4 Park West Blvd. or Seaside Farms Studio at 1973 Riviera Drive. For more information, email [email protected] or visit powerflowyogasc.com.