Hudson's Import Service
Nominating Category:
Best Auto Repair Business
Cliff Hudson, President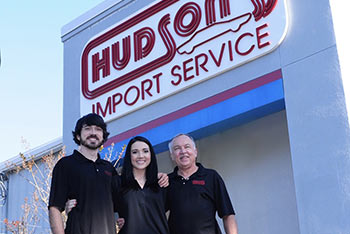 ---
What is it like working with the Mount Pleasant community?
While the demographic has changed over the decades, East of the Cooper has remained a very appreciative community. They want to be treated kindly, to receive good quality products and service regardless of what they are purchasing and to pay a fair price for it.
How did your business get started?
My father, who was also in the industry, encouraged me to become self-employed while I was still living at home. Coming from very meager beginnings with no wealth and no "backup plan," he felt that was the safest plan, should the business fail or not be very successful. It's a step that he had never felt comfortable taking, but an opportunity that he wanted me to have.
What is your most popular service?
We really don't have a popular service or item. To summarize, getting your car's problem resolved in a timely manner is always a favorite!
What is the most rewarding part of your business?
I've told everyone for years that I like people and I love helping people. It's not about how much money we collect on any given day, but rather making sure everyone who crosses our path receives the help or advice that they need. Every evening I drive home feeling content that we have made every possible effort to accomplish that goal.
What are some challenges that you've overcome?
Two come to mind. First, the complexity of the vehicles that we drive today. The biggest hurdles are solving electrical gremlins, especially those that only occur sporadically. The second would be the "intrusion" into our market share. We opened as a facility that only services select brands of imported cars. While we have never strayed from that philosophy, all the businesses who once only serviced domestic brands now advertise for the imports as well. We have never become their competitors, but they are now ours. This "drives" us to excel at what we do.
Describe the atmosphere at your business. What do you want customers to take away from the experience?
The atmosphere is always friendly and accommodating, but also very busy. We have a daily car count equal to that of the smaller dealers, and we manage to handle it with roughly half of the employee count. My team works very hard at staying productive all day while attempting to exceed every customer's expectations. I've always told my employees that every customer who leaves having received more than they expected is a customer we can count on seeing again.
You've been named one of the Best of Mount Pleasant. What led you to your success?
As I have already stated, I like people, and I love helping people. It's that, along with our business philosophy — every decision we make must always be in the best interest of the customer, while still remaining fair to our business.
To learn more, visit hudsonsimport.com, or call 843-884-2573.