In The Black Marketing & Consulting
Best Marketing Firm
Rhetta Cloyd, Co-Owner and
Chief Marketing Officer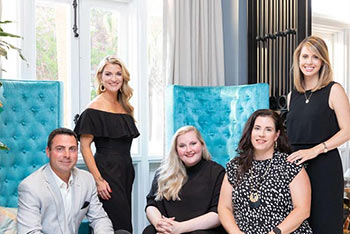 ---
What is it like working with the Mount Pleasant community?
Considering it's one of the fastest-growing cities in America, there is still a small-town culture in Mount Pleasant. To see our community rally around us and support our team the way they have done is humbling. We are honored to make this prestigious list for the second year in a row.
What is your most popular service?
The sole reason a potential partner presents themselves to our team is for revenue growth, and it is our job to determine which pathway is the fastest, most profitable and is sustainable for the future. From there, the creative magic begins, and, as they say, "the rest is history."
What are some challenges that you've overcome?
We've all heard the age-old adages that chefs hate to cook at home or doctors are the worst at taking care of their own bodies. Well, if that's true, it makes sense that marketers have trouble marketing themselves — not because we don't know how to or don't want to, but because we dedicate the majority of our time super-serving our clients. We are making a commitment to our community to help as many business owners as possible by providing knowledge, resources and helpful hints through a weekly blog. Give us a follow on Facebook, Instagram, or LinkedIn to be a part of our journey.
To learn more, visit intheblackchs.com, or email [email protected].