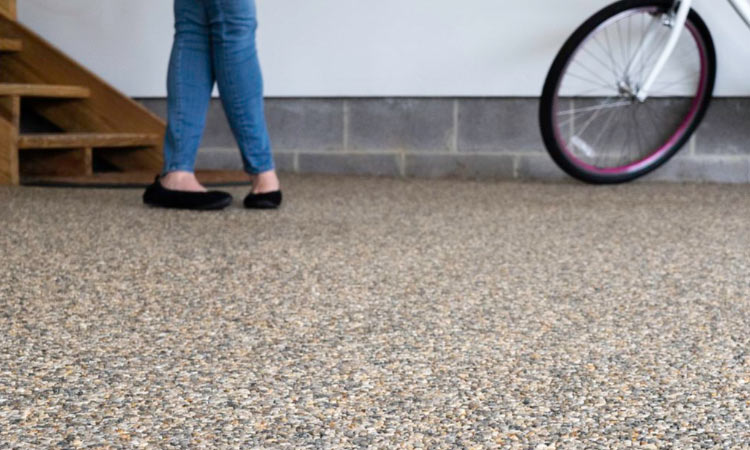 When a person looks at a stone statue or construction, the first thing that enters most minds is, "How long has that been there?"
Stone lasts for generations, and that is twice true for Serena Wilson. Wilson and her husband are the third generation to carry on the family legacy of stone and epoxy work at Coastal Stone Flooring.
The family legacy began all the way back with Serena Wilson's grandfather, Andrew. He was in the concrete industry his whole life and passed on his knowledge and expertise to his son. He created Nature Stone in 1989, a stone and epoxy company formed in Ohio. Later, with the help of his children, he grew it from a small operation to one with more than 150 employees. He even created his own proprietary epoxy. Nature Stone's epoxy is not affected by humidity and moisture and is mixed in with the stone, so it is permanent. Should another hurricane pass by, nothing will need to be ripped out and replaced in the event of flooding with this epoxy. It is a true one-and-done installation. There is no need for troublesome epoxy paint or having to tear up floors for refinishing.
Serena Wilson saw the need for such a product in Charleston and decided to take the leap and start her own company, which works hand-in-hand with her father's. Coastal Stone Flooring is new to the market, up and running since April of this year.
The trade itself aren't the only ways Wilson continues to shadow her father. She also champions her father's mission of getting to know the local community and supporting it through her work. She believes calling Coastal for installation should be like calling up a relative who happens to be an expert stone installer — not some nationwide conglomerate that will overcharge you and fail to see every detail through to completion. Doing right by customers is what has supported her family in this industry for decades.
Coastal Stone Flooring Commercial
(Article Continues Below)
Wilson continues to work closely with Nature Stone in sourcing the epoxy for its installations. Between her father and herself, they have a combined expertise of more than 30 years. Currently, Coastal Stone's main focus is residential garages, but over time, they are looking to expand and furnish hotel and restaurant lobbies. They can even create custom logos embossed within the concrete, which give every floor they touch a unique look.
Coastal Stone Flooring brings a unique product to the Charleston area, and Wilson predicts that as word of mouth spreads, the community will fall in love with both the process and product.
For more information, please visit coastalstonefloors.com, or call 843-306-3063.
By Ryan Norris