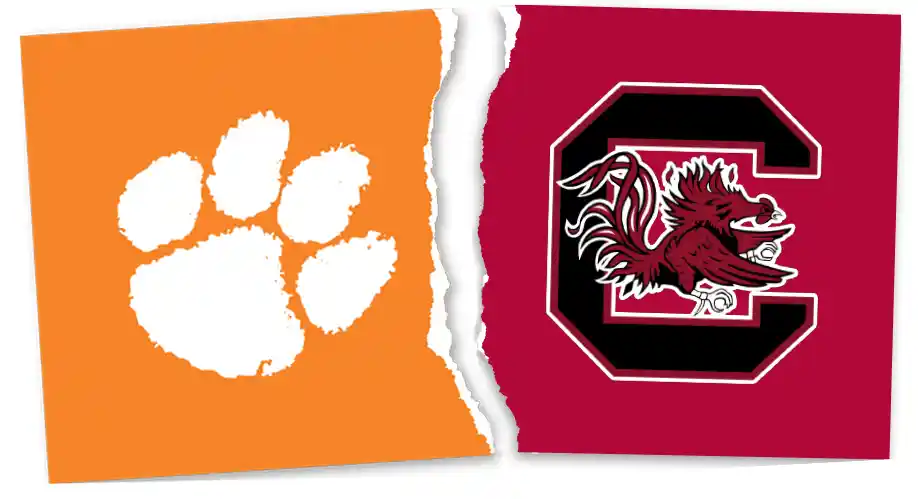 It's the most wonderful time of the year. No, not Christmas, college football season! With football season comes tailgating, school colors, big screen TVs and of course, rivalry.
Some of the most heated rivalries over the years have included Army and Navy, Alabama and Auburn, Michigan and Ohio State, Georgia and Florida, Texas and Texas A&M and University of Southern California and UCLA. In South Carolina, the Carolina and Clemson rivalry dates back to 1896.
RELATED: Heard any Good Carolina/Clemson Jokes Lately?
With only 132 miles between them, the Palmetto State bleeds both orange and purple and black and garnet. "The South Carolina versus Clemson football game is one (of), if not the oldest, rivalries in college football history. It's about the state's 'bragging rights' and that competitive, dominating spirit comes out in fans from both teams. There are many wagers across the state, from the governor's office to our university presidents, to create a rich environment of competitive spirit," explained Bill D'Andrea, former Clemson senior associate athletic director.
If you are a current student, alum or even a professor at one of these schools, then you understand the sense of pride each one has for Clemson and Carolina. "Clemson fans are very loyal, dedicated and spirited, not just about their athletic teams, but about the university as well," stated D'Andrea. "I believe the experience our Clemson students have in the classroom, the traditions we have and the overall culture is something every Clemson student embraces during their time at Clemson and after they leave."
The Harts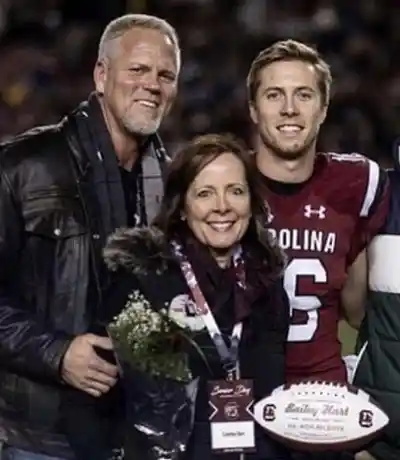 What about the Carolina faithful? "Gamecock Fans are such a special, passionate fanbase. There is nothing better than a packed-out Williams Brice Stadium," said Bailey Hart, a former quarterback, wide receiver and member of the special teams unit for the Gamecocks. "White towels. Sandstorm. It gives me chills just thinking about it. Carolina fans make the atmosphere and tradition around Carolina football so special and I am so grateful for all the support during my time there. I am proud to be an alumni and lifelong fan."
The most interesting part about this rivalry is how serious it can get, even causing a house to become divided. Cynthia Hart is an alumnus from Clemson, but all three of her sons went to Carolina. "None of my sons went to Clemson, which hurt; my husband is from southern Carolina. He has never seen true college football until I brought him to Clemson. We were a Clemson household. The house was okay until my youngest son went to Carolina and played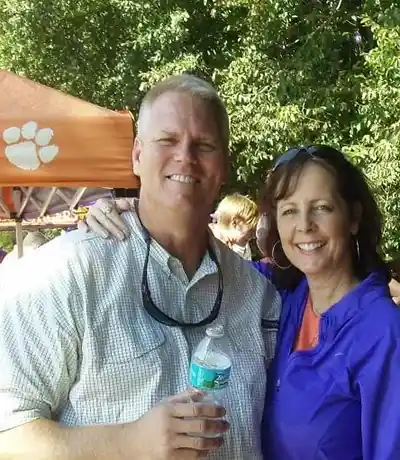 on the team. They turned on me!" quipped Cynthia as she laughed reminiscing about those college years. "My daughter, Hannah, is a rising senior at Clemson and my other daughter is a rising junior at Carolina. We love both schools, so it's hard to choose who to root for, but we loved what (USC coach) Shane Beamer is bringing to the table. My husband and I both went to liberal arts schools out of the state, so this rivalry is quite fun!" The funny thing is, Hart will and does pull for Carolina, but neither her sons nor her husband will pull for Clemson.
"Some of my Clemson friends who wanted to support me would just wear neutral colors," Bailey recalled of his experience with the in-state battle. "My mom would post pictures on Facebook in Gamecock colors and the Clemson fan comments were highly entertaining to read."
The Orrs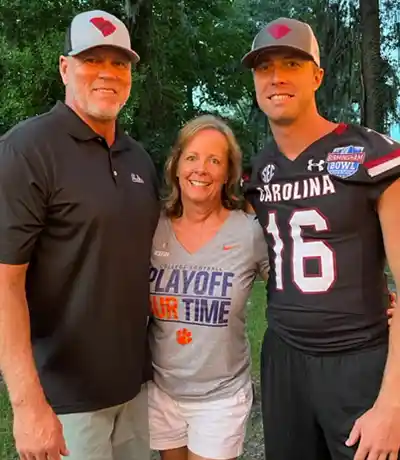 Hila Orr explained being in similar circumstances, "You better have two TVs playing both games, especially if they come on at the same time. Don't plan a wedding or any special events on game day," Orr added. "It was very difficult wearing garnet and black during the four seasons my son was at Carolina. During that time frame, I would go to Clemson games in 'Carolina gear,' which I never thought I would wear in my lifetime. I would get yelled at by my Clemson friends, but I'm pointing to my college ring!"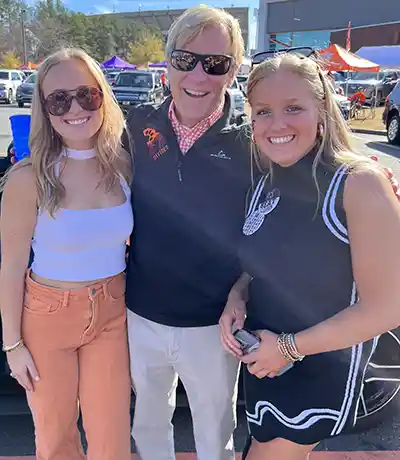 This year, Carolina and Clemson will meet for the 120th time. Clemson has a commanding lead of the Palmetto Bowl series with an all-time record of 72 wins against Carolina's 43 wins. The schools have tied four times in the 119 games they've squared off.
Houses will still be divided, bets will be made, arguments will happen, but all in all, college football is back and that's something we can all agree on.
By Maurice J. Frazier