In education, bigger isn't always better. Under different circumstances, South Carolina's largest secondary school could have posed a frightening and unenlightening experience for some students and a bureaucratic nightmare for administrators, teachers and guidance counselors seeking to nurture the dreams and aspirations of more than 3,400 individuals, each with unique plans for life after Wando High School.
Under the leadership of longtime Principal Lucy Beckham, Wando has instead garnered statewide and national attention for academic excellence, athletic achievement, a wide range of extracurricular activities and challenging course work in diversified subjects ranging from architecture to hospitality management to aerospace engineering, all aimed at preparing each student to thrive in an ever-changing world.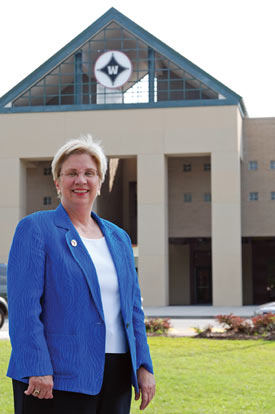 Beckham, who took the reins of the school in 1998 when it was located on Mathis Ferry Road and now supervises the sprawling campus completed on the north side of Mount Pleasant in 2004, was cited as the National Secondary School Principal of the Year in 2010. Representing her colleagues across the country, she has visited Congress and the White House, traveled to China and spoken at several education related events throughout the United States. She insisted, however, that the national honor belongs not to her alone, but to Wando High School and the people of Mount Pleasant.
"It's not about me. I was recognized on behalf of the students, parents, staff and community of Mount Pleasant. I received this recognition because of their good work," she commented. "I had an opportunity I never dreamed of based on the work of all the wonderful people here at Wando."
Beckham played an important role in putting together the team of 215 teachers, nine assistant principals and 12 guidance counselors who serve the educational needs of Wando's ever-growing student population. She said she doesn't take the recruitment aspect of her position lightly.
"Part of my job is to find the best teachers, staff and counselors in America," she said. "I've been very good at hiring. We are blessed to have a wonderful faculty and staff, a supportive parent group and a great relationship with the town of Mount Pleasant. They are all focused on the kids. This community is focused on kids."
The partnership between the school and the town has spawned benefits for both. For example, in exchange for the use of the baseball fields at the old Wando site, Mount Pleasant put $600,000 into a performing arts center at the new school. In addition, the Police Department has assigned four officers to the high school, and the school district works closely with the town's Recreation Department.
"The citizens of Mount Pleasant understand that excellent schools are important to our town," Beckham commented.
Beckham and her staff strive to maintain a level of excellence that not only draws potential Lowcountry homeowners to Mount Pleasant, but also prepares students for success once they leave Wando. Ninety percent of them continue their education beyond the 12th grade.
"Every student needs a viable plan for what to do next, whether it's go to college to study engineering or attend Trident Tech. High school used to be the finish line. It was possible with a high school diploma to get a job and have a career. We don't consider that to be a viable plan anymore," she said.
To make certain every student is ready for what waits beyond Wando, the school offers approximately 250 courses, many of them challenging, rigorous and unavailable in smaller high schools. Wando students have the option of taking eight different engineering courses, more than in any other school in Charleston County or in the rest of South Carolina, according to Beckham.
"We still have a very strong college prep program, and the arts opportunities here are as good as at any arts conservatory in a high school," Beckham commented. "Students here excel in multiple areas."
Beckham's success in her chosen field is no surprise; she hails from a family of educators. Both her grandmothers, her mother and aunts and uncles were teachers, and her sister is a special education instructor in Columbia. The tradition continues with her son, son-in-law, daughter and daughter-in-law, all of them teachers.
Beckham, who was a teacher, assistant principal and principal in Berkeley County before moving to Wando, has turned down opportunities for promotions that would bring her more money – and less satisfaction.
"I truly love this job. I have no plans to leave," she said. "This is a high-energy place full of great kids. I feel like we're making a difference. It's very rewarding work."
For more information, visit www.wandohigh.com.