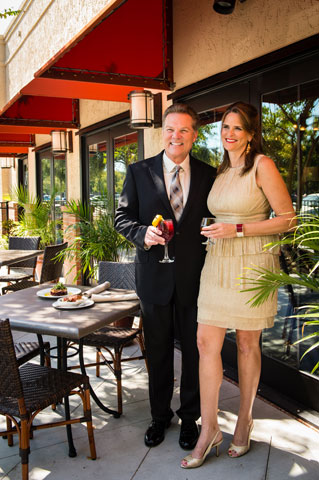 It's the most wonderful time of the year, the late Andy Williams used to sing, and every year I find myself agreeing with his assessment of the holiday season, when people of all faiths and backgrounds make time for friends, family and fun.
Over the course of several weeks, Mount Pleasant Magazine and several residents, business owners and students took the time to share laughter and interesting stories over delicious food and scintillating beverages.
Burtons Grill, Triangle Char & Bar, Carrabba's Italian Grill and Red Drum all were gracious enough to open their doors to us and showcase their most requested menu items. Belk at Towne Centre participated by styling each of our models with clothing and top-of-the-line makeup by Clinique, MAC, Chanel and Bobbi Brown. Popular clothing lines exclusive to Belk are featured in photographs by Andy Hagedon. Designers such as Lilly Pulitzer, Vince Camuto, Eileen Fisher, Michael Kors, Calvin Klein and Anne Klein were all on display, along with favorites such as Jessica Simpson shoes, Van Heusen and Nautica ties and jewelry by Belk.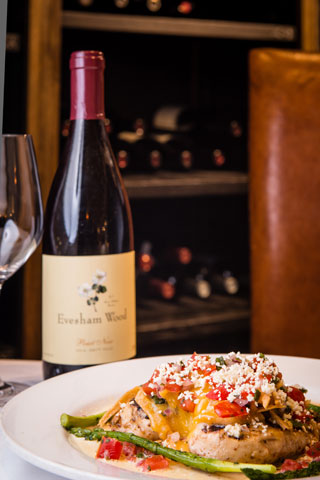 "This season is all about vivid colors and polished looks," said Laura Shelmire, sales team manager at Belk in Mount Pleasant. "Right now, women's top trends are glitzy tops, beautiful embellished blouses and bold colors with fitted blazers. The top trends for men are luxe sport coats, tailored vests and modern fit suits."
Ryan Nelson Goldwater, owner of Nelwater Consulting, posed with her sportscaster husband, Darren Goldwater.
"My husband has never worn a vest, but it looks great and we both like it," she commented.
Tom Crawford, former Channel 4 chief meteorologist and a licensed auctioneer, enjoyed his time at Burtons Grill.
"The food was fantastic. I finished every bite on the plate," said Crawford.
He and his girlfriend, Sissy Baker, enjoyed a gluten-free, baked stuffed zucchini filled with goat cheese and herbs, topped with zesty tomato sauce and manchego cheese.
Word has spread quickly about Burtons, new to Mount Pleasant but well-established along the East Coast.
"We are really focused on quality and sourcing out quality ingredients. Every morning I taste everything on the line," said Executive Chef Chase Barton, who recently moved to the Lowcountry from Virginia.
Triangle Char & Bar, owned by Scott Long and Skip Condon, first opened its doors in West Ashley and then established a second location in Mount Pleasant in 2011. The restaurant prides itself on offering local produce and seafood.
"We are very eco-friendly. We compost all of our food and recycle the rest," Long explained. "Burgers with grass-fed beef are our big hit, and we offer local craft beers. We often rotate our selection."
For our photo shoot, Triangle served up "a super awesome bacon cheeseburger" featuring grass-fed beef, pork belly and cheddar cheese. We also were privy to Triangle's version of egg rolls, consisting of, among other ingredients, shrimp 'n grits. The dish was featured in Every Day with Rachel Ray magazine in 2011.
Carrabba's Italian Grill has become a staple for area residents who enjoy made-from-scratch meals from the open kitchen. Our models enjoyed calamari and bruschetta with a choice of two toppings: a delectable concoction of spicy Italian pepper and lemon butter or the always popular marinara.
Deona Smith, who grew up East of the Cooper and went to Wando High School, is president of DeJo Communications Group and publisher of Living Roots Magazine. She had fun taking a break and posing with her son, Joseph, a 4-year-old who attends Belle Hall Elementary and is a self-proclaimed "video game extraordinaire.'
Red Drum has been cited as the best restaurant in Mount Pleasant by the readers of Charleston City Paper.
"Chef Ben Berryhill's south by southwest cuisine features our woodfired grill," said General Manager Charlie Chance. "Our indoor and outdoor spaces are accented by fireplaces and a popular bar. Local seafood, handcrafted margaritas, specialty beers and fine wine all make Red Drum an exceptional place to visit."
Bryan Hearn, an assistant principal at Wando High School, enjoyed the evening with his wife and two children.
"The food is wonderful. I haven't stopped eating, and we enjoy meeting new people and spending time with our family," said Hearn.
Feeling good about how you look and who you're hanging out with can indeed make the holiday season the most wonderful time of the year.
For information about the retailers and restaurants, or to see more photos, visit Mount Pleasant Magazine online at www.MountPleasantMagazine.com.
Photos By Andy Hagedon