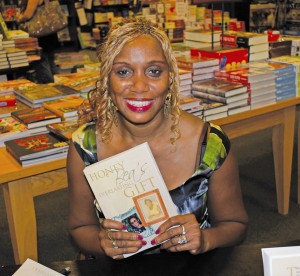 Some writers are fortunate in the fact that they recognize a great story while it is still taking place. Thus they are able to procure all the moments, conversations and other portions of life that will help formulate their masterpiece. It's also no surprise that when it comes to family stories, the origins often take place in a kitchen, where food and fellowship are vehicles for communication.
Local author Lornabelle Gethers is a native of Mount Pleasant and the author of "Honey Bea's Everlasting Gift," a story about family, culture and growing up in East Cooper. The book covers six different generations of women in Gethers' family – from her many-times great grandmother to her own children.
"It's mainly about my mother and her ancestors," said Gethers. "My mother just passed away last year. She told a lot of stories."
Gethers grew up on Mathis Ferry Road and views her book as an opportunity to discuss being African-American in Mount Pleasant. Her family was among the first to move to her neighborhood, and Gethers enjoyed the chance to roam the Old Village, visit friends and gain knowledge through long hours in the Old Village Library.
"My aunt was my first grade teacher and was best friends with my mother," she said. "I would walk to my aunt's house and to the library and read everything. I was addicted to books. I always wanted to have a big library in my house when I grew up."
Like a lot of young readers, Gethers soon discovered the power of words. She wrote poems throughout childhood and even a song when she was just 11. As a teenager, she would take notes of her grandmother telling family stories with the help of a voice recorder. Gethers lost the tape years later – she suspects it might have been in Hurricane Hugo's upheaval – but she did manage to use it as a source for a paper in college.
"If I had that recording today, I may have written more," she said with a chuckle. "But it's a quite lengthy book even so!"
One of the things that makes "Honey Bea's Everlasting Gift" an interesting book as well as a cultural achievement for Gethers and family is the fact that a portion is written in Gullah. For readers who are unfamiliar, there is an interpretive appendix included in the back of the book as well. While Gethers speaks the language of her ancestors, she said it happened naturally – she didn't make a point to learn it.
"My sisters attended Moultrie High School but I went to Laing, where a lot of the kids were from the country and thus, spoke Gullah," she explained. "I was exposed to it."
Gethers looks forward to her next book, which, she says, will be more about her own story rather than the story of her family. Her future plans also include collaborating with family members to write a play. It's a certainty that Gethers holds family history to a high value and is grateful for the opportunity to use writing as a way to share it with her readers.
"One person out of a generation preserves history," she said.
By Denise K. James
Photo By Brian Sherman