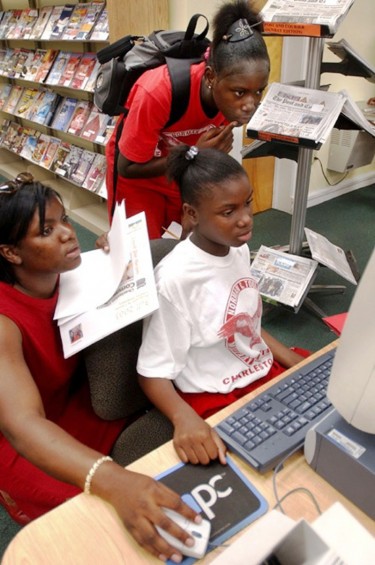 UPDATE: Check out the newer article about this Library opening in Carolina Park – North Mount Pleasant Anticipates New Library
Most residents of Mount Pleasant have visited the regional library on Anna Knapp Boulevard and battled its crowded parking lot and checkout desk. Residents of East Cooper love to read and learn, and we've deserved more space in which to do those things for quite some time. Fortunately, a new library is finally planned for the town of Mount Pleasant, and bookworms – myself included – couldn't be happier.
"The last time there was a referendum about building new libraries was in 1986," emphasized Doug Henderson, executive director of the Charleston County Library System.
Henderson talked about how even the "newer" branches – such as the main library on Calhoun Street in downtown Charleston – are now outdated, given the outrageous surge of technology in the last 10 years. The new referendum, which Henderson and the rest of the board hope to pass this November, will include renovations to most of the existing libraries, plus a few new ones built from scratch, including the Carolina Park branch.
"We've always needed more space at the Mount Pleasant Regional," he remarked. "And originally, that location was supposed to be bigger. But then it was decided to make all the regional libraries the same size."
Henderson, who is a proponent of literacy and modern resources within the library system, is looking forward to watching the Carolina Park library become a reality.
"We'll have plenty of study space, venues for community meetings, more young adult resources and lots of new books," he said. "We want it to be a flagship library."
A key ingredient at the proposed Carolina Park library will be a greater number of pre-literacy sources for children who are too young to read but old enough to obtain the skills that will eventually make reading easier – including learning vocabulary words, understanding rhymes and recognizing the position of words on a page. Kids can learn such skills in a library program known as "Babygarten," which has grown quite popular among mothers in East Cooper. The improved library system will offer more Babygarten classes, as well as more updated resources for both parents and kids.
As for the beloved Mount Pleasant Regional library on Anna Knapp Boulevard, Henderson assured me that it will be going through changes of its own after the Carolina Park branch is in place. Improvements for the existing library will include a new parking lot, as well as interior updates such as abolishing the outdated circulation desk. Henderson said it's important to update the older libraries and make the new buildings flexible in terms of modern technology.
"Technology will change again," he said with a smile. "So we know we have to allow for that and make buildings adaptable."
If a referendum that would provide funds to update the Charleston County Public Library passes November, community members will be invited to attend meetings regarding plans and progress. After all, the changes in the county library system are to benefit the public most of all.
"We want to keep residents informed," Henderson said.
Story by Denise K. James
Photo Courtesy of Charleston County Library