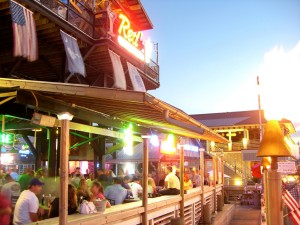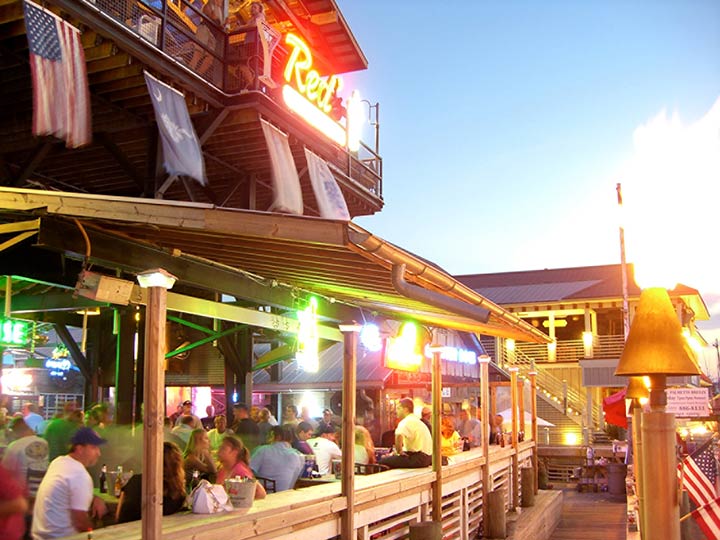 It's late afternoon at Red's Ice House on Shem Creek in Mount Pleasant, time to sit back on the deck or under the covered bar and nibble on buffalo or coconut shrimp, or maybe some Ice House wings and a burger, while sipping a cold beer or Red's Signature Sunset Margarita. If you're lucky, you can catch a glimpse of dolphins or even a manatee gliding along the creek's tranquil waters.
"We like to think Red's has sort of a Key West bar kind of vibe to it, right here in Mount Pleasant, easy and breezy," said Dianne Crowley, who, along with her husband, Cecil, owns Red's. "I don't think you can be in a much prettier place with Shem Creek, the wildlife in the river, the gorgeous sunsets and the ability to be outside and on the water but still protected when the weather isn't so great."
Red's Ice House is immersed in the local community in a tangible, comforting fashion. The establishment traces its roots back to Lewis Hughes "Red" Simmons, who was born in Mount Pleasant and was involved in the shrimping and fishing industry early in his life. The Simmons family dock was built in 1957 to provide a packing shed for local shrimpers. It was Red's desire that his old fish and ice house be transformed into a public gathering place at the water's edge.
The Crowleys came on board as managing partners shortly after Red's Ice House opened at Red's former business 10 years ago. They wound up buying the restaurant and imbuing it with a new vitality and life tied closely to the natural environment and culture of old and new Mount Pleasant.
"The thing that separates us is that we do as much as possible in-house, like using fresh-squeezed lemonade, making our own sauces and dips and buying local produce and seafood," said Crowley. She and her husband founded and operated Wild Wing Café prior to selling that business and focusing on Red's.
Voted the top bar in South Carolina and a top 50 bar in America by the members of BuzzFeed and Foursquare, Red's has attracted a loyal following of patrons who enjoy lunch, dinner or late night munchies, liquid refreshments and some musical entertainment.
"The very core of our business is our local customers. They keep us busy when the tourist traffic isn't great," Crowley said.
Red's will place an increased emphasis on locally grown food this summer, and new drinks will reflect the unique nature of Red's and its Shem Creek location. As part of a clean water initiative, "Crush Cocktails" will feature crushed ice and fresh squeezed juices in partnership with Finlandia Vodka. Plans also call for a "signature" event, a cardboard boat regatta that will pass up Shem Creek and end at Red's, Crowley said.
"We want to create an annual event that will accomplish the goals that Red Simmons envisioned. We hope to make it a fun day that people of all ages can come and enjoy, raise some money for the local community's needs and show the pride we have in being part of Mount Pleasant," she added.
For more information about Red's Ice House, visit www.redsicehouse.com.
By John Torsiello
Photos provided.