"I'll be a voice for young families and bring their concerns to the table"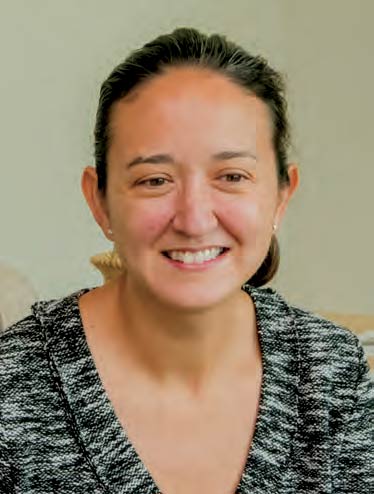 G.M. Whitley earned a degree in Chemical Engineering at the University of Southern California and a law degree at the University of Chicago, later retiring from active practice "to serve as chief operating officer of the Whitley household." In addition to raising four children, she is active in her church and with the Girls State organization. In her spare time, she writes fiction.
Now the 38-year-old Whitley has added another line to her impressive resume. On Nov. 7, she was elected to the Mount Pleasant Town Council, finishing fourth among 10 candidates. She is confident that her youth will be an asset, both for herself and for the local residents she represents.
"I'll bring a fresh perspective because of my age," she commented. "I'll be a voice for young families and bring their concerns to the table. There's not enough programming for young families – the small things that make a difference in the quality of life."
"I've always talked the talk. I decided that when my kids got older, I would walk the walk and get involved," she added.
Whitley relocated with her husband, Joel, and children from Anchorage, Alaska, to the Old Village three years ago. She pointed out that she is not officially part of the Council's Save Shem Creek voting bloc – which is working to slow Mount Pleasant's growth – but added that "We're in the same ballpark."
"There's lots of growth coming into the pipeline. We need to take a step back and examine each project and make sure they adhere to the zoning laws in Mount Pleasant. We have to enforce our zoning ordinances. The town is growing maybe a little too fast, but you can't stop people from moving here," she commented.
Whitley said she is looking forward to getting to know more people in Mount Pleasant and participating in "the fun stuff," such as ribbon cuttings for new businesses and giving awards to local residents at Council meetings. She's also anticipating learning more about the nuts and bolts of running a town the size of Mount Pleasant.
"There's only so much you can learn as a candidate," she said.
She added that although the campaign for the Council was "exhausting," she's already put that ordeal behind her. She isn't sure, however, if she'll want to repeat the process in 2021.
"It's like childbirth," said Whitley, whose children range in age from 5 to 9 and all are students at Mount Pleasant Academy. "You forget about all the bad parts and do it again. I'll see how I feel in four years."
Whitley's initials are short for Guang Ming, a nod to her Chinese heritage. She grew up in the Los Angeles suburb of Covina, so, although she considers traffic congestion to be among Mount Pleasant's biggest problems, she realizes that it's not as serious an issue as some people make it out to be.
"Traffic here is nothing compared to Los Angeles, but I don't want it to get there," she commented.
She's adamant about Mount Pleasant's most alluring asset.
"The quality of life is amazing," she said. "Our kids can ride their bikes around the neighborhood. It's a throwback to a different era."
"I really look forward to serving and making a difference where I can," she concluded. "But there are limits to what one Council member can do."