The Lowcountry Ladies Exchange
Just ask members of the Lowcountry Ladies Exchange why they love being a part of the group, and their answer will be because they get to give back to their community and make lifelong friends in the process.
"It's a win-win," Kristin Power, one of the group's club builders and founders said. "We are a sisterhood of friends that have fun together while also helping out our local community."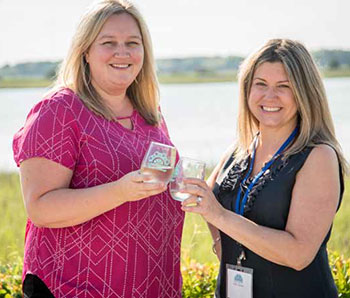 The Lowcountry Ladies Exchange, which currently meets at the Isle of Palms Exchange Club, their "sibling" organization, is an organization of like-minded Charleston-area ladies who enjoy each other's company. Power, along with her friend, Stacey Fell, started the club in early 2016. They each were members of their local Exchange Clubs – Power in the Mount Pleasant and Daniel Island clubs and Fell with the Evening Exchange Club – and they wanted to keep the core of what makes Exchange Clubs great: community service, prevention of child abuse, supporting patriotism and youth programming. Power said they decided to start the Lowcountry Ladies Exchange because they wanted to make camaraderie and sisterhood a priority as well.
"Our motto became that we were building a club of like-minded women looking to find a place where they could seek fellowship, community service and networking – all while drinking wine," she said.
And so the Lowcountry Ladies Exchange was born.
The group started with about 15 members and has now grown to 30 in just two years. Members are from all over the Charleston area, not just East of the Cooper, and have a variety of professional and personal backgrounds. Danielle Matheny, the current president, will be focusing on membership this year. She is enthusiastic about using social media to spread the word about the organization.
"We are excited to grow more in the next year or so," she said. "We also want to hold a big fundraising event and are in the works of planning that."
In 2016, the Lowcountry Ladies Exchange adopted My Sister's House as an organization to support. In 2017, they chose Windwood Farm Home for Children and Family Services. This year they plan to hold a fundraising event for Share Our Suzy Lowcountry, which helps breast cancer patients and their families. They also plan to support the Florence Crittenton Programs of South Carolina, as well as Teachers' Supply Closet.
"We are in the early works of planning for the fundraising event," said Matheny. "But this will be our major project, and we are excited roll out the plans soon."
Both Matheny and Power agreed that in order to make the group work, they had to make it convenient for the average woman's busy schedule.
Matheny said the members meet once a month, and they also have one board meeting a month.
"The pressure is off for women to feel like this is going to be a major commitment in their lives," she said. "Meeting once a month makes it realistic for most women. It is something they can look forward to each month – getting to see their friends and give back to the community."
Power said, "I knew so many awesome women who were looking for something a little more turnkey. They wanted an organized focus that allowed them to carve out the time in their busy schedules to participate in that 'one more thing' that would add value to their lives."
"We knew that if it meant time away from business, family, children and friends, it would have to fulfill a deeper need in their lives," she said.
Power and Matheny agreed that they love the club because of the friendship and its giving-back aspect.
"This is a way for me to do something outside of my norm," Matheny said. "I love that I can hang out with my friends and give back to the community at the same time."
For Power, she said the sisterhood among members is like no other.
"Being a part of this group makes me feel grounded. We are all so busy in our lives that some days we look up and it can feel really lonely. This group provides a safe space for us to be ourselves and do some amazing things together. We truly have one another's back as well. With one phone call, one text or an email, I can reach out to one of my sisters in the Exchange and find someone there to support me."
Power said the future of the club looks bright.
"We are excited about getting more members this year," she said. "And someday I'd love to see us start a Lowcountry Little Ladies Club, working with young ladies in the area to help them cultivate community service, fellowship and networking."
She concluded, "From work stress to managing relationships and medical illnesses – when we get together, we can let our guard down with one another and then pick ourselves back up and leave recharged and ready to face the world again. It's good for the soul!"
By Theresa Stratford