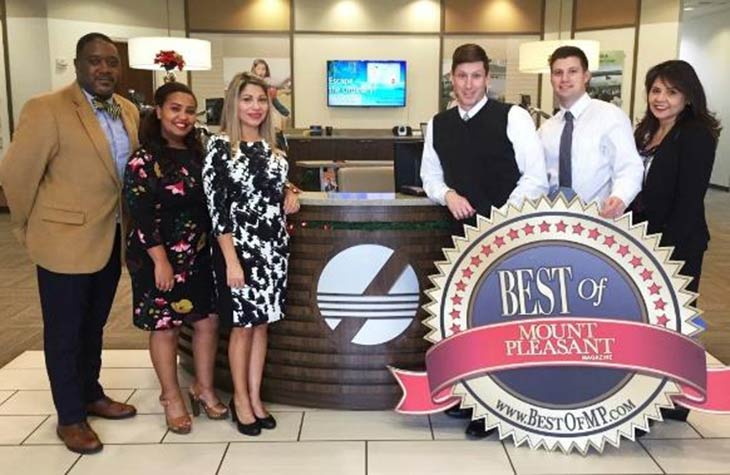 Heritage Trust Federal Credit Union, voted Best Credit Union and taking second place for Best Bank by the readers of Mount Pleasant Magazine, has deep roots in the Charleston
Jerry Jenkins, branch manager of the Heritage Trust on Coleman Boulevard, who spent 10 years at Bank of America and five at Sun Trust Bank before moving to Heritage Trust two years ago, highlighted some of the main differences that distinguish credit unions from banks.
Banks have stockholders or shareholders, while credit unions are not-for-profits that have members. Once you pay your $5 membership fee, you become a member/owner and help elect a board of directors, which serves on a voluntary basis on behalf of the members.
"We really know our members," stated Jenkins. "These are my neighbors. We treat them just like family."
When he arrived at Heritage Trust, Jenkins said he made a point to get to know people and make genuine connections. He was part of Rotary Club and attended Town Council meetings.
"You have to be able to build relationships in your community," Jenkins said. "We take time to learn how to help you grow."
Since Jenkins arrived, membership has grown 25 percent. Whether it's buying houses or cars or funding their child's education, "We've helped people build their dreams. … I want to continue building what I've started. And continue to help more people realize their dreams. I'm proud of how our team has grown."
Jenkins believes the future is bright for Heritage Trust, which just launched a new online-banking portal and will be opening new branches, including the first credit union on the Charleston peninsula and a planned expansion into Summerville.
To learn more about Heritage Trust Federal Credit Union, visit www.heritagetrust.org or call 843-832-2600.
By Colin McCandless