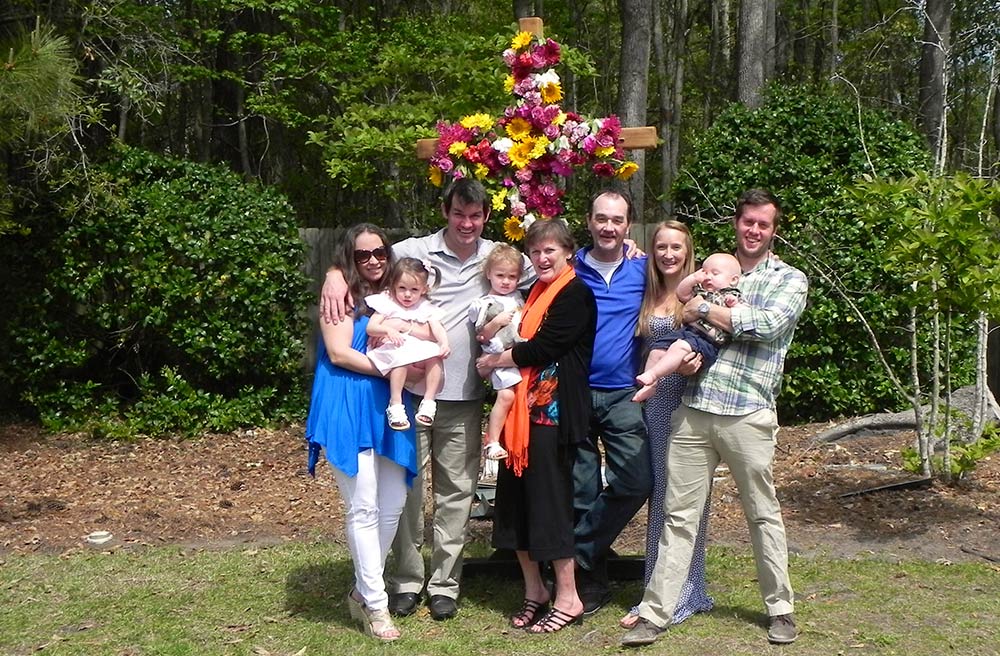 "There is a specific beauty to a weathered tree. The beauty isn't in its perfection but in its ability to remain alive in spite of the elements of drought, disease, heat, frost, and wind. A weathered tree takes what is thrown at it and survives. It doesn't allow the elements to define it but lives within and eventually through those elements to find life on the other side."
I read this quote from a book entitled "A Grace Disguised" shortly after my son and I found ourselves being shot in the midst of an armed robbery in February 2018.
My name is Mike Cooke, and I am the pastor of Life Community Church in Mount Pleasant. My son, Bryan Cooke, was killed during that attempted robbery. I sustained four gunshot wounds and somehow survived.
I'd like to share with you our family's journey toward healing and how many in the Mount Pleasant community have been an integral part in the ongoing process of recovery.
As I write this piece, it has been 610 days since this tragedy was visited upon our family and friends. Within 48 hours after the shootings while I was in the trauma intensive care unit at MUSC, my wife, Lynda, and I began a conversation about locating help for the long road to healing. That road began with Dr. Barbara Boatwright and Life Resources in Mount Pleasant. The work she undertook is best understood through these words from author Jerry Sittser: "We don't go through pain and come out on the other side; we live in the suffering and find within the pain the grace to survive." Our family will never get over the deep loss of Bryan, but we are learning to absorb his loss into our new lives.
How can tragedy become redemptive? The question alone sounds unthinkable, believe me. It felt that way as we began the initial process of recovery. I had been taught through my own training as a pastor that recovery meant leading others who had experienced loss along a specific path back to wholeness. During the process of grief therapy and post-traumatic stress disorder therapy, our family has learned that grief was never a problem to be solved. It is not a five-step linear process, but is oscillating, moving in and out of one's life with no warning as to when it may return. At times it seems useless to even hold on to the notion that tragedy can be redeemed.
For the first couple of months following the shootings, I learned about how, as Henri Nouwen put it, "Grief can become a chronic bitter taste in one's life." While I was recovering from my physical wounds, my anger with God over the loss of Bryan became a daily internal lament. Where was God when Bryan needed him most? You can ignore or reframe the question, but you can't escape it. Unfortunately, the church is often the riskiest place to be spiritually honest. But at Life Community, we were loved by people who understood, as the writer Philip Yancey noted, "We are human and there are times when we think of God in broken and limited ways. All of us wrestle at some point with what we believe to be the absence of God or a 'Spiritual Winter.'"
During those days of resentment, I learned a truth about tragedy which helped to change my perspective on this road to recovery. In Victor Frankl's "Man's Search for Meaning," a WWII Nazi death camp survivor dealt with the power of choice in the face of terrible loss. Inside Frankl's work, I found this statement: "Tragedy can increase the soul's capacity for both light and darkness. The courage to choose the light over the darkness helps transcend one's suffering." That courage to act is not simply a matter of our will, but a matter of one's will being acted upon by grace.
Grace is a fascinating relational concept which I believe has its origin with and through God. It is a lot like oxygen. We didn't invent it, but we need it if we are to go on living. My experience with grace has often come as a surprise – a very welcome surprise! It is most often shared with us through others dispatched to us when we need grace the most. From longtime friends to brand new acquaintances, they showed up in a myriad of ways to give our family this gift of grace. Many of them were fellow Mount Pleasantites who came with food and kindness, prayers and encouragement, notes and contributions, hugs and words of hope. Grace in action became an impetus for our initial steps into this new normal of life. In an earlier article I wrote for Carolina Compass, I noted that "….the attending suffering and grief brought into lives exposed to violence and tragedy isn't cured by information, it is transformed by the presence of God through people who care enough to love you back to a state of wellness."
Dr. Patrick O'Malley in his book "Getting Grief Right" said that whenever he is asked by patients, "How long will grief take?" he always asks back, "How deeply did you love your lost one?" Part of one's journey in transforming suffering and grief is to engage the healthy process of remembering the life lived by the one you lost. Words, of course, create worlds, so during our time of recovery we return often to the words so many of you write, say and post on social media sites about the life Bryan lived. Your words become transformative for our family. We know who Bryan was, and you remind us of how many people his life impacted, how many people called him their friend, how many people he took the time to help, how many people whose lives were changed for the good, how much light he brought to those in need. Your words have recreated what life was like when Bryan was here.
Over the course of my life and ministry, I can't tell you how often I have heard well-meaning people say to those who are suffering, "God will never give you more than you can handle." This statement must have been included in that book – Stupid Things Christians Say! Finding life on the other side of a violent and tragic murder was a great deal more than me, our family and the many friends Bryan had made could have ever been prepared for. The defining moment doesn't have to be the loss alone. The defining moment can be our response to that loss. Our connections through conversations with YOU are drawing us into our future. And that, dear friends, is a story this community shares together.
As I remember my son, I am reminded again how I refuse to allow the tragedy of his death to negate the beauty of his life, the depth of his impact and the sheer trust in God with which he lived his days on earth.
"The light shines in the darkness, and the darkness has not overcome it." (John 1:5).
By Reverend Mike Cooke