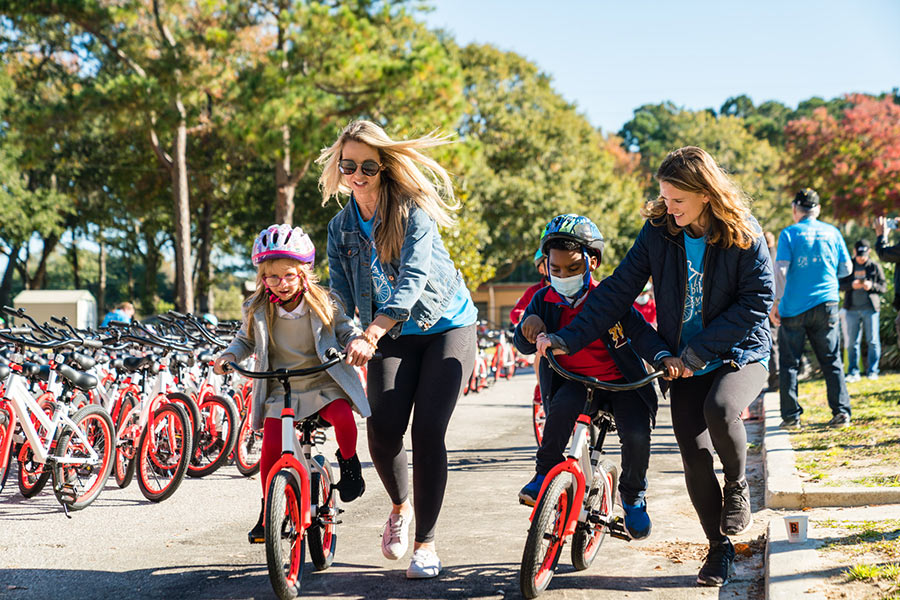 It didn't start with one big idea. Going Places didn't even have a name at first. Yet, over the course of the past four and a half years, this Mount Pleasant-based nonprofit has gifted more than 2,500 children in need with their first brand-new shiny bicycle.
How did this small miracle happen? It started with an elementary school teacher, Katie Blomquist, who heard one of her students say he really wanted a bicycle for his next birthday. She understood his family's circumstances and knew that he was not likely to get one. Her solution was very simple: she would get him one herself. As she saw it, "riding a bicycle is a classic piece of joy, and joy is essential for our social and emotional health."
"It's not the bike itself," she added. "It's what the bicycle represents – freedom. And of course, that all-important quality of our lives: joy."
Her student's reaction to getting the bicycle he had wanted so much convinced her that many other students would benefit from a bike, too. So she launched a GoFundMe effort on the internet and was stunned at the reaction she received.
First, popular entertainer and game show host Steve Harvey stepped up to the plate with a $20,000 donation, then people from across the country chipped in with varying amounts. All of a sudden, Going Places was, well, going places.
"I never in a million years thought this would become what it has," Blomquist said. "I didn't have a plan. I just thought it would be a nice thing to do. I was as amazed as anyone when it went viral!"
Blomquist closed a deal with one of the nation's biggest bicycle manufacturers, Kent International, for the helmets and locks she provided with every bike. Then, Kent offered her as many bicycles as she might need at a cost that would make her efforts feasible.
As Kent International President Scott Kamler put it, "Katie has a great passion for what she does and a strong business acumen. I see only bright things in her future, and we're happy to be along for the ride."
As Blomquist moves ahead with Going Places, she stresses three specific benefits the bicycles allow. One is the ability to get away, at times from a family situation that is more unpredictable and stressful than being in school. A second is pride in ownership, as a bike is often of the first thing of value kids can call their very own. Finally, owning a bicycle allows kids to savor that sense of joy that pedaling up a hill and coasting down the other side brings, even to adults.
As if overseeing Going Places wasn't enough, Blomquist has also established a program to provide Halloween costumes for youngsters, another to donate "Bundles of Joy" filled with games, puzzles and more for entire families and a third, partnered with local businesses, to gift the often-forgotten men and women who keep schools running, from the custodial to the food service staff.
As this former teacher moves ahead on these and other nonprofit programs, she has a few items on her wish list. "A warehouse for storage space, a Sprinter-type van to get everything around, more volunteers to help put the bicycles together and continued generous donations to keep Going Places afloat – or, more appropriately, on the road," she said.
For more information or to donate online visit www.GoingPlacesNonprofit.org.
By Bill Farley