Carolina Park offers a remarkable living experience. Residents have convenient access to beaches, schools, dining, upscale shopping, and even historic downtown Charleston. Not only that, there are miles of trails and sidewalks for hiking, walking and biking . This 1,700-acre master-planned community is also near a lake and the Wando River. Homeowners enjoy the Lowcountry architecture found throughout the neighborhood with homes featuring scenic landscaping, hardwood and tile floors, welcoming porches and gourmet kitchens and granite countertops and more for the discriminating buyer.

Below are our Top Ten Most Expensive lists for Carolina Park starting with the most recent and moving backward to previous years.
Questions about Insurance? Email Tony
2022 Carolina Park, Mount Pleasant, SC Top 10 Most Expensive Homes Sold
2021 Carolina Park Top Ten Most Expensive Homes Sold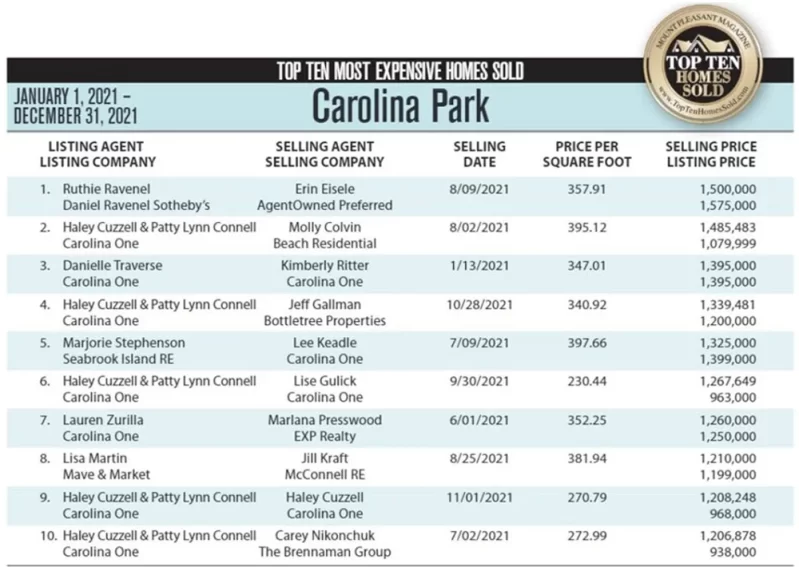 2020 Carolina Park Top Ten Most Expensive Homes Sold
The Top Ten Most Expensive Homes Sold in Carolina Park in Mount Pleasant, South Carolina is deemed reliable but not guaranteed. Media Services, Inc. does not take responsibility for any information deemed to be incorrect, including: MLS listed or sold price, listing agent or company, selling agent or company. Please note that agents and companies can and do change.
Other Carolina Park Articles
---
Contact Tony