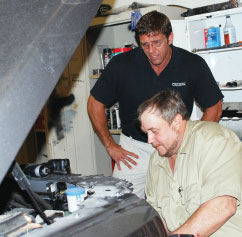 Everyone encounters inconveniences as they travel down the highway of life, from unexpected visits to the dentist to major appliances that no longer work right to minor traffic accidents. The experienced staff at Mount Pleasant Collision can't make your teeth stop hurting or convince your refrigerator to hang on for a few more years, but they can make sure your trip to the body shop is no more than a minor bump in the road.
"An accident is inconvenient. We cut the stress and hassle, get them in, fix their car, guarantee the work if anything goes wrong and let them move on with their life," according to Hal Mitchell, a 30-year veteran of the auto repair business who writes estimates and handles customer service for Mount Pleasant Collision.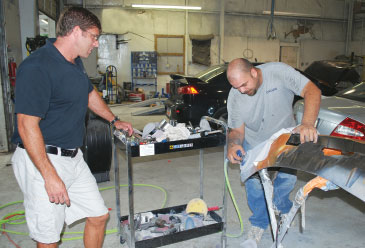 Mitchell is not the company's only employee who knows a thing or two about making cars look like new. Mark Kurtz, who manages production and writes estimates, also has been in the business for more than three decades, and the technicians and painters collectively have spent better than a century doing what they do best. According to Steve Delcioppo, who has owned the 12-year-old company for the past five years, experienced employees plus a dedication to customer service add up to a successful business venture, especially in Mount Pleasant, a growing municipality that has managed to retain its small-town atmosphere.
"I run into a lot of people I do work for," Delcioppo commented. "I was at a Clemson football game recently and ran into two people whose cars I had fixed. I see people I do work for almost daily, and I like that. It's kind of neat to run across the same people you've helped in your business."
Mount Pleasant Collision is located in an 8,000-squarefoot building on Stuart Engals Boulevard, the road that runs between Bowman and the Wando Crossing Shopping Center.
Working with every insurance company in Mount Pleasant, the business provides a wide range of repair services, "from minor scrapes and scratches to $25,000 rebuilds," according to Delcioppo. He pointed out that his company uses the latest laser-guided equipment and mixes paint to factory specifications on-site. Mount Pleasant Collision also details cars.
Delcioppo attended the College of Charleston before moving to Florida to work as a commercial banker and branch manager with the Bank of America. He returned to the Lowcountry, where he owned mortgage companies and later left the housing industry altogether to make his mark in the world of collision repair. He has no plans to change professions again.
"I wanted something of my own, instead of working for someone else," he explained. "I really enjoy it. You know you're doing something when you help someone out of a frustrating situation."
Mount Pleasant Collision is located at 1423 Stuart Engals Blvd. in Mount Pleasant. For more information, call (843) 849-6122.