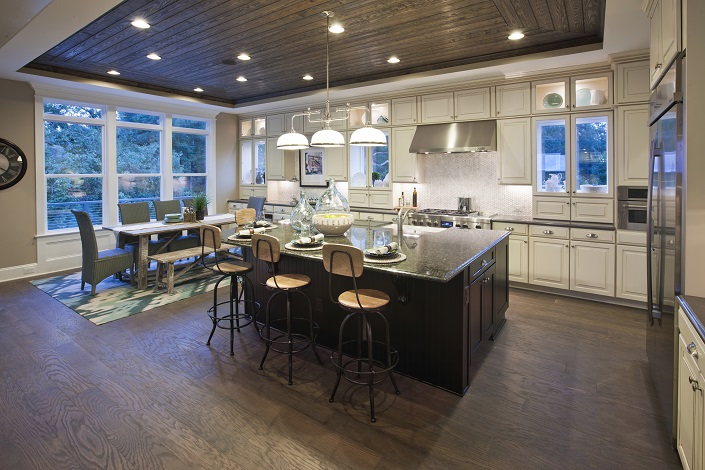 Perhaps most of us don't think of a home or a neighborhood fitting us the way that a piece of clothing fits our bodies or an outing fits our schedules. However, the folks at Ashton Woods Homes think about the right fit all the time. As a new home building company that recently expanded to the Lowcountry, Ashton Woods Homes is working diligently to help new home-buyers plan – and put together – the perfect home.
I caught up with Ryan Lewis, president for the Charleston division of Ashton Woods Homes, and he explained to me how the process of home building works, from concept to move-in day. One interesting aspect about Ashton Woods is how the firm makes it a point to work with each specific neighborhood. In the case of the Charleston division, more specifically the East Cooper area, Ashton Woods is working with Darrell Creek, Watermark and Daniel Island Park.
"We're about creating homes that fit the lifestyle of these locations," remarked Lewis. "For example, Darrell Creek's draws are rural living and outdoor space, while Watermark's appeal is the convenience to the city."
Not only does an Ashton Woods home fit the community in which it is built, it's also customized to fit the home-buyer. Both Lewis as well as Ed Hunnicutt, a real estate agent in the East Cooper area who represents Ashton Woods Homes, spoke about the importance of flexibility for the new homeowners. Hunnicutt and Lewis work together to figure out the best neighborhood, floor plan and custom touches to suit each client. At the time of our interview, Ashton Woods had about ten homes under construction – and a slew of excited buyers, thanks to their reputation. By the time you read this, they'll have homes under construction in each of the three neighborhoods as well as a fully furnished model at Watermark to walk through.
But surely the most fun part about building a home with Ashton Woods is the chance to visit the design studio, where new homeowners are able to select those special finishes and touches to make a house feel like their own. The design studio for the Charleston area, currently under construction and located on Daniel Island, will be an incredible array of design options to choose from. Plus, design consultants are on-site to help you make your home your own.
"A little of everything?" replied Lewis with a chuckle when I asked what, precisely, the studio will offer. "No. It's a lot of everything!"
Of course, no matter your style, your new Ashton Woods home will be an awesome place to live. Lewis shared with me that the company builds some of the most energy-efficient houses in the country; each is built to the platinum level for Environments for Living, a national organization that evaluates buildings for earth-friendliness.
"We're a leader in green building," said Lewis. "Living in one of our homes for years to come means living in comfort and efficiency."
To start the process of building a new home with Ashton Woods, drop by one of their communities, call them at (843) 388-8900 or visit their website, www.ashtonwoodshomes.com.
Story By Denise K. James
Photo courtesy of Ashton Woods Homes