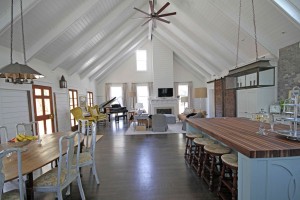 CATHY HUNNICUTT, REALTOR
(843) 814-4378
ASKING PRICE:
$1,925,000
3,854 SQ. FT.
5 BEDROOM – 5 ½ BATH
If you're looking to catch a breathtaking sunrise or an amazing sunset (or even, perhaps, a few blue crabs) you'd be remiss not to head to Pitt Street in the Old Village. There you'll find a hidden gem at road's end in the Pickett Bridge Recreation Area.
Overlooking the Intracoastal Waterway, the charming park centered around the old Pitt Street Bridge – which is popular with everyone from joggers to anglers – boasts some of the best views you can get of peninsular Charleston, Sullivan's Island and more.
Once the sole means of crossing from Mount Pleasant to Sullivan's Island, the beloved bridge is a historic landmark – in its earliest form circa 1899, it was a simple plank footbridge constructed on barrels and, in 1929, it was reimagined as a steel drawbridge built for cars to traverse. But since being abandoned once the Ben Sawyer Bridge came to fruition, the old Pitt Street Bridge has become a favorite leisure spot for locals and tourists alike.
Living on Pitt Street, then, clearly has its perks.
Located in the heart of the Old Village, 207 Pitt St. is an easy one-mile walk from the historic bridge. Currently on the market for $1,925,000, the 3,854-square- foot home has been completely renovated to incorporate modern conveniences while honoring the charm and character of the original home built in 1893.
"This was a total renovation," explained Josh Zollweg, owner of Moss Construction, who completed the overhaul. "It went very smoothly with few surprises, which is rare in renovation projects on homes of this age. We took the old and married with the new, and it turned out great."
Much like the beautiful nearby park, 207 Pitt St. is a mecca for relaxation. In addition to a serene backdrop of majestic oaks and palmetto trees, the home features a private garden and pool designed by award-wining architect and local icon Robert Chestnut. An accompanying "pool den" — complete with its own kitchen, bath and a Murphy bed — ensures top-notch entertaining, too.
Inside, an incredible great room on the upper floor invites easy living. The vaulted, paneled ceiling, shiplap walls, wide plank white oak floors and open floor plan contribute to the airy feel of the space. In addition to the living area, the space includes a dining area and a top-of-the-line kitchen with new Thermador appliances, limestone countertops and backsplash, custom copper lighting fixtures and a 4-inch-thick walnut butcher block island with seating — ideal for cozy evenings cooking as a family.
"The home originally had an outdated kitchen with a loft in the main room, which congested and cramped the space. We eliminated all interior walls in the main living space and create the open concept, which is so popular today," Zollweg elaborated.
Also on the upper floor is the upstairs master suite, accessed from a unique barn door feature. Downstairs, you'll find the home's other four bedrooms, including a second master suite, with each room boasting its own beautiful new bathroom. Plantation shutters throughout the home give a quintessentially Lowcountry vibe.
"From the moment you walk through the front door, there is a wow factor," Zollweg said. "There is a great mixture of old and new throughout this home."
Plus, the Pitt Street Bridge isn't the only major perk in close proximity to this impressively overhauled home.
The Old Village, which dates back to the 1800s, is one of the most sought-after neighborhoods in Charleston. Award-winning elementary and middle schools are within walking distance, as are favorite restaurants such as The Old Village Post House and the Village Bakery. Also close by are the park at Alhambra Hall and Shem Creek, which provide Old Village residents with enviable ways to while away the afternoon.
It's not uncommon to see families strolling down the quaint street together or kids pedaling around on their bikes. A quick survey of the area would likely turn up neighbors chatting over coffee and old porch dogs enthusiastically greeting guests. Historic Pitt Street, like its nostalgic bridge, is an Old Village treasure.
For more information about 207 Pitt St., call Cathy Hunnicutt with the Ed Hunnicutt Real Estate Team at (843) 814-4378. To discuss your own new construction, renovation or addition with Josh Zollweg, call Moss Construction at (843) 442-9032 or visit MossConstructionSC.com.
Story by Julie Sprankles.
Photo provided.