T here's no better time to prepare for a hurricane than during the calm before the storm. While the hurricane season is generally considered to be between June 1 and Nov. 30, severe storms can develop at any time. But according to Cathy Haynes, chief of operations with the Charleston County Emergency Management Department, many Lowcountry residents are complacent because they weren't here when Hurricane Hugo paid a devastating visit in September 1989.
"Right after Hurricane Hugo, we did a big campaign for the citizens on being prepared and having a family plan should an emergency occur, but we are now seeing that the previous population has changed," said Haynes. "Our population is like the tide. It goes up and it goes down, but I think the new citizens are slowly becoming aware of the vulnerability they face."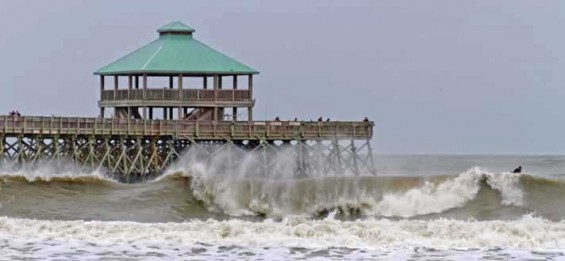 Haynes said local residents should routinely practice evacuation techniques and learn what they should do if the area is under a hurricane watch or hurricane warning.
"We ask residents to pay attention to the local media, and we stress that those who are willing to evacuate to do so early," said Haynes. "When the governor gives the evacuation order, residents must follow the evacuation routes which are already identified with signs. These routes are predetermined so many individuals may never even travel the interstate and those that do will find that eastbound lanes on I-26 have been reversed."
A category 1 hurricane, the least powerful storm that gets a name, will produce some damage, while major storms in categories 3, 4 and 5 can cause catastrophic destruction. She said anyone who chooses to remain in their home during a named storm should consider the structure's strength and reliability.
"Residents also need to remember that emergency response may not be that quick after a storm or a response may not happen at all. You must be able to care for yourself as it can take days or even weeks," said Haynes.
She warned that downed power lines and downed trees that cause damage to homes might cause similar damage to fire stations, police stations and other government facilities and equipment. A lack of electricity and blocked roadways can isolate communities quickly.
Haynes recommends that area residents put together an emergency kit that can come in handle during the hurricane season and year-round. The kit should include: important documents, sanitation supplies, medication, batteries, flashlights, a battery operated radio and anything else you might need to keep you as safe, comfortable and informed as possible.
Once a hurricane watch is issued, it's time to review your family disaster plan, check your kit for supplies and add food and water. Be certain your car's gas tank is full, make arrangements for your pets and be sure to anchor or stow small boats. You also should bring in outdoor lawn furniture and other objects that strong winds can turn into dangerous projectiles. Secure buildings by closing and boarding up windows, and turn your refrigerator and freezer to the coldest setting. Trimming dead or weak branches from your trees might save your entire roof once a storm hits.
"Lastly," said Haynes, "Look out for your elderly neighbors and help them get prepared."
Story by Stacy E. Domingo