VIDEO: Mount Pleasant Business Expo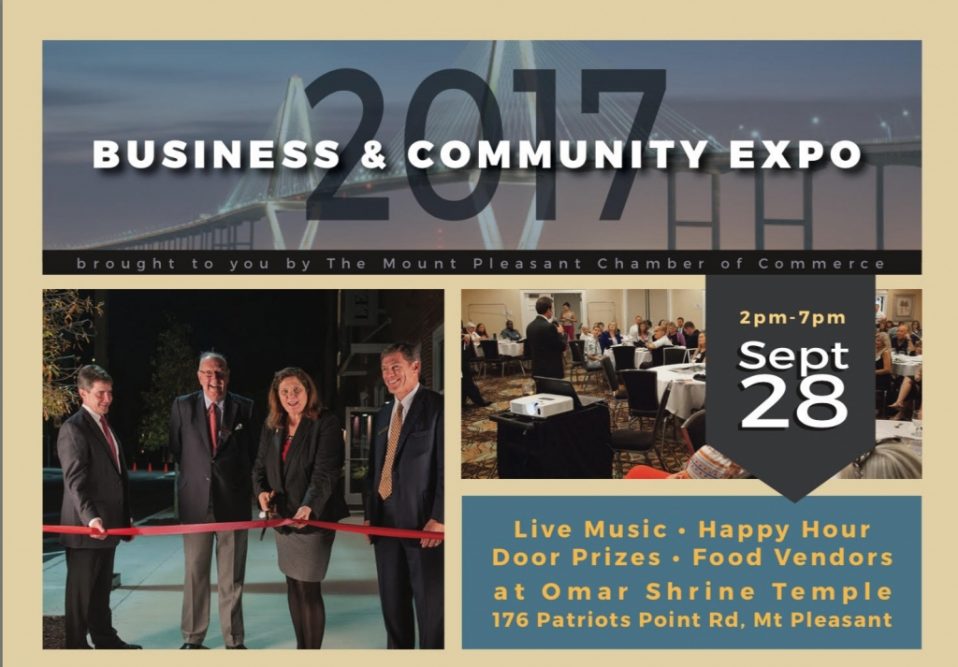 Sometimes more is less. This is not the case with the upcoming Mount Pleasant Chamber of Commerce Business & Community Expo. In its seventh year, the annual event will feature more vendors, more networking, more fun and, if Expo Co-chair Frank Frazier has his way, more attendees than ever before.
"We hope at least 2,000 people will attend this year," said Frazier, who pointed out that last year's attendance approached the 1,500 mark. "We have 94 booths this year, 24 more than last year, and we've already sold them all, except for a few we've reserved for potential sponsors. And we have an interactive app this year that will make the Expo more fun and more educational than in the past."
The Expo is scheduled for Sept. 28 at the Omar Shrine Convention Center in Mount Pleasant. As it has for the past five years, East Cooper's biggest networking event gets underway at 2 p.m. The happy hour slated from 5 p.m. to 7 p.m. will be held on the convention floor so attendees will be able to continue visiting with vendors. This year's happy hour entertainment, PlaneJane, is expected to draw much larger crowds than in the past.
"That's one of the biggest changes this year," Frazier said. "A lot of people are going to attend the Expo just to hear PlaneJane. We're pretty excited about that."
Wine, beer and other spirits will be available for purchase during the happy hour.
The Expo Committee, co-chaired by Keri Seay, will host two parties before the Expo gets underway. On July 17, vendors, sponsors and potential sponsors will get together for a reception at the Harbor Breeze Restaurant. And on Sept. 27, the night before the Expo, vendors and sponsors will be invited to an MVP Party. In addition to networking and a fun time, they'll be able to set up their booths Wednesday night, rather than waiting until the day of the Expo.
"We thought our vendors would appreciate the opportunity to prepare for the Expo the night before instead of rushing to get it done Thursday morning," Frazier said. "And I think they will be enthusiastic about the chance to get to know the sponsors, their fellow vendors and the members of the Expo Committee in a relaxed setting."
Mount Pleasant Business and Community Expo sponsors include KandE Spirits, Merrill Lynch, Advanced Hearing Care, Monat, Carpet Baggers-Carpet One, Windwood Family Services, Nelson Printing, Charleston County, the town of Mount Pleasant and netGALAXY Studios. Food sponsors, who will offer their products at no charge to attendees throughout the Expo, are Jimmy Johns, Sticky Fingers, Charleston Hospitality Group and Napa.
Valuable door prizes, including a cruise, will be given out throughout the day.
"The Expo has been the biggest networking event in East Cooper for five years now," Frazier said. "This year, it's going to be bigger, better and more fun than ever before. Put the Expo on your calendar now. You won't want to miss it."
To learn more about the Mount Pleasant Chamber of Commerce Business & Community Expo, visit www.mountpleasantchamber.org or call Frank Frazier at 410-274-0023 or Keri Seay at 843-327-0813.
By Brian Sherman