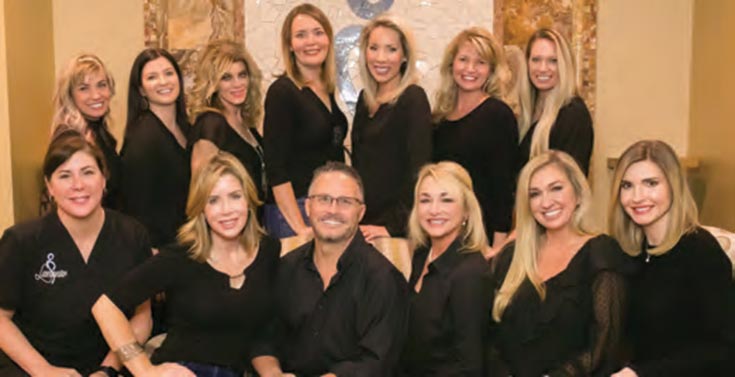 You know the name. You have seen the results. Perhaps you have even paid a visit or two to Lowcountry Plastic Surgery Center. This patient-focused practice, which opened in 2001, has consistently been voted a Mount Pleasant "best." Allowing individuals to feel the most comfortable in their own skin, these professionals remain committed to delivering outcomes that often surpass expectations. Bringing beauty to the forefront with accessible procedures and undeniable warmth, it's no wonder this husband-and-wife-run center is the number one choice for those seeking an aesthetic tuneup.
"I definitely attribute our success to having such a great team," said Michele Hensel, who runs the center with her husband, Dr. Jack Hensel. "From Dr. Hensel's impeccable surgical skills and bedside manner to the phenomenal staff who love what they do and look forward to helping our patients look and feel their best, we make sure to stay on top of our game."
Dr. Hensel, a board-certified plastic surgeon, has trained under a number of world-renowned professionals. Now a top specialist in breast augmentation, body contouring and liposuction, he credits the matriarch of his family with prompting him to dive into this industry.
"My grandmother was my initial influence in me going into the medical field," said Dr. Hensel. "Let's hope both or one of our sons will want to follow in my footsteps and take over my practice one day. My daughter is in her last year of nursing school at Clemson, and it would be nice to have her as part of the practice as well."
While the future is uncertain, it's obvious Lowcountry Plastic Surgery Center will continue to thrive and improve the lives of thousands. They continue to grow their team, employing the highest-ranking specialists to deliver outstanding results.
"I think the biggest part to our success comes from always being true to our patients," said Dr. Hensel. "Whether it is me or my amazing staff and other providers, we always put our patients' interests first, and, if someone is coming in for a procedure that isn't a good candidate, we are not afraid to say no. Your patients appreciate your honesty, and having trust in the services and products that we offer is important."
From breast augmentation and reduction to tummy tucks and arm and buttocks lifts, the number of procedures offered is vast. There even is a wide selection of noninvasive procedures, such as CoolSculpting, Sculptsure and RF Microneedling, and Vaginal Rejuvenation.
Whether you want a full-body makeover or simply want to explore your options, a trip to Lowcountry Plastic Surgery Center is a must.
"Just make the call," said Dr. Hensel. "Our staff is amazing and will make you feel very comfortable. On top of that, I am just a normal guy that happens to be blessed with an amazing skill, so I, too, will make you feel at ease with the whole decision-making process."
Down to earth, this practice serves up excellence with humility. The bonds between patients and staff are unmatched.
"At the end of the day, the most rewarding aspect is feeling great about the procedures we have performed and the positive impact we have helped to make in patients' lives," said Dr. Hensel. "The changes they experience shine brightly in many aspects of their lives, which makes everyone around them feel good, too."
Lowcountry Plastic Surgery Center is located at 1205 Two Island Court. To learn more, visit www. lowcountryplasticsurgery.com or call 843-971-2860.
MORE ABOUT LOWCOUNTRY PLASTIC SURGERY
RELATED: LOWCOUNTRY BEAUTY AND WELLNESS SPA